NBC Insider Exclusive
Create a free profile to get unlimited access to exclusive show news, updates, and more!
Sign Up For Free to View
Girl Named Tom Managed to Out-Harmonize Themselves Covering SZA's 'Kill Bill'
If you think you've heard Girl Named Tom's best harmonies, think again.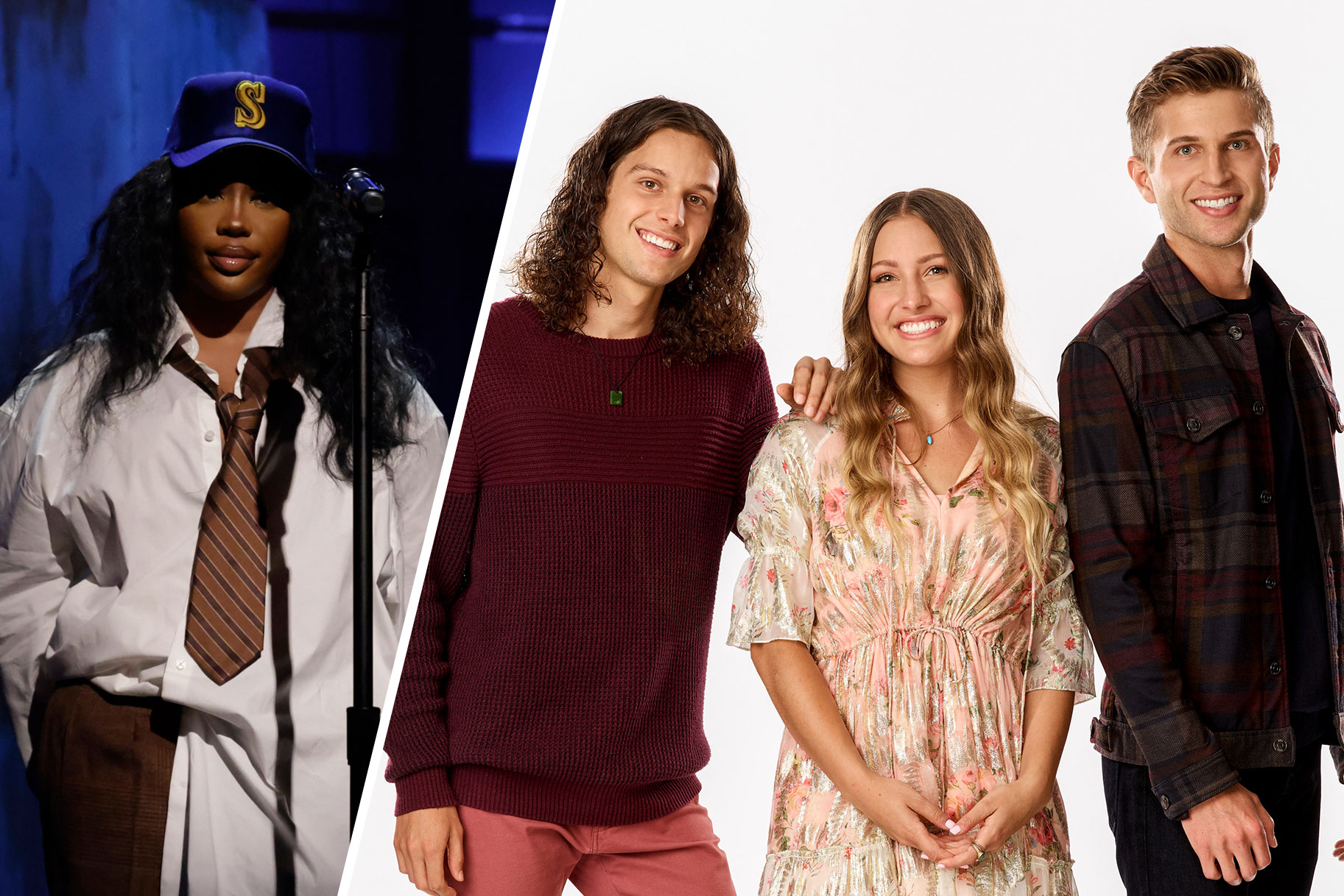 The Voice Season 21 winners Girl Named Tom know a thing or two about harmonizing. It's what made the band stand out during their year on the show—and ultimately what earned them the prize at the end. When siblings Bekah, Joshua, and Caleb Liechty sing together, something in the atmosphere changes. Their combined vocal prowess is magical—and thousands of people know it. Whether that's from seeing the group live or watching their videos on Instagram, fans can't get enough of Girl Named Tom. 
Their latest video—posted to the group's Instagram—is further proof of that. The Liechtys decided to take a stab at SZA's "Kill Bill," a song that's extremely popular on TikTok right now, and they delivered some of their best harmonies yet. In fact, you could say the group somehow managed to out-harmonize themselves. 
Listen for yourself, below, if you still need convincing. 
"the sizzler! ✨ @sza #girlnamedtom #sza #cover #harmony," the group captioned the photo, making sure to add a "harmony" hashtag. We're pretty sure this is what real angels sound like! 
If you're mesmerized and want more, you're in luck: Girl Named Tom is going on tour. See the dates and locations, below: 
MAR 9, 2023
Celebration Hall
Kalona, IA
MAR 10, 2023
Paramount Center for the Arts
St. Cloud, MN
MAR 11, 2023
Majestic Theatre
Madison, WI
MAR 16, 2023
Kent State Performing Arts Center
New Philadelphia, OH
MAR 17, 2023
Brown County Music Center
Nashville, IN
MAR 18, 2023
The Factory
Chesterfield, MO
MAR 25, 2023
Merced Theatre
Merced, CA
MAR 26, 2023
Harris Center
Folsom, CA
MAR 27, 2023
Hofman Theatre
Walnut Creek, CA
MAR 29, 2023
Tower Theatre
Bend, OR
MAR 30, 2023
Elsinore Theatre
Salem, OR
MAR 31, 2023
Admiral Theatre
Bremerton, WA
APR 2, 2023
Bing Crosby Theater
Spokane, WA
APR 3, 2023
Tower Theatre
Bend, OR
APR 4, 2023
Knitting Factory
Boise, ID
APR 5, 2023
Rose Wagner Performing Arts Center
Salt Lake City, UT
APR 13, 2023
Paramount Theatre
Rutland, VT
APR 14, 2023
Jorgensen Center for the Performing Arts
Storrs, CT
APR 15, 2023
The Paramount
Huntington, NY
APR 20, 2023
The Egg Performing Arts Center
Albany, NY
APR 21, 2023
Nashua Center for The Arts
Nashua, NH
APR 22, 2023
Santander Performing Arts Center
Reading, PA
APR 23, 2023
The Birchmere
Alexandria, VA
APR 27, 2023
Iron City Bham
Birmingham, AL
APR 28, 2023
The Senate
Columbia, SC
APR 29, 2023
Florida Theatre
Jacksonville, FL
MAY 1, 2023
CMA Theater
Nashville, TN
MAY 4, 2023
Miller Theatre
Augusta, GA
MAY 5, 2023
Charleston Music Hall
Charleston, SC
MAY 6, 2023
Variety Playhouse
Atlanta, GA
MAY 11, 2023
Central Wesleyan Auditorium
Holland, MI
MAY 12, 2023
Bomhard Theater
Louisville, KY
MAY 13, 2023
The Walker Theatre
Chattanooga, TN
MAY 18, 2023
Woodstock Opera House
Woodstock, IL
MAY 19, 2023
Sauder Concert Hall
Goshen, IN
MAY 20, 2023
Tinora Performing Arts Center
Defiance, OH
MAY 21, 2023
Tinora Performing Arts Center
Defiance, OH
JUL 29, 2023
Bayview Summer Concert Series
Petoskey, MI
AUG 18, 2023
Chautauqua Amphitheater
Chautauqua, NY
Tickets can be bought on Girl Named Tom's website here. 
Watch The Voice on NBC Mondays at 8/7c and Tuesdays at 9/8c and next day on Peacock.