NBC Insider Exclusive
Create a free profile to get unlimited access to exclusive show news, updates, and more!
Sign Up For Free to View
Girl Named Tom Hit Three Impressive Key Changes for a New Jonas Brothers Cover
Great things come in threes. Case in point: the sibling trio Girl Named Tom just covered the Jonas Brothers.
The Voice Season 21 winners Girl Named Tom know a thing or two (or three) about weaving beautiful harmonies, and the powerhouse sibling trio — consisting of Bekah, Joshua, and Caleb Liechty — have outdone themselves yet again. 
On June 24, Girl Named Tom took to Instagram to share an energizing cover created by another iconic sibling trio, the Jonas Brothers! Girl Named Tom, who has been on a nationwide tour this summer, took Jonas Brothers' swoon-worthy track "Montana Sky" and transformed it into a vocal tour-de-force. Flexing their effortless harmonies and outstanding range, the siblings belted three incredible key changes while singing the chorus with expert precision. 
"Anybody road-tripping this summer? 🌞 #jonasbrothers #girlnamedtom #siblingharmony #montanaskies #reelsofinstagram," the trio captioned the IG post. 
What to know about "Montana Sky" by Jonas Brothers
"Montana Sky" is a romantic track from The Album, the sixth studio album released by the iconic pop rock band. Jonas Brothers dropped the 70's-inspired project on May 12 shortly after debuting the upbeat "Waffle House" and "Walls" on Saturday Night Live in April. "Montana Sky" follows a distracted protagonist living a fun-filled lifestyle who simply wishes to go home and spend time with their significant other.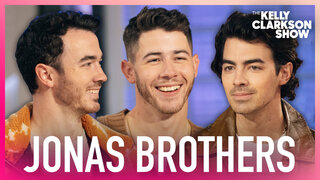 The lyrics to "Montana Sky" by Jonas Brothers
I've got friends in different places, they throw parties in the basement and get high
Got distractions by the river in Virginia that could take up all my time
But it's all just thunder in smoke
Seen the world, you're still the where I want to go
Montana skies, Georgia sunsets you're the one walking in my head
Montana skies, Georgia sunsets you're the one walking in my head
Long, long New York nights out with my friends, all I see is your
Silhouette
Oh, Montana skies, Georgia sunsets you're the one, you're the one walking in my head
I got brothers in their thirties back in Jersey, but your heart is where I'm home (Yeah)
I could fill up all my glasses, maybe move to Calabasas say I'd rather be alone
But it's all just thunder in the smoke
Seen the world, you're still the where I want to go
Montana skies, Georgia sunsets you're the one walking in my head
Oh, Montana skies, Georgia sunsets you're the one walking in my head
Long, long New York nights out with my friends, all I see is your
Silhouette
Oh, Montana skies, Georgia sunsets you're the one, you're the one walking in my head
Montana skies, Georgia sunsets you're the one walking in my head
Oh, Montana skies, yeah, you're the one you're the one walking in my
Long, long New York nights out with my friends, all I see is your silhouette (all I see, all I see)
Oh, Montana skies, Georgia sunsets you're the one, you're the one walking in my head (oooh)
You're the one, you're the one walking in my head
You're the one, you're the one walking in my head