NBC Insider Exclusive
Create a free profile to get unlimited access to exclusive show news, updates, and more!
Sign Up For Free to View
Girl Named Tom's Caleb Liechty Just Performed an Original Love Song That Will Wreck You
We love his voice in a trio — but solo Caleb also sounds incredible.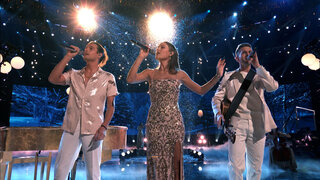 We typically hear Caleb Liechty's voice intertwined with his Girl Named Tom bandmates', who also happen to be his siblings. (Girl Named Tom, for the unfamiliar, won The Voice back in Season 21.) But in a new Instagram video posted June 4, he gives fans a preview of one of his original love songs, performed totally solo. 
He sounds incredible in the clip, naturally, and we shouldn't be surprised. Liechty is one-third of Girl Named Tom, after all, and their harmonies are some of dreamiest ever heard onThe Voice. To pull off vocals like that, every member of the group has to be able to stand on their own. And Caleb Liechty's latest video proves he definitely can (not that this needed proving). 
Accompanied by some soft piano playing, Liechty sings this new track gently and hauntingly, which is quite effective. Read some of the lyrics, below: 
It's just the way it feels
It's just the way it feels
To know who you are 
And know that you want me 
My light in the dark 
You have and you hold me 
It's just the way it feels to know 
You love me 
Girl Named Tom made history in 2021 when they became the first trio to ever win The Voice. In an interview with Parade, the three siblings (Bekah, Caleb, and Joshua) opened up about their experience on the show. 
"From the beginning, to hear the Coaches tell us that what we have is special, was very shocking," Bekah said. "And then every round that we progressed, we were surprised. We treated each week like it was our last. We were very grateful to have made it to the finale and then to win the whole thing just blew us away. So, hopefully, more groups will go on The Voice."
"I think making it through to the Lives and past that first Playoff rounds was a huge step. Because once people started voting, then I thought we had a chance. Because we are siblings, we have this small, hometown feel, and our music is very easy and pleasant to listen to. I just didn't know if our Coach, Kelly [Clarkson], would believe in us as a real possibility to take her to the finale. But, obviously, she did," Caleb said.