NBC Insider Exclusive
Create a free profile to get unlimited access to exclusive show news, updates, and more!
Sign Up For Free to View
Kodi Lee's Cover of "Ordinary People" by John Legend Will Give You Goosebumps
Lee sounds extraordinary on this song! Watch America's Got Talent on NBC.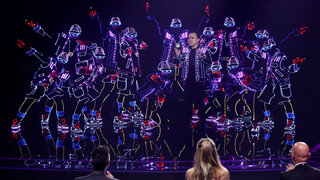 America's Got Talent Season 14 winner Kodi Lee just totally did John Legend justice! 
On May 2, Lee uploaded a video to Instagram of himself singing Legend's 2004 hit "Ordinary People," and the cover will totally give you chills. 
In the clip, Lee rocks a fedora and some seriously cool red shades. "We're just ordinary people, we don't know which way to go," he begins to sing. "Cause we're ordinary people, maybe we should take it slow."
He then repeated the lyrics while riffing his heart out and playing some gentle piano chords. 
"We're Just Ordinary People 🙏✨ Love this song by @johnlegend so much 😎 I'm working on some cool stuff for you guys! Stay tuned, Heck Yeah!!💫❤️kodilee #kodileemusic #kodileerocks #kodify #heckyeah #agt #agtlive #agtwinner #kodileesmom #agtsuperstars #agtgoldenbuzzer #helloworld #changinglives #makingadifference #ordinarypeople #johnlegend," he captioned the post. 
Lee's been killing it with his covers lately after making it as a finalist on America's Got Talent: All-Stars. Last month, he uploaded a video of himself covering the ultra emotional tune "Talking to the Moon" by Bruno Mars, per a request from a friend. In the video, Lee rocked a fedora yet again while he sang behind an ivory piano. 
"A Request From A Special Friend!❤️ Talking To The Moon 🌛- Bruno Mars ✨ I love this song so much! What other Bruno Mars Song Should I Sing? #Heckyeah! #talkingtothemoon #brunomars #kodilee #kodileerocks #agt #agtwinner #kodify #coversong," Lee captioned the video.
This Easter, Lee also sang a rendition of the beloved tune "Hallelujah" by Leonard Cohen to help everyone celebrate the special holiday. In the video, he sang the deep lyrics and put his own unique spin on the notes. The song is notorious for being difficult to sing, but Lee managed to nail it (as always)! 
"Wishing everyone a blessed Easter Sunday 2023! Let everything you do be done in love!" Lee said in the introduction. 
Lee also celebrated Easter Sunday by going egg hunting in his house. In a sweet clip uploaded to Instagram, we catch a glimpse of him successfully tracking down all the eggs hidden around his kitchen, and he seemed to have a blast while doing so. 
"This Is How I Find My Easter Eggs! 🐣🔊 I Have The Best Family Ever! So Fun! Happy Easter ✨🐰 #happyeaster #kodilee #easterhunt #autismawareness #heckyeah #kodileerocks" he captioned the post. 
America's Got Talent Season 18 premieres Tuesday, May 30 at 8/7c on NBC and next day on Peacock.