NBC Insider Exclusive
Create a free profile to get unlimited access to exclusive show news, updates, and more!
Sign Up For Free to View
Why Kelly Clarkson Predicts JB Somers Will Make It to the Season 23 Finale
JB Somers turned heads — and chairs — with a Joni Mitchell classic.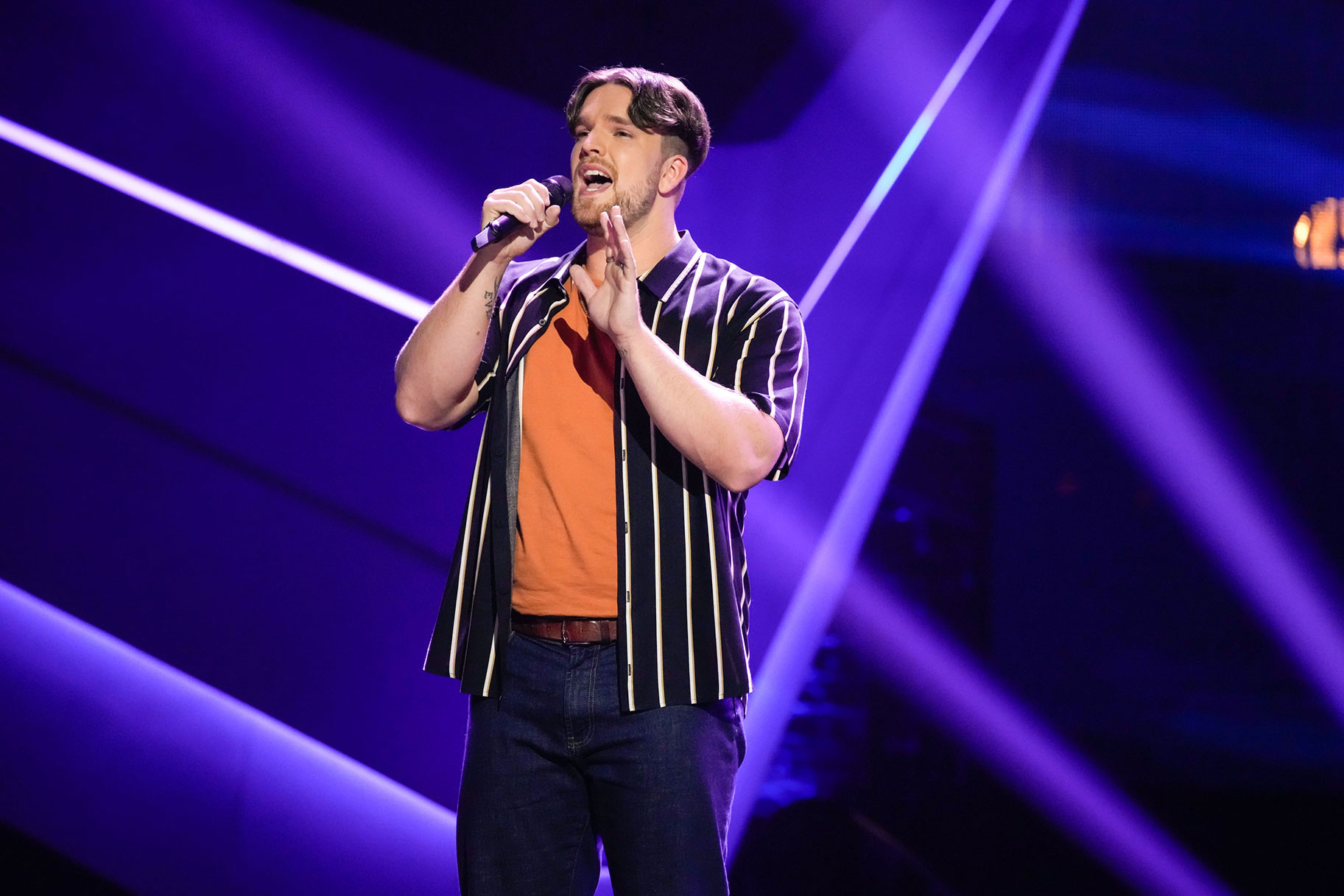 The competition is heating up on The Voice — and so are forecasts about the finals.
Coaches Chance the Rapper, Niall Horan, Kelly Clarkson and Blake Shelton are assembling their teams on the NBC reality contest. As they're at it, opinions are already flying about who's going to be a front-runner.
Clarkson is convinced that JB Somers, a 31-year-old singer-songwriter from Montgomery, Alabama who now lives in Nashville, will be a contender for the top spot.
"I think JB has the possibility to not only be in the finale," she said, "but win this show." 
Chalk that exciting Season 23 prediction up to Somers's persuasive performance of Joni Mitchell's enduring classic "A Case of You." 
Before his Blind Audition, Somers told Carson Daly that chasing a career as an independent artist is a way to honor his late sister. She championed his singer-songwriter dreams even as she struggled with addiction to pain medication after an injury.
"I'm, like, super pumped and just excited to get everything going," Somers said.  
"You've worked hard," said Daly. "It's your time."
Just a few lines into Mitchell's soul-stirring song, Clarkson hit the button and spun around. Chance listened intently, and then he also turned. 
"Your tone is incredible. At any stage of the game I would have pressed my button," said Clarkson, "When I turned around … first … it was even more beautiful to watch you perform," she said, applauding his emotion, empathy, and intimacy. 
"I would love to have you on my team," she said. "I have no one like you on my team. You're gonna make it to the finale regardless of which team you're choosing here."
Chance explained why he paused a bit before pressing his button: "I was just waiting to hear your high register, and that's one of the things I respected the most about your performance," he said. "You were just dynamically showing us your different ranges. Your approach was very strategic." 
Chance wasn't shy about a little name-dropping as he pitched Somers to join his team. "JB, one of my very best friends covered that same Joni Mitchell song," he said, "and his initials are JB: James Blake."  
Chance told Somers that he'd love to coach him and give him a platform. "But just like Kelly said, whoever you go with you'll probably make it to the finale — for sure if you get on Team Chance, though."
RELATED: See Why Kelly Clarkson Compared Mary Kate Connor's 'Tender' Audition to Brandi Carlile
Horan, meanwhile, said he didn't turn because he already has someone similar to Somers on his team. Shelton, who's exiting The Voice after this season, said he didn't press his button, well, just because.
"I'm pretty good at winning this show," said Clarkson, touting her experience as a veteran Coach.
But Somers surprised everyone by saying that being a newbie can be an advantage. "It's the young blood sometimes," he said. 
Still, Somers ultimately chose Clarkson — and she was thrilled. "I wanted JB so badly and I got him, and I'm so stoked," she said.  "He has such a smooth voice." 
Chance was convinced that his hesitation to turn "weighed a lot on JB's choice," he said. "Kelly just beat me to it. He's gonna be a force to be reckoned with on the show."
"You're so good," Clarkson told Somers. "Oh my god. I cannot wait to hear, like, all your ideas for songs."
We bet he has a case of them.
Watch The Voice on NBC Mondays at 8/7c and Tuesdays at 9/8c and next day on Peacock.
Watch The Voice on NBC Mondays at 8/7c and Tuesdays at 9/8c and next day on Peacock.