NBC Insider Exclusive
Create a free profile to get unlimited access to exclusive show news, updates, and more!
Sign Up For Free to View
Gwen Stefani Told Drew Barrymore the Sweetest Fact About Her and Blake Shelton
With dozens of bops under that cowboy belt, it's no wonder Stefani has some relatives who are Shelton fans. 
The world is in no shortage of adorable moments between The Voice's iconic power couple Blake Shelton and Gwen Stefani. Even still, fans continue to learn heartwarming facts about their sweet romance. Exhibit A: Love for Shelton apparently runs in the Stefani family — because her mother was a Shelton superfan before he ever met the No Doubt singer. 
While appearing on The Drew Barrymore Show, Stefani and Host Drew Barrymore played a trivia game with questions inspired by Stefani's life. When asked which of Stefani's family members was a huge fan of Shelton's music before their relationship, we learned that it was Stefani's mother, Patti. 
Stefani was beaming while chatting about her upcoming second anniversary with Shelton, reflecting on their perfect dynamic despite being such different people. 
"God just put us together. It was like one of those miracle situations where it just, I didn't see it coming," Stefani shared, explaining she didn't think dating would be in her schedule any time soon when Shelton entered her life."I thought my life was over, and then Blake Shelton was like, 'Hey, I'm Blake Shelton!'"
Stefani later continued, "Finding a best friend and someone that is like, on the same plane when it comes to morals or like, just the way you look at life, that's the dream."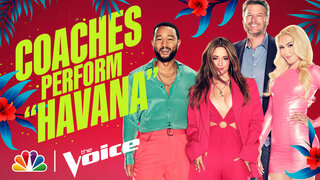 As proven by her recent talk show chats, Stefani has nothing but love and support for her  husband. But if you need more evidence, Stefani penned a heartwarming tribute to Shelton during his Hollywood Walk of Fame ceremony in May, where she highlighted his many beautiful traits. 
"Blake, you are a rare human being, and for all the success that you have had in your life as a singer, a songwriter, a musician, a performer, an entertainer, an actor, a comedian, an entrepreneur, he's the same guy today as he was back then," Stefani shared. "A country guy with a lot of love for country music."
"[Blake is] magnetic, the most generous person you'll ever know, and always just him no matter where he goes. Making people laugh, making people happy, making jokes. The reason Blake Shelton is here today on the Hollywood Walk of Fame is because you are part of the country dream, the Hollywood dream, and you are part of the American dream," Stefani told Shelton. "And everybody knows you are my dream come true. I love you."