NBC Insider Exclusive
Create a free profile to get unlimited access to exclusive show news, updates, and more!
Sign Up For Free to View
Gwen Stefani and Blake Shelton Were the Epitome of Cute at His Walk of Fame Event
"He has just always been a star," Stefani said about Shelton during her speech honoring him.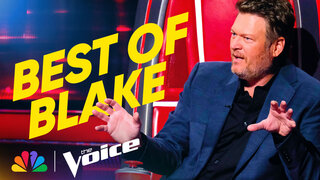 Blake Shelton celebrated a major milestone recently, and of course received massive support from his wife, Gwen Stefani.
On May 12, The Voice Coach received his much-deserved star on the Hollywood Walk of Fame. During his induction ceremony, Stefani gave a genuine speech from the heart about what her husband means to her on this special day. 
"It blows my mind being here today. To stand on the Hollywood Walk of Fame celebrating my husband, Blake Shelton," she began. "You are so deserving of this honor, and the boys and I, all of your friends, your family, your colleagues, could not be more proud." 
In her speech, Stefani gave us a glimpse of Shelton's roots and how far he's come. "OK, let me try to paint the picture of the little boy Blake Shelton who had a simple kind of a life and a big dream," she continued sincerely. "Growing up in a tiny, tiny, tiny, tiny town in Oklahoma, the backdrop of his life was nature. He was in the woods all day long, not wanting to come home until it was dark, knowing every name of every tree, every species of animal, with a soul connection to country music and what country music represents."
But she wasn't done there. "There is no one more authentic than this guy. He lives and he breathes country music. He is a country music jukebox, and it is in his DNA. He was born to do this and hasn't done anything because he's wanted to be a star; he has just always been a star."
Stefani added, "With 28 number-one singles, 23 seasons on The Voice, Blake has always stayed true to himself. There is nobody like him; he is a one-of-a-kind guy, and the audiences all fall in love with him. He's humble, he's genuine, and trust me, wherever we go, everybody feels like they know Blake Shelton."
She continued in pure adoration, "Blake, you are a rare human being, and for all the success that you have had in your life as a singer, a songwriter, a musician, a performer, an entertainer, an actor, a comedian, an entrepreneur, he's the same guy today as he was back then. A country guy with a lot of love for country music. He's magnetic, the most generous person you'll ever know, and always just him no matter where he goes. Making people laugh, making people happy, making jokes. The reason Blake Shelton is here today on the Hollywood Walk of Fame is because you are part of the country dream, the Hollywood dream, and you are part of the American dream. And everybody knows you are my dream come true. I love you."