NBC Insider Exclusive
Create a free profile to get unlimited access to exclusive show news, updates, and more!
Sign Up For Free to View
Every Celebrity Who Appeared in The Voice Season 23 Finale
It was a star-studded affair to properly send off Blake Shelton, who's leaving the show as a Coach after 23 seasons.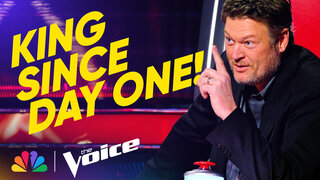 The Voice finales are always momentous occasions, but the one for Season 23 is particularly special. As fans know by now, this season is longtime Coach Blake Shelton's last on the show. After 23 straight seasons and 12 years, the cowboy is finally riding off into the sunset after being a part of The Voice from the jump. What a journey he's had! 
He's more than earned the break — but before he heads to his Oklahoma ranch, he's getting a proper send-off during The Voice Season 23 finale. In addition to finding out which Artist wins this season, viewers will also be treated to some seriously cool performances and celebrity appearances that will make Shelton's last finale one to remember. 
So, who's all set to appear? Well, in addition to the A-list Coaches (Shelton, Niall Horan, Kelly Clarkson, Chance the Rapper) and Host Carson Daly, we're also seeing the return of original Coaches Adam Levine and CeeLo Green, plus many more familiar faces.
Below, find out every celebrity expected to appear in The Voice Season 23 finale to bid Blake Shelton adieu: 
Every celebrity who appeared in The Voice Season 23 finale
CeeLo Green, Diplo & Lily Rose, Maroon 5, and Toosii will all be performing during the Season 23 finale, which airs Tuesday May 23 at 9/8c on NBC and next day on Peacock. So, yes, this means we'll have some fun OG Coach reunions!
The May 23 episode will also feature special appearances from former Coaches Camila Cabello, Jennifer Hudson, Nick Jonas, John Legend, Adam Levine, Gwen Stefani, Usher, Pharrell Williams, plus country music icon Dolly Parton. 
All of these Coaches have sung Shelton's praises in the past. "[Blake], honestly, there's been times I almost pee myself laughing. He is so funny," Cabello told People. 
Meanwhile, current Coach Horan has said about Shelton, "Blake, he's like a dad to me. Y'know, he's really helped me during the show. I've really enjoyed his company and watching him has been a real honor...It's been amazing to work with [him and Clarkson] Meeting them for the first time, the bond that I've grown with them has been amazing. It's been so funny to dive into that Southern sense of humor with them and see the stuff that goes on behind the scenes. It's been hilarious." 
And of course, we can't forget about the beyond-sweet words Clarkson had for Shelton in an interview with NBC Insider. "I can't stand him, but I also love him," she said jokingly. "...[Knowing it's his last season], we get the time to actually, like, lift him up and say how great he is...He is the ultimate Coach on this show. Everybody knows that. He's won the most, and he, honest to God, helps the Artists afterwards. And it's an incredible thing that he's done for so many Artists. It's a loss for The Voice."
"[The Voice] has changed my life in every way for the better, and it will always feel like home to me," Shelton said in a statement announcing his departure. "It's been a hell of a ride over these 12 years of chair turns, and I want to thank everyone at The Voice from NBC, every producer, the writers, musicians, crew and catering people; you are the best."
He continued, "It takes a lot of work, passion, and adult beverages (Ha!) to pull off a live show twice a week. I've made lifelong bonds with Carson and every single one my fellow Coaches over the years, including my wife, Gwen Stefani! I have to give a huge shoutout to the singers – the 'Voices,' who come on this stage season after season and amaze us with their talent, and a special thanks to those who chose me to be their Coach. Lastly, it's about y'all, the fans, who watch and support these Artists, us Coaches, and everyone at The Voice who are chasing their dreams. It would not happen without you!"