NBC Insider Exclusive
Create a free profile to get unlimited access to exclusive show news, updates, and more!
Sign Up For Free to View
Chance the Rapper's Denim-on-Denim Outfit for The Voice Finale Night 1 Is So Cool
BRB, scrolling the internet for a similar-looking jean puffer vest.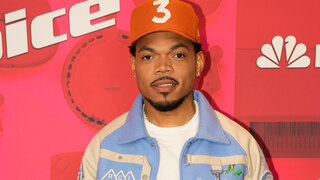 Chance the Rapper has been a welcome addition to the Coaches panel for The Voice Season 23. Not only is he an incredibly gifted Artist who the Contestants have much to learn from, he's great at giving feedback and supporting his team members. In short, he's one of the best new Coaches the show has seen in years — and also one of the best-dressed. 
Yes, Chance the Rapper has been delivering more than just excellent Coach moments on The Voice; he's excelling in the style department, as well. From his signature "3" hat to tie-dye pants and some very cool jackets, his clothes have been Four-Chair turn-worthy the whole way through. 
Naturally, he's upped the ante for the Season 23 finale episodes, starting with Night 1 on May 22, in which the Top 5 Artists gave their final performances. For the occasion, Chance went denim on denim; he paired a peach pullover hoodie with a light-wash denim puffer vest and matching jeans. He completed his look with fresh white sneakers and, of course, a "3" hat. 
See the full ensemble for yourself, below: 
"I wanted to be a Coach on The Voice because I like giving platforms to young Artists — especially people who are already seasoned in their trade and know what they're doing but just need the right spotlight. I wanted to be a part of the process," Chance told NBC Insider at the start of the season. 
He's done a great job at giving his Artists the spotlight. In fact, for his performance of his song "Same Drugs" in a recent episode, he brought out three of his eliminated team members to help him: Jamar Langley, Manasseh Samone, and Kala Banham.
Samone was Chance's Playoff Pass from earlier in the season. "Manasseh, her journey is crazy, I think she was meant to be here at this time, and now Manasseh has my one and only Playoff Pass," Chance said at the time. "She's heads and tails above the competition in my eyes. She has the strongest voice, she has the experience of being on this stage before, and I think Manasseh totally deserved to skip the next round."