NBC Insider Exclusive
Create a free profile to get unlimited access to exclusive show news, updates, and more!
Sign Up For Free to View
Chance the Rapper Wore the Coolest Green Jacket for The Voice Playoffs
The Voice Coach Chance the Rapper continues to bring us his cool and comfortable styles, signature hat and all.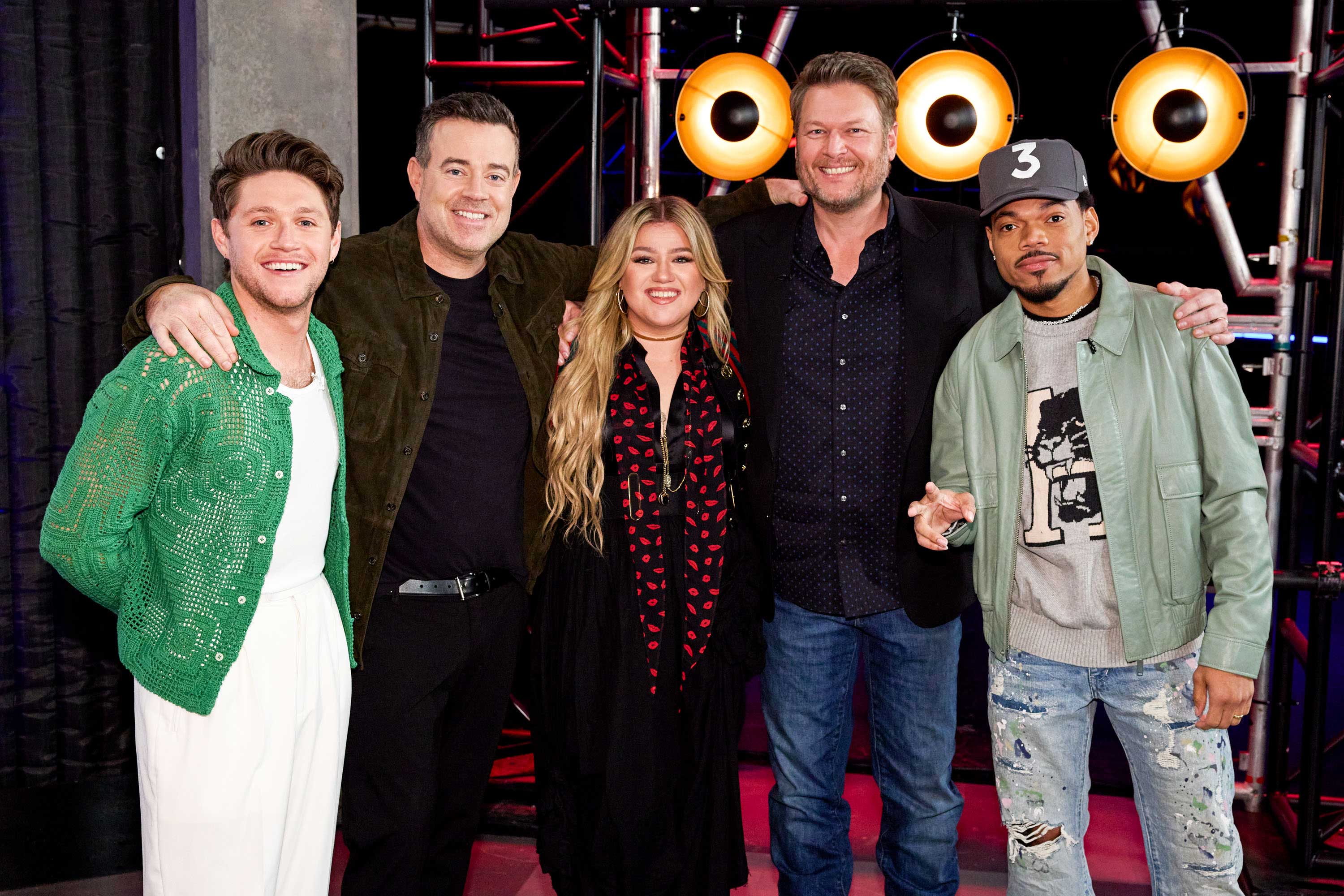 The Season 23 Playoffs continued this week on The Voice between Team Kelly and Team Niall, but it doesn't take away from Coach Chance the Rapper's sense of style (hey, that rhymes).
As one of the show's newest Coaches, Chance gave his invaluable opinions in the second part of the Playoffs as Coach Kelly Clarkson and fellow newbie Coach Niall Horan chose just two of their five hand-picked singers to move onto the Lives.
Last week, Chance and Coach Blake Shelton did the same, ultimately allowing Team Blake singers NOIVAS and Grace West, and Team Chance acts Sorelle and Ray Uriel to advance into the semi-finals.
Chance gave us an urban and comfortable vibe last week, which you can read about here, and he reprised his relaxed and forever cool style once again for this part of the Playoffs.
Earthy green and gray tones set the stage, starting with a light gray-colored sweatshirt from Honor The Gift featuring a large beige "H" block letter. The middle of the "H" crossed in the open mouth of what appears to be a fanged panther sketched in black. Beneath the sweater, viewers of The Voice could make out a black undershirt, which wasn't as noticeable as his sage-green zipper jacket, made from what looked like faux leather.
The look complimented Chance's go-to ripped jeans, which he wore this time in a washed, light blue denim.  
And of course, no ensemble would complete without his signature "3" hat, an accessory with multiple meanings behind it, including nodding to his third mixtape album Coloring Book (which earned Chance three Grammy Awards). The navy-blue hat with the white "3" embroidery is also a nod to the holy trinity (as Chance identifies as a Christian), and — when he designed the hat — there were three people in his family, including himself, his wife, and their daughter (Chance and his wife now share two daughters).
Chance also has a line of his signature "3" hats for sale on his website, available in an assortment of colors. Other items of apparel include hoodies, joggers, socks, and more, with several fashion lines corresponding with Chance's artistic endeavors and albums.
Chance topped off his look during the second half of the Playoffs with a silver chain and a sparkling pair of diamond studs in his ears.  
Fans can see Chance in the same get-up in a May 2 Instagram post, where he talked about his second 2013 mixtape album, Acid Rap, which just celebrated its 10-year anniversary. Chance called the milestone "insane."
"There's so many people that still, to this day, tell me that it was their first introduction to hip hop or their first introduction with me," said Chance. "I think it's a testament to how well myself and all the collaborators worked on it; that it still rings through as a great hip-hop album."
He said fans still shout out requests to hear "Cocoa Butter Kisses" and "Juice," which he always finds flattering because it "really connected with a huge group of people at an important time in my life."
Joining The Voice as a Coach, Chance's ultra-stylish looks haven't gone unnoticed, and they never really have. In 2017, Esquire praised the artist for perfecting the "almost-uniform," which typically is accessorized by a Gucci belt.
We have zero doubt that Chance will continue wowing us with his fashion as The Voice continues into the Live Rounds.
Watch The Voice Mondays at 8/7c on NBC and the next day on Peacock.