NBC Insider Exclusive
Create a free profile to get unlimited access to exclusive show news, updates, and more!
Sign Up For Free to View
Chance the Rapper "Desperately" Wants to Collab with This Artist for His Kids
We're sure his daughters would love it!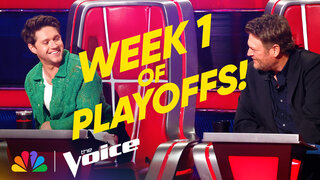 Chance the Rapper has collaborated with a slew of impressive musicians throughout his career, but there is one special Artist who's on his radar. The best part? He wants to do it for his kids!
Recently, Chance appeared on Late Night with Seth Meyers to discuss The Voice and the 10th anniversary of his mixtape, Acid Rap. In the interview, Chance talked about being the father to two beautiful girls. Meyers then asked Chance if his children had any engagement with his music.
"Yeah, they do like my music," Chance responded. "They're more into like, Peppa Pig, and their contemporaries," he said with a smirk. "But like, I have a few songs that they'll listen to. They like a song called 'Let's Go on the Run' a lot." 
Then, Meyers chimed in with a brilliant idea. "Do you ever think, I mean, in a desperate attempt to gain their affection, would you do a collaboration with Peppa?" he asked.
"Out of my own desperation, I'd do a collaboration with Peppa," Chance said in a perfect, hilarious response. "Like Peppa, if you're listening right now, like I'm trying to work, or at least get some autographs for my kids. Shout out to Peppa Pig!" 
Chance had another beloved children's figure that he was also interested in working with. "And the Baby Shark also!" he exclaimed. 
"You'd work with Baby Shark?" Meyers inquired.
"I would in a heartbeat," Chance said. 
Chance is the father to two adorable girls, named Kensli and Marli. In a 2020 interview with People, the rapper opened up about the joy that raising them has brought into his life. 
"They make me laugh so often," he told the outlet. "Kensli says really funny stuff and she's very, very advanced for her age. I know all parents say that about their kids, but it's ridiculous. She's so intelligent and she just speaks. She's very opinionated too. She says exactly how she feels about stuff. She's 4, but she acts like a 7 year old that's acting like she's 13."
As for Marli, Chance told People, "Her first word was 'Dada,' which I'm proud to say both of my girls' first words were 'Dad' basically. She calls everybody 'Dada' now. She even calls her toys and her pacifier 'Dada,' so that's just her go-to phrase now."