NBC Insider Exclusive
Create a free profile to get unlimited access to exclusive show news, updates, and more!
Sign Up For Free to View
Chance the Rapper's Signature Raspy Voice Sounds So Soulful in This New Performance
Everything's good with The Voice Coach!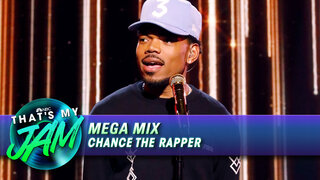 Chance the Rapper's career-defining mixtape Acid Rap turned 10 recently, and Chance took to his official Instagram page to celebrate the occasion by performing the closing track, "Everything's Good (Good Ass Outro)". 
In the video, Chance sported a tie-dye hoodie and his signature "3" baseball cap for a passionate performance at an intimate venue. He rapped and sang the introspective lyrics with fervor in his signature raspy tone while the minimalist instruments played in the background.  
"If u could take a group trip w 3 friends all expenses paid to go see #acidrap10 in Chicago, LA or NYC… who would u bring and where would y'all go?" Chance captioned the post. 
According to a 2013 "Ask Me Any Anything" Q&A session on Reddit, "Everything's Good (Good Ass Outro)" is one of his personal favorite songs that he has created. 
"With as much thought and hesitation allowed to me at the moment, I'd blindly resort to throwing Everything's Good (Good Ass Outro) out as my most important track to date. Acid Rap's intro is The Thesis of my album, as well as my own introduction to you as a listener. Kind of like the foreword in a book, in third person. It took me so long, after beginning the process of recording and creating of the project, to write an ending to the album. About 3 1/2 weeks before the tape dropped I wrote and recorded Everything's Good, which I knew from the first time I heard it would be the outro," he explained to fans, according to HypeBeast.
He then gave some context behind the song's inspiration. "During the session my Dad called me to apologize about a laptop he had told me he'd buy me awhile back. The laptop wasn't really a big deal to me then, but my Dad has always been one to give provocative and loving speeches via random, sporadic phone calls. So I listened. About a minute into the call i got teary eyed and started really listening to him and the conviction in his voice. I could hear my Dad speaking in this calm and fulfilled voice about his pride in what I'm doing and his pure love of my success. And that was it. everything was good," he said. 
10 years after the release of "Acid Rap", you can now find Chance the Rapper honing in what he's learned from the industry on Season 23 of The Voice.