NBC Insider Exclusive
Create a free profile to get unlimited access to exclusive show news, updates, and more!
Sign Up For Free to View
From Restaurant Employee to World-Famous Singer: Adam's Levine Career Recap
Adam Levine's stint as an OG Coach on The Voice led to a friendship with fellow Coach Blake Shelton.
Adam Levine might be one of the most famous singers in the world now, but the Maroon 5 frontman had a bumpy star to his music career, which first began at a young age. It all led him to a job as one of the OG Coaches on The Voice and helped him to develop an otherwise unlikely lifelong friendship with Coach Blake Shelton.
Adam Levine's Rise to the Top
Adam Levine was born on March 18, 1979 in Los Angeles, and grew up in the City of Angels, according to Britannica. He formed his first band called Kara's Flowers (later known as Maroon 5) while he was a student at the Brentwood School. The band was named after Kara — a girl whom all of the bandmates were crushing, according to E! Online.
He got his first break when a producer from Reprise Records overheard his band performing at a house party and decided to sign the band, Britannica said. But that success was short-lived.
RELATED: Gwen Stefani Shared Sweet, Rare Footage of Her Kids at Blake's Walk of Fame Event
"Technically my first job was a musician because I got signed to a record label at a young age, so I did get paid for that," Levine told PEOPLE."But then I got a job at Johnny Rockets when that record deal didn't work out, and then I got a job as a [production assistant] on a TV show actually."
In 1997, the year he graduated from high school, Levine and his band appeared on an episode of Beverly Hills 90210 and released an album titled Fourth World, according to Britannica. But when the album didn't sell, the record label dropped the band.
Levine attended Five Towns College in New York for a bit, before coming back to L.A. in 2000 and getting the band back together.
How Maroon 5 Became Successful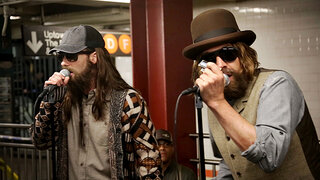 In 2001, the original Kara's Flowers added guitarist James Valentine as the fifth member of the group, and changed the band name to Maroon 5, according to E! Online. They eventually signed with Octone Records and released their debut album, Songs About Jane, in 2002.
Once again, a girl was the focus of the band, as the lyrics and song titles on the album were based on songs Levine wrote about his ex-girlfriend, Jane, E! Online said.
"I saw this girl [Jane] at the gas station, and I fell in love with her," he told Rolling Stone. "I wrote a song about her and played it in the store where she worked. It was an awful song, but she found out about this relatively psychotic boy. She was my muse for years."
RELATED: Blake Shelton Is "Most Comfortable" Here: See Where He Lives
"Harder To Breathe" and "This Love" increased the band's popularity, and Songs About Jane entered the Billboard Top Ten in August 2004, Britannica reported. That same year, Maroon 5 won the Grammy for Best New Artist.
A single from their second studio album, "Makes Me Wonder," also won a 2007 Grammy for Best Pop Performance, jetting the band into superstardom.
Maroon 5 has gone on to be nominated for 13 Grammys, winning five of them. After Songs About Jane, the band went on to produce seven more albums — the latest, Jordi, released in 2021, according to All Music. They even headlined the Super Bowl halftime show in 2019.
Adam Levine's Acting Credits
Besides his appearance on 90210 as a teen, Levine first broke onto the small (and big!) screens as an actor in 2009 when he appeared in an episode of 30 Rock on NBC, according to IMDB. He also had a memorable role in three episodes of FX's American Horror Story in 2012. These were followed by roles on Family Guy, Pitch Perfect 2 and many others.
Adam Levine's Friendship with Blake Shelton on The Voice
Levine also became a TV star when The Voice first premiered on NBC in 2011, with Levine joined by Blake Shelton, and Christina Aguilera as Coaches.
RELATED: Wait, Blake Shelton Wrote a Pitbull Song? The Music Blake Shelton Has Done for Other Artists
Levine stuck with the show for its first 16 seasons, before leaving in 2019. He won three times as a Coach: in the inaugural season with Javier Colon, in Season 5 with Tessanne Chin, and in Season 9 with Jordan Smith.
Levine and Shelton, although two very different musicians, developed a fast friendship, and hilariously bantered with each other for years, to the delight of The Voice audiences.
"We are constantly at each other's throats, and sometimes we really do get mad at each other," Shelton told US Weekly, calling Levine, "one of the best friends I have."
"We're those two guys you knew in high school where we have this bond that is unexplainable," Shelton said to US Weekly. "It brings out the best and worst in both of us. It truly is an explosive relationship….and I know every trick to get under his skin."
Their friendship continues off The Voice, and Levine was there as Shelton was honored by getting a star on the Hollywood Walk of Fame earlier this month. The two posed for photos, and Shelton even gave Levine a big kiss on the cheek.
"I'm really proud of you, man, and I love you," Levine said during a speech to Shelton. "This is a big deal."
Levine joked to Entertainment Tonight earlier this year that "it's about time" Shelton leave the show.
"He's right, it is about time," Shelton replied to Entertainment Tonight. "I've done it forever, this has changed my life in a lot of ways, but it's time to let one of these new up and coming artists become a coach."
The two will reunite for one last time on The Voice during the Season 23 finale. Maroon 5 is set to perform its new single, "Middle Ground," on stage. There will be appearances from former The Voice Coaches including Miley Cyrus, Usher, Pharrell, John Legend, Nick Jonas, Camila Cabello, and Jennifer Hudson.
Watch the Season 23 finale of The Voice on Tuesday, May 23 on NBC at 9/8c and the next day on Peacock.