NBC Insider Exclusive
Create a free profile to get unlimited access to exclusive show news, updates, and more!
Sign Up For Free to View
Hear Adam Levine Nail the High Note Singing Aerosmith's "Dream On" with Blake Shelton
The Voice Coaches Miley Cyrus and Alicia Keys were also a part of this performance — and they were epic.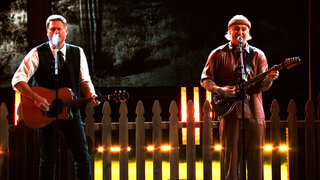 The Voice Coaches surely know how to take on a musical challenge. We saw this in 2016 (Season 11), when Blake Shelton was accompanied by Miley Cyrus, Alicia Keys, and Adam Levine to tackle the legendary monster that is "Dream On" by Aerosmith. (Which they nailed, obviously.) 
During the performance, Keys sang the first verse while playing the opening chords on the piano. The song then built up in intensity for the pre-chorus as Shelton jumped in with his vocals. Levine then played a slick guitar riff before taking over the second verse with his signature tenor range. Cyrus then entered singing the second chorus, her deep rock-and-roll tone suiting the song perfectly. 
When it was time for the song's epic outro, all four of the Coaches played off each other, their voices climbing up the scale as they improvised some riffs. And for the moment of truth, Levine was the one who sang the notoriously hard final high note. He (unsurprisingly) pulled it off perfectly. 
Watch the performance here and here. 
About "Dream On" by Aerosmith 
A song off  Aerosmith's 1973 debut album, "Dream On" is the band's first major hit and one of their signature songs to date. Written by front-man Steven Tyler, the tune is known for its vocal difficulty, especially the final high note that Tyler performs with a distorted scream. In 2021, Rolling Stone ranked "Dream On" in the 199th position on its 500 Greatest Songs of All Time list, noting Tyler's "piercing falsetto" on the track. 
"Dream On" by Aerosmith Lyrics 
Every time that I look in the mirror
All these lines on my face getting clearer
The past is gone
Oh, it went by like dusk to dawn
Isn't that the way?
Everybody's got their dues in life to pay, oh, oh, oh
I know nobody knows
Where it comes and where it goes
I know it's everybody's sin
You got to lose to know how to win
Half my life's in books' written pages
Storing facts learned from fools and from sages
You view the earth
Oh, sing with me, this mournful dub
Sing with me, sing for a year
Sing for the laughter, and sing for the tear
Sing with me, if it's just for today
Maybe tomorrow, the good Lord will take you away
Oh, sing with me, sing for the year
Sing for the laughter, and sing for the tear
Sing it with me, if it's just for today
Maybe tomorrow, the good Lord will take you away
Dream on
Dream on
I dream on
Dream a little, I'll dream on
Dream on
I dream on
I dream on
Dream a little, I'll dream on
Dream on
Dream on
Dream on
I'll dream on
Dream on
Dream on
I dream on