NBC Insider Exclusive
Create a free profile to get unlimited access to exclusive show news, updates, and more!
Sign Up For Free to View
Look Back at the Dynamite Cast of Law & Order: Criminal Intent in Every Season
The brilliant actors from this Law & Order franchise never failed to deliver the drama.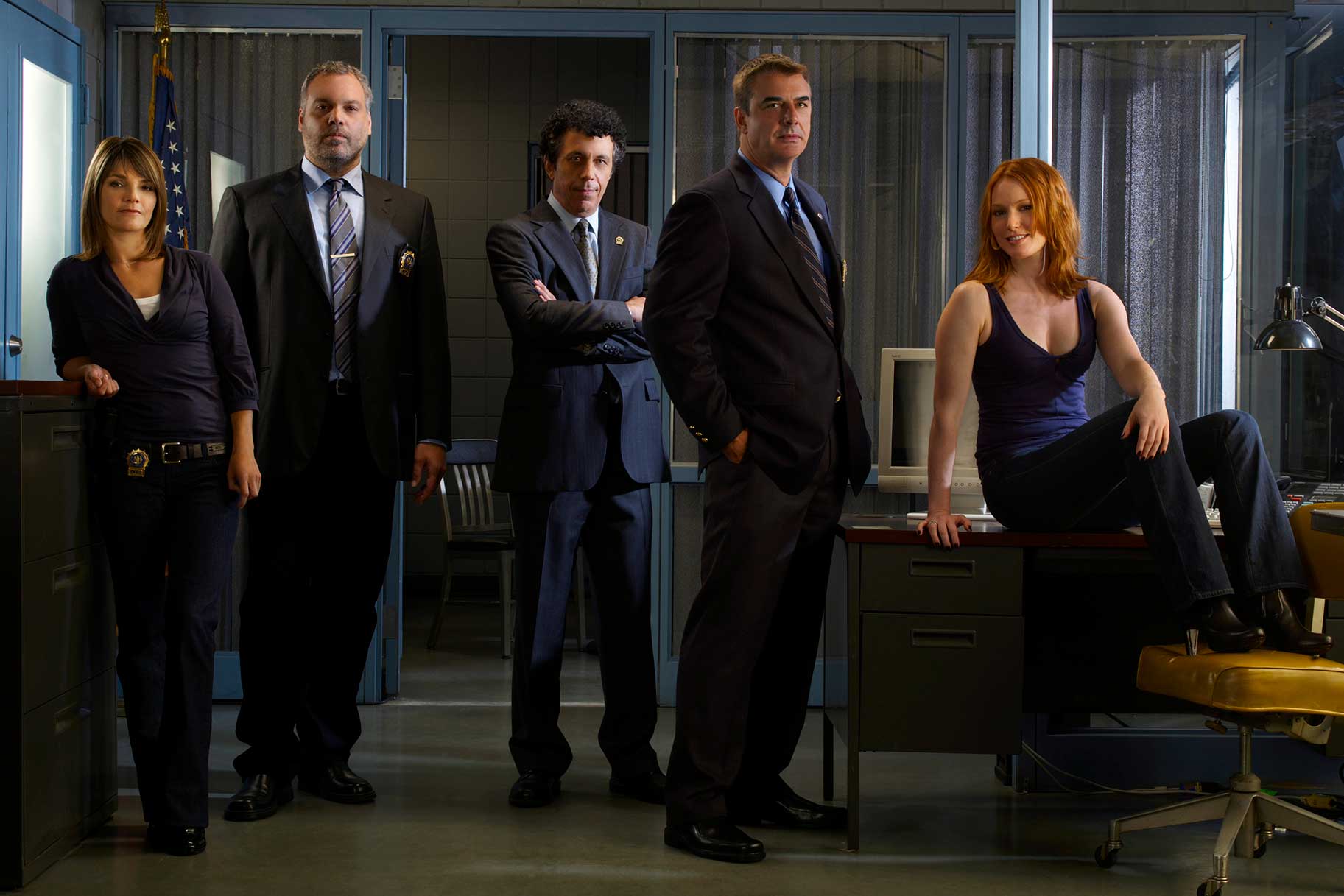 Law & Order has dominated primetime for decades with its many successful spin-offs — the addictive Law & Order: Criminal Intent included. Many agree that while the criminal case studies and psych evaluations instantly captivated fans, it was the evolving cast of Law & Order: Criminal Intent that kept viewers feverishly hungry for more.
Criminal Intent aired from 2001 to 2011, and the criminal-centric take on Law & Order's delicious formula was a delightful remix for fans of the flagship series and its smash spin-off Law & Order: Special Victims Unit. Featuring a welcomed mixture of newcomer talent and seasoned A-listers, the star-studded cast of Law & Order: Criminal Intent elevated its success over 195 nail-biting episodes, and the elite detectives and legal experts of Criminal Intent's Major Case Squad became cherished faces among Law & Order fans everywhere. 
In honor of all Law & Order: Criminal Intent episodes being available to stream on Peacock, we're paying homage to the dedicated detectives that led fans down the rabbit hole of criminal psychology. Enjoy a deep dive into the captivating cast of Law & Order: Criminal Intent across all seasons. 
Kathryn Erbe as Senior Detective Alexandra Eames 
Seasons 1-10
Criminal Intent's leading lady Alex Eames was played by the endlessly talented Kathyrn Erbe, whose portrayal of the empathetic detective earned her a nomination for Best Actress in a Television Series Drama at the 2008 Satellite Awards.
Eames worked alongside her equally dedicated partner, Robert Goren (Vincent D'Onofrio) in one of the best Law & Order partnerships ever. (Goren and Eames were Criminal Intent's take on the powerhouse SVU partners Olivia Benson (Mariska Hargitay) and Stabler(Christopher Meloni).) Viewers were so charmed by Eames' wit and tenacity that she even appeared in two episodes SVU: Season 14, Episodes 4 ("Acceptable Loss") and 22 ("Poisoned Motive").
Related: 8 Celebrities You Forgot Appeared on The Blacklist
Erbe came to Criminal Intent with a distinguished Broadway career. She had also starred in Oz as Shirley Bellinger from 1998 to 2003. Following her 144 episodes of Criminal Intent, Eames continued to dominate the stage circuit and guest starred in several exciting television shows like Blue Bloods (2015), How to Get Away with Murder (2017-2018), Pose (2018), and two intense episodes of The Blacklist in 2021.  
Vincent D'Onofrio as Junior Detective Robert "Bobby" Goren 
Seasons 1-10
Erbe's other half on Criminal Intent was Vincent D'Onofrio as Bobby Goren, an intense and exceptionally cerebral junior detective in the Major Case Squad. Goren and Eames' affinity for solving cases and stomaching the ghastly criminal testimony from each investigation was an instant obsession and, while Eames was calculated and empathetic, Goren was impulsive and insightful. 
Related: All of the Law & Order Spin-offs in the Franchise 
D'Onofrio came to Criminal Intent as an established film and television star. He previous roles included Emmy-nominated turn in Homicide: Life on the Street (1997), his role as the villain Men in Black (1997), and the serial killer in The Cell (2000). Following his smashing success in Criminal Intent, D'Onofrio appeared in several other television series and films, such as Daredevil (2015-2018), Jurassic World (2015), Emerald City (2017), Hawkeye (2021), and The Eyes of Tammy Faye (2022).
Courtney B. Vance as A.D.A. Ron Carver
Seasons 1-5
Every Law & Order Squad needs a reliable attorney to help close criminal cases, and Courtney B. Vance's Ron Carver rose to the occasion for 111 intense episodes of Criminal Intent. Carver was the crew's ferocious legal expert from the series debut until his character's departure in Season 5, Episode 22 ("The Good") — an era of changes within the cast of Law & Order: Criminal Intent. Carver was humorous, no-nonsense, and practical, a balancing dynamic within the often speculative and emotional Major Case Squad. 
Related: Look Back at Every District Attorney from Law & Order: SVU
Before Vance appeared in the first five seasons of Criminal Intent, he wasn't a stranger to Dick Wolf's serialized criminal universe. In 1990, Vance was featured in Season 1, Episode 7 ("By Hooker, by Crook") of the flagship series and appeared as another one-off character in 1995 for Season 5, Episode 13 ("Rage").
Outside of his Law & Order credits, Vance is a highly-accomplished Broadway star, winning a Tony Award in 2013 for Best Featured Actor in a Play for his role as Hap Hairston in Lucky Guy. Outside of Vance's prominent roles in films like The Hunt for Red October (1990), The Preacher's Wife (1996), Terminator Genisys (2015), and Isle of Dogs (2018), he has continued to shine in television projects. Vance is a proud winner of not one but two Emmy awards, the first being for his 2016 depiction of defense attorney Johnnie Cochran in The People vs. OJ Simpson and the latter for his thrilling part in Lovecraft Country as George Freeman.
Jamey Sheridan as Captain James Deakins
Seasons 1-5
Criminal Intent's debut Captain was James Deakins, played by the talented Jamey Sheridan for the first five seasons, delivering a powerhouse performance as the hard-headed captain. After Deakins became a target for false charges of corruption, however, he chose to resign from the NYPD rather than fight the planted allegations. Deakins bid farewell to his beloved Major Case Squad in Season 5, Episode 22 ("The Good"). 
Related: Celebrities Who Appeared on Law & Order Before They Were Famous
Sheridan came to Criminal Intent as an established film and television star best known for his role as the villainous Randall Flagg in the 1994 miniseries adaptation of The Stand as well as his part in several television films like Shannon's Deal (1989), Murder in High Places (1991), The Echo of Thunder (1998), and Hamlet (2000). Following Sheridan's Criminal Intent success, he starred in Arrow from 2012 to 2019 as Robert Queen, the titular superhero's father.
Chris Noth as Senior Detective Mike Logan
Seasons 4-7
Season 4 of Criminal Intent featured a guest appearance from Chris Noth, reprising his role as Detective Mike Logan from the flagship series. Law & Order fans loved Logan and Eames' chemistry and skill for noodling tough-to-crack cases, leading Noth to join the main cast of Law & Order: Criminal Intent in Season 5. 
Related: Who's in the Law & Order: Organized Crime Cast?
Logan appeared in 36 episodes of Criminal Intent throughout Seasons 4-7 after appearing in Seasons 1-5 of Law & Order. He formally retiring from the NYPD in Criminal Intent Season 7, Episode 21 ("Last Rites").
Noth was an esteemed television film star before his Law & Order days, appearing in Killer in the Mirror (1986), At Mother's Request (1987), and I'll Take Manhattan (1987). Soon after becoming a Law & Order icon, Noth became equally renowned for his role as the enigmatic Mr. Big in Sex and the City (1998-2004), its related film adaptations, and 2021 reboot And Just Like That... He was also lauded for his portrayal of the philandering, corrupt politician Peter Florrick in The Good Wife from 2009-2016.
Annabella Sciorra as Junior Detective Carolyn Barek
Season 5
Carolyn Barek (Annabella Sciorra) was introduced to the Law & Order universe in Criminal Intent Season 5, Episode 2 ("Diamond Dogs"), working closely with Logan on several harrowing criminal cases before leaving the series.
Fans caught up with Barek in Season 22, Episode 7 ("Hunt, Trap, Rape, and Release") of SVU when they learned what she had been up to since leaving the Major Case Squad. She is currently the Lieutenant commanding officer of the Bronx Homicide Department, having transferred there from the Bronx SVU.
Prior to her time in the Law & Order-verse, Sciorra captivated audiences as Gloria Trillo on The Sopranos from 2001-2004, a role that earned her an Emmy nomination for Outstanding Guest Actress in 2001. Following her Criminal Intent tenure, Sciorram appeared in numerous television projects such as The L Word (2007), ER (2007), The Good Wife (2012), Blue Bloods (2013), CSI (2013), G.L.O.W. (2018), and New Amsterdam as Season 3's Dr. Romy Lucio in 2021. That same year, Sciorra also played Blacklister Michaela Belucci, a.k.a. "The Avenging Angel," in Season 9 of The Blacklist.
Julianne Nicholson as Junior Detective Megan Wheeler
Seasons 6-8
Julianna Nicholson played Megan Wheeler for three beloved seasons of Criminal Intent. She became an icon of the spin-off after appearing in 24 nail-biting episodes of Criminal Intent following her introduction in Season 6, Episode 2 ("Tru Love"). Wheeler retired from the squad in Season 8, Episode 14 ("Major Case"). 
Related: So What's the Deal With James Spader's Robert California on The Office?
Nicholson's first film role had been in the 1998 film Curtain Call, where she starred alongside Michael Caine and James Spader (the beloved star of The Blacklist). Besides her role in Criminal Intent, Nicholson earned widespread acclaim for her roles in the 2013 film August: Osage County and in the miniseries Mare of Easttown — a role that earned her the Emmy award for Outstanding Supporting Actress In A Limited Or Anthology Series Or Movie in 2021.
Eric Bogosian as Captain Danny Ross
Seasons 6-9
Another cherished Captain of the Criminal Intent crew was Danny Ross, played by Eric Bogosian. Introduced in Season 6, Episode 1 ("Blind Spot"), Ross quickly established himself as a protective force with the Squad, always looking at an emergency from every angle. Ross was tragically shot and killed in the line of duty in Season 9, Episode 1 ("Loyalty (1)") after agreeing to go undercover on a case for the FBI.
Related: Celebrities Who Appeared on Law & Order Before They Were Famous
Bogosian came to the Law & Order: Criminal Intent cast with a wide portfolio of television credits, including Miami Vice (1985), Alive from Off Center (1987), and two appearances as defense attorney Gary Lowenthal in the flagship Law & Order in Season 3, Episodes 2 ("Conspiracy") and 13 ("Night & Fog"). Since Criminal Intent, Bogosian landed a major role in the 2019 film Uncut Gems as Arno and starred in Succession as Gil Eavis from 2018-2019. 
Alicia Witt as Junior Detective Nola Falacci
Season 7
Nola Falacci may have been a short-running detective on Criminal Intent, but Alicia Witt's portrayal of the fearless investigator was impactful. Falacci became Logan's temporary partner in Season 7, Episode 2 ("Seeds"), and her final episode was Episode 10 ("Senseless"). Logan later revealed that she left the Major Squad in favor of training at the FBI, a fitting role for the Criminal Intent investigator who refused to be intimidated by criminals or superiors.
Related: How to Watch Episodes of NBC's Friday Night Lights
Witt's first on-screen role was in Dune (1984) and she later landed a role in Twin Peaks (1990), created by the same director, David Lynch. Witt was also in Cybill from 1995 to 1998 as the titular character's daughter. At the turn of the century, Witt landed several exciting film roles in Urban Legend (1998), Vanilla Sky (2001), and Last Holiday (2006). Witt has shined as a guest star at many stages in her career, elevating The Sopranos (2000), Friday Night Lights (2009-2011), The Walking Dead (2016), and Orange Is the New Black (2019).
Jeff Goldblum as Senior Detective Zack Nichols
Seasons 8-9
After Detective Logan retired from the Major Case Squad, the endlessly quipping Detective Zack Nichols — played by the dynamite actor Jeff Goldblum — arrived to replace him in Season 8, Episode 2 ("Rock Star"). Nichols was the son of two psychiatrists, so he was well-equipped for the Major Case Squad, constantly brainstorming solutions and analyzing criminal motives with an eagle-eyed perspective.
Goldblum was an established film and television star long before his 2009 Law & Order role, making him an instant fan favorite. He had starred in a wide variety of film and television projects, making his debut in the movie Death Wish in 1974. Goldblum has since starred in dozens of cherished films such as Jurassic Park (1993), Independence Day (1996), The Fly (1986), and Thor: Ragnarok (2017), and will take on the role of the nefarious Wizard of Oz in the upcoming film adaptation of Wicked, starring alongside Ariana Grande and Cynthia Erivo.
Goldblum is also an established television star: In 2005, he earned an Emmy nomination for his role as Scott Wooley in NBC's Will and Grace.
Saffron Burrows as Junior Detective Serena Stevens
Season 9
Serena Stevens (Saffron Burrows) was introduced to the Major Case Squad in Season 9, Episode 2 ("Loyalty (2)") as a recruit from Chicago's Police Department (much like Chicago P.D.'s fearless crew of CPD officers and detectives). Quickly cherished for her humor and reckless wit, Stevens promptly partnered with Nichols on several grim criminal cases and worked under Captain Zoe Callas (Mary Elizabeth Mastrantonio). After starring in 15 episodes, Stevens' final Criminal Intent appearance was in Season 9, Episode 16 ("Three-In-One").
Related: Every Law & Order Detective Across All Seasons
Burrows had landed roles in films for two decades before her first appearance on the show, and was known for her work in Deep Blue Sea (1999), Enigma (2001), Troy (2004), and Reign Over Me (2007), to name a few. Following her Law & Order days, Burrows starred in Agents of S.H.I.E.L.D. (2013–2014), Mozart in the Jungle (2014–2018), and You as Dottie Quinn from 2019–2021. 
Mary Elizabeth Mastrantonio as Captain Zoe Callas
Season 9
Like Stevens, Mastrantonio joined the cast of Criminal Intent in Season 9, and Callas assumed command of the Major Case Squad in Season 9, Episode 3 ("Broad Channel") after Ross' shocking death. Callas was sensible, political, and infinitely calculated, making her the perfect person for cleaning up the chaos stirred by Ross' murder. She departed from the Squad in Season 9, Episode 16 ("Three-In-One").
Related: Check Out the Talented Cast of Law & Order: SVU
Before landing in the Law & Order world, Mastrantonio was an established stage talent and screen talent: She starred in the 1980 revival of West Side Story on Broadway in 1980, then landed her breakout film role as Gina Montana in Scarface (1983). Mastrantonio went on to star in The Color of Money (1986), The Abyss (1989), Robin Hood: Prince of Thieves (1991), and The Perfect Storm (2000), among many others. In 2003, Mastrantonio earned a Tony nomination for Best Performance by an Actress in a Leading Role in a Musical for her role as Aldonza (a.k.a. Dulcinea) in the Broadway revival of Man of La Mancha.
Julia Ormond as Dr. Paula Gyson 
Season 10
The final season of Law & Order: Criminal Intent got an exciting character addition with Paula Gyson, an incredibly intelligent police psychologist played by Julia Ormond. Introduced in Season 10, Episode 2 ("The Consoler"), Gyson worked closely with Goren after he was assigned mandatory sessions to determine if he was fit for duty. Gyson's final Criminal Intent appearance was in Season 10, Episode 8 ("To the Boy in the Blue Knit Cap"), in which she decided Goren's anger issues were improving.
Related: The Best Law & Order: SVU Episodes Fans Never Forget
Prior to joining the cast, Ormond had provided powerhouse performances in Mad Men (2012–2015), Witches of East End (2013–2014), and The Walking Dead: World Beyond (2020–2021), to name a few of her notable television projects. In 2010, Ormond won an Emmy Award for Outstanding Supporting Actress in a Miniseries or a Movie for her portrayal of Eustacia Grandin in Temple Grandin. Ormond has also appeared in several films, but is perhaps best known for playing Guinevere in First Knight (1995), the titular character in the Harrison Ford revival of Sabrina (1995), Caroline in The Curious Case of Benjamin Button (2008) and Gone with the Wind star Vivian Leigh in My Week with Marilyn (2011).
Jay O. Sanders as Captain Joseph Hannah
Season 10 
The last (but not certainly not least) captain of the Major Case Squad was commander Joseph Hannah, played by Jay O. Sanders.
Prior to his time on the Criminal Intent cast, he had guest starred in the flagship Law & Order franchise as the villain in Season 9, Episode 19 ("Tabula Rasa"), then as a separate character in Season 13, Episode 8 ("Asterik"). He also guest starred as hitman Harry Rowan, Sr. on Season 2, Episode 1 ("Dead") of Criminal Intent. (Yes, that means he played four different characters within the overall franchise.)
Before his Criminal Intent re-introduction in Season 10, Sanders had also appeared in several films, including Glory (1989), JFK (1991), Angels in the Outfield (1994), Half Nelson (2006), and& Revolutionary Road (2008). Earlier in his career, Sanders also appeared in a 1985 episode of Miami Vice and starred in Crime Story as mob lawyer Steven Kordo from 1986 to 1988. Following Criminal Intent, Sanders appeared in True Detective (2014), Sneaky Pete (2017-2019), and guest starred in a Season 4 episode of Chicago Med.