NBC Insider Exclusive
Create a free profile to get unlimited access to exclusive show news, updates, and more!
Sign Up For Free to View
Here's Everything That Went Down During Season 9 of The Blacklist
Refresh yourself on Season 9's cases ahead of the Season 10 premiere.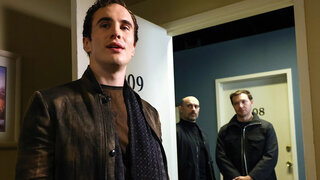 Season 10 of The Blacklist is on the horizon, premiering February 26, 2023 at 10/9c on NBC, and fans are gearing up for a new chapter of nonstop drama.
What will Reddington (James Spader) and his Task Force tackle next? Season 9 centered on the aftermath of the shocking death of Elizabeth Keen (Megan Boone). Keen was killed in the Season 8 finale, seconds after hesitating to shoot Red to take over his criminal enterprise and become the new master of the Blacklist. 
In honor of Season 10 of The Blacklist, which recently filmed its landmark 200th episode, let's recap everything that went down in Season 9. 
Season 9 tackled the aftermath of Keen's murder
Season 9 of The Blacklist takes place two years after Keen's murder, with all former Task Force members dislocated. The tragic loss caused the team to fall apart. Red's whereabouts were unknown, causing his bodyguard, Dembe (Hisham Tawfiq), to become an undercover agent for the FBI. Dembe was attacked while working on a case, causing the not-so-retired Harold Cooper (Harry Lennix) to begin investigating the culprits responsible. Cooper recruited numerous Task Force members, and the investigation resulted in Red's team reuniting Soon, Red became hellbent on discovering who was responsible for Keen's death. 
As Season 9 progressed, several Blacklisters and obstacles thwarted Red's investigation. Cooper was blackmailed, and Red worked with his longtime lawyer and friend, Marvin Gerard, to identify who was responsible (and also who likely killed Keen). Shocking betrayals and The Blacklist go hand in hand, but that didn't make it any less shocking when Red finally discovered the individual who placed the hit on Keen was in his inner circle. 
Who was responsible for Elizabeth Keen's death?
Season 9 of The Blacklist ended with Reddington finally answering the pressing question, "Who was responsible for Elizabeth Keen's death?" After working with Marvin to piece together details of Keen's murder, the puzzle slowly revealed that Marvin was to blame. Marvin also helped orchestrate Cooper's blackmail. 
Marvin revealed that he disagreed with Red's decision to make Keen the next master of the Blacklist, claiming he was more qualified. Red assured Marvin that he made a fatal error in betraying him and  someday he would pay the price. When? Where? Who knows, but Red would get his revenge.
How Season 9 of The Blacklist ended
If anyone knew how equipped Red is to trace and kill someone, it was Marvin. The paranoia of Red's promise to end his life plagued Marvin, resulting in him dying by suicide. But Marvin was careful to leave a legacy behind, visiting Season 1 Blacklister Wujing in prison. Marvin revealed Red's status as an informant and provided Wujing with a copy of the Blacklist. Marvin effectively jeopardized Red's safety by simply spilling the beans.
In the fallout of Marvin's death, Red left the city with things mostly wrapped up in the Elizabeth Keen story. Fittingly, the Task Force gathered around Keen's grave in honor of the anniversary of her death. While swapping fond memories of their time with Keen, agent Park (Laura Sohn) revealed that she is pregnant and leaving the field. Agent Aram (Amir Arison) also announced he had plans to take time off. 
In the final moments of Season 9, Wujing escaped custody, announcing he intended to "find and kill Raymond Reddington." Even worse, he has a "list of others who will be glad to join the fight." 
So, where do we go from here? We'll have to wait and see in 2023 to find out. 
How to watch The Blacklist Season 10
Season 10 of The Blacklist premieres Sunday, February 26, 2023 at 10/9c on NBC and later on Peacock.