NBC Insider Exclusive
Create a free profile to get unlimited access to exclusive show news, updates, and more!
Sign Up For Free to View
How Does The Blacklist End?
The nail-biting series has ended after 10 years of high-stakes action.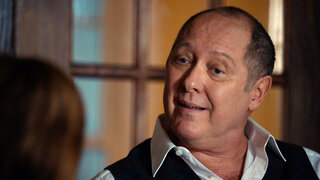 The end of an era is here: The Blacklist has concluded with a jaw-dropping series finale. 
Season 10 of The Blacklist was a thrilling watch from beginning to end. It kicked off with Raymond Reddington (James Spader) and his Task Force facing several vengeful Blacklisters from the past dead set on exposing Red as a criminal informant for the F.B.I. Red did his damnest to preserve his role as a criminal informant, but after an overly curious Congressman connected one too many dots, Red realized he needed to distance himself from the Task Force to protect them. Red dismantled his sprawling criminal enterprise piece by piece, effectively shutting down the Task Force. The stakes had never been higher as the curtain closed on the chilling series, with fans on the edge of their seats with each passing development. 
That said, all good things come to an end. From Red's illustrious monologues to the powerhouse cast that makes up the crime-busting Task Force, there are countless reasons why the NBC series will be missed. Read on to learn how The Blacklist ends.
How does The Blacklist end?
The Blacklist ends with Red on the run from the government and the Task Force receiving their final assignment to arrest Red. Red fled to Spain to find respite but found himself in poor health. In Spain, Red tragically dies after crossing paths with a bull.
Let's rewind a bit: By the series finale of The Blacklist, Red is on the run after shutting down the Task Force. Red leaves the country in a whirlwind getaway involving every trick in the criminal concierge's book, including convoluted escape routes, misleading disguises, and classic misdirection. Red was moments away from leaving the country for Spain when he learned Dembe (Hisham Tawfiq) was under arrest. As Red's longtime ally, Dembe was the one person Red was unwilling to see go down for his actions. 
Red stopped the arrest by intercepting the FBI in a dramatic car crash, prompting an intense shootout between Congressman Hudson, Red, and Dembe. Hudson shot Dembe, leading Red to kill Hudson instantly. Dembe nearly perished from his wound but lived thanks to Red insisting on providing blood for a transfusion. 
Needless to say, Red arrived in Spain in some of the worst health of his life. Red escaped, but just barely, and his condition only worsened. Fans may remember in Season 10's "The Sicilian Error of Color" when Red told Siya Malik (Anya Banerjee) the story of the Spanish bullfighter Manolete after she spotted the recovered horns of the bull that killed him. Red respected Manolete for his convictions about living a life full of risk rather than living a riskless existence, so he felt it was important to return the horns to their birthplace. 
Donald Ressler (Diego Klattenhoff) hops on a plane to Spain to arrest Red as soon as they realize that's his likely hideout. At this point, Red was weakened and dispirited, but still left his refuge to keep his escape rolling. While on this walk, Red crossed paths with a massive bull grazing in a field, prompting him to stop and gaze at the spectacle. The bull stared at Red with fury, but this did nothing to stop Red from standing his ground with amazement. 
Ressler later finds Red's dead body not too far away from the grazing creature. Just like the famed legend he so admired, Red died a fighter's death even in his weakest moment. Red never feared looking death in the eyes, even as it came charging his way. The legend of Raymond Reddington has come to a close, but he'll never be forgotten.
This story was originally published on February 8, 2023. It was updated on July 14, 2023.