NBC Insider Exclusive
Create a free profile to get unlimited access to exclusive show news, updates, and more!
Sign Up For Free to View
These Are Red's All-Time Greatest Lines and Monologues on The Blacklist
"In this world, there are no sides. Only players." Red has so many perils of wisdom!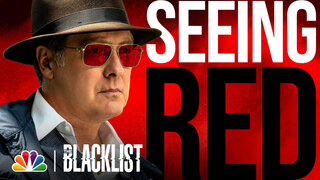 There's no denying that one of the best parts of watching The Blacklist is Reddington, played by the insanely talented James Spader.
Known as the "concierge of crime," Red has proven time and time again that he didn't earn his title without some next-level badassery. Red is the smartest person in every room, which has led to some intense mic-drop moments. Keep in mind, this is the man who once said, "God can't protect you, but I can." Red is never afraid to speak his mind, whether that is to reminisce about some long-ago trip he took or to spew volatile threats to a dangerous blacklister. When Red opens his mouth, you can bet wisdom is on the way.
Red has some seriously haunting lines and monologues throughout The Blacklist. In honor of the Season 10 premiere on February 26th at 10/9c, let's look back at some of Red's most memorable zingers.
When Red turned himself in and immediately set the record straight
"Agent Cooper, you've overestimated your authority. I said I'll help you find Zamani, and I will. But from this point forward, there's one very important rule... I speak only with Elizabeth Keen."
Reddington's diversion speech to the Embassy Guards to save Keen
Embassy Guard: Sir, this is a secure area.
Reddington: "Well, not secure enough if you ask me, sister. You know what? Why don't you ask Rasil? We wouldn't even be here if it weren't for that troublemaker. Always an agenda with him. Cultural attache. Culture, my ass. The things I do for this one. Gallivanting around the globe for your little assignations with, you know, hmm-hmm. Carrying her furs and bikinis as if I wouldn't rather be back in Dutchess County, my shelties. Hey, don't take anything for granted. Everything you have was bought and paid for by your boyfriend. Do you have any idea whose horn this tramp is blowing? Let's just say it starts with Bashiar, and ends with Assad, gassing you faster than a Sunni. So let's get her out of the hot seat and into a limo."
Fun fact: This monologue (and the Wisconsin accent Spader used) was completely improvised! 
Red's thoughts on pain
"There is nothing that can take the pain away. But eventually, you will find a way to live with it. There will be nightmares. And every day when you wake up, it will be the first thing you think about. Until one day it will be the second thing."
Red gets real about judgment
"You can't judge a book by its cover. But you can by its first few chapters and certainly by its last."
Red's take on societal homophobia
"Honestly, is it just me, or is the human race, armed with religion, poisoned by prejudice, and absolutely frantic with hatred and fear, galloping pell-mell back to the dark ages? Who on earth is hurt by a little girl going to school or a child being gay? Let's be frank, Bahram. You didn't change your son to protect him. You changed him because he disgusted you."
Red's insistence on never choosing sides
"You know the problem with drawing lines in the sand? With a breath of air, they disappear."
When Red reminded Donald they'd live because he had one of his many lavish vacations planned
Donald Ressler: We are not going to live through this...
Reddington: I think we will.
Donald: How?
Reddington: Have you ever sailed across an ocean, Donald...on a sailboat, surrounded by sea with no land in sight, without even the possibility of sighting land for days to come? To stand at the helm of your destiny. I want that, one more time. I want to be in the Piazza del Campo in Siena. To feel the surge as 10 racehorses go thundering by. I want another meal in Paris, at L'Ambroisie, at the Place des Vosges. I want another bottle of wine. And then another. I want the warmth of a woman and a cool set of sheets. One more night of jazz at the Vanguard. I want to stand on the summits and smoke Cubans and feel the sun on my face for as long as I can. Walk on the Wall again. Climb the Tower. Ride the River. Stare at the Frescos. I want to sit in the garden and read one more good book. Most of all I want to sleep. I want to sleep like I slept when I was a boy. Give me that, just one time. That's why I won't allow that punk out there to get the best of me, let alone the last of me."
Red's secret behind his success
"As you well know, one of the keys to my success is a clear and consistent understanding of my own limitations." 
Red's musings on revenge
Reddington: "What a terrible waste. Time, blood, money. And in the end, for what?"
Berlin: "Revenge. That's my passion."
Red: "Revenge isn't a passion. It's a disease that eats at your mind and poisons your soul. I attended summer camp with this little stick of a girl Twila Stansberry. Hell of an athlete. Capture the flag. Had an unrelenting passion for fitness. Never skinny enough. A pound here, a pound there. Ran like a deer. Until she couldn't, could barely walk. Turns out she was anorexic. The disease caused her to lose her sight. I've never known anyone more obsessed with their body than Twila. Spent her entire life chasing something that destroyed her. Make sure your passion isn't your sickness."
Red's simple statement about power
"I had bullets, he had words. But when he was done talking for the first time I truly understood which of those was more powerful."
Bonus: Red's hilarious moment of confusion
"You look familiar… Have I threatened you before?"
Watch The Blacklist when it premieres February 26th at 10/9c on NBC. It will air Sundays at 10/9c on NBC and later stream on Peacock.