NBC Insider Exclusive
Create a free profile to get unlimited access to exclusive show news, updates, and more!
Sign Up For Free to View
Check Out the Criminal-Busting Cast of The Blacklist Season 10
It's time to visit the FBI's most valuable Task Force.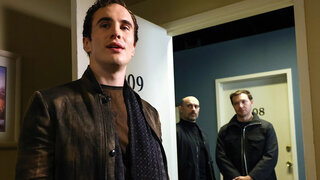 Season 10 of The Blacklist is quickly approaching, premiering February 26, 2023 at 10/9c on NBC, and answers to fan questions can't come fast enough. The dramatic death of Elizabeth Keen forever changed each of the FBI Task Force's lives. Now firmly at a crossroads, Raymond Reddington (James Spader) and his Task Force face an entirely new landscape of eccentric blacklisters, and trouble seems to be on their horizon. 
From shocking betrayals to baffling conspiracies, it's impossible to guess what's around the corner on The Blacklist. All eyes are on Red and his team to see how they'll take down the next villain, with new heroes entering the mix. Let's break down the Season 10 cast of The Blacklist to see which masterminds will be challenging next season's criminals. 
Three-time Emmy winner Spader stars as Raymond "Red" Reddington on The Blacklist, the glue that holds the entire FBI Task Force together (whose reliability has been tested many times). Red is a criminal mastermind that landed a #1 spot on the FBI's Ten Most Wanted Fugitives. The series begins as Red decides to turn himself into the authorities to help track down a blacklist of insidious criminals in exchange for his safety. Red is calculated, manipulative but generally affable, showing the utmost care only to the recently-killed Elizabeth Keen. 
Klattenhoff plays Donald Ressler, a dedicated FBI Agent with a fierce loyalty to his team and preventing blacklisters from progressing with their horrific plans. Donald is mission-oriented, stubborn, and isn't afraid to go to extreme measures to achieve justice at the end of the day. Red's FBI Task Force is better with Donald in it because he'll always have the other character's backs. 
Lennix plays Harold Cooper, a former U.S. Navy officer-turned-Assistant Director for Counter-Terrorism at the FBI. As one of The Blacklist's veterans, Cooper has become one of the few people Red can trust. After the tragic death of Elizabeth, Cooper and his wife take in her daughter, Agnes Keen, with Red eventually reuniting with the 11-year-old at the end of Season 9. 
Speaking of those Red can trust, Tawfiq plays Dembe Zuma, Red's bodyguard and one of the select group of people that know that the real Red died 30 years ago and that the Reddington we know and love is an imposter who assumed his identity. Red saved Dembe from human trafficking as a child, and later becomes one of Dembe's closest friends and confidantes.
The new member of Red's FBI Task Force introduced in The Blacklist Season 10 is Banerjeee as Siya Malik, the daughter of the late Meera Malik from Season 1. Siya is an active Intelligence Officer for MI6 who is bound to brush shoulders with Red at some point. As a reminder of Red's early days battling blacklisters, Siya will likely prove just as resourceful as her mother as a newcomer. Siya remains a mysterious character, but Blacklist fans are excited to see what she'll bring to the table.