NBC Insider Exclusive
Create a free profile to get unlimited access to exclusive show news, updates, and more!
Sign Up For Free to View
Who Is Red on The Blacklist? A Deep Dive Into the Criminal Mastermind
As the concierge of crime, Raymond Reddington is as mysterious as he is powerful.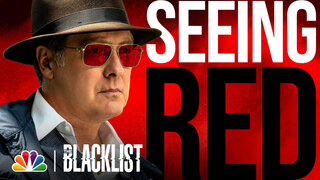 What would The Blacklist be without the endless mystery that is Raymond Reddington (James Spader)?
Red is an FBI informant, a criminal genius, a bonafide badass, and the head of the Reddington Task Force throughout the many seasons of The Blacklist. With every action-packed episode, Red never fails to deliver a mesmerizing monologue or bring his enemies to justice. Red is sneaky and manipulative while shockingly caring, and make no mistake, he will do everything in his power to get what he wants. But as one of TV's most notorious anti-heroes, sometimes Red's intentions are murky, and fans can't get enough of the man. 
Who is Red on The Blacklist? 
But who is Raymond Reddington? Red's past leads to more questions than answers, but Blacklist fans can't help but marvel at the larger-than-life man. In honor of the Season 10 premiere, we're looking back at Red's nail-biting journey on The Blacklist to gain some insight into the criminal mastermind. 
Season 1: Meet Raymond Reddington, the Criminal Concierge
We first meet Red in the nail-biting premiere of The Blacklist, when the illusive member of the FBI's Most Wanted turned himself into the authorities. Red agreed to become an informant and help the FBI arrest members of his "blacklist," a horrendous lineup of criminals that Red encountered throughout his illegal dealings. But there was one catch: Red would only provide this intel if he could work directly with Liz Keen (Megan Boone), a new profiler at the time. 
Through this agreement, the Reddington Task Force was created, led by Assistant Director Harold Cooper (Harry Lennix). Much of Season 1 focuses on Red becoming closer to members of the task force, especially Liz, whom he seems to have some connection with before the events of the series. We meet numerous slippery blacklisters, such as Wujing, The Freelancer, and the mysterious Cabal, a group of international criminals that were heavily interested in Red's movements. Viewers also meet Milos Kirchoff, a.k.a Berlin, a former Russian KGB officer who causes issues for Red in Season 2. 
Season 2: Red goes after The Cabal
Red's primary target in Season 2 of The Blacklist was The Cabal, who was introduced in the first season. The Cabal is a group of criminals in positions of power throughout government and commerce who have control over The Fulcrum, a digital archive of all their illegal dealings as a conglomerate. Red and his task force go after The Fulcrum to put away members of The Cabal, and it leads to him coming face to face with many infamous blacklisters. After The Cabal, Red went head to head against Berlin, and the takedown led to one of Red's best lines in Blacklist history: " Hear that? That's the sound of your checks bouncing." But Season 2 ends with Liz killing Tom Connolly, a secret member of The Cabal, leading her and Red to flee from the FBI and the task force.
Season 3: Red and Liz are on the run
Red and Liz begin Season 3 of The Blacklist on the run from the authorities and the task force as they evade angry members of The Cabal. While Liz attempted to clear her name, Red went after The Cabal's horrendous representative, Peter Kotsiopulos, a.k.a The Director, who was dead-set on keeping The Cabal running. While all of this is going down, Red was suspected of being an informant for the FBI, and he jumps through some major hoops to make sure those whispers were silenced.
Season 4: Red goes after "Mr. Kaplan"
Liz becomes pregnant and has a child in the last half of Season 3, leading fans to meet a woman under the alias "Mr. Kaplan," who used to work with Red and has a special connection to Liz Keen. Mr. Kaplan became obsessed with hiding Liz's baby from Red, which led Red to try to kill her. But after Red's murder attempt failed, Mr. Kaplan exposed a trail of murdered victims from Red's illegal dealings, casting him in a horrific new light to Liz and the task force. Mr. Kaplan ultimately failed to dismantle Red's criminal empire, but she reveals the existence of an incriminating suitcase that haunts Red well into Season 5. 
Season 5: Red isn't who he says he is
So what secret was Mr. Kaplan attempting to disclose in Season 4 of The Blacklist? Red's actual identity, which comes into question after a suitcase of unidentified human bones went missing, causing Red and Dembe to go after it. During their wild goose chase, Red met Ian Garvey, a U. S. Marshall and drug kingpin, who threatens Red's relationships with his hidden knowledge of the suitcase's contents. In the end, the skeleton is revealed to belong to the real Raymond Reddington, a man who had been dead for 30 years. In the jaw-dropping season finale, fans realized the quick-witted man in the fedora that had been taking down blacklisters for years stole Reddington's identity many years ago.
Season 6: Who is Reddington, really?
Season 6 picks up where Season 5 left off, with the shocking discovery that Reddington is an imposter and assumed the identity of the actual Raymond Reddington. Liz becomes fixated on learning more about Red's mysterious past and his connection to her and the skeleton. Meanwhile, Red spent a significant chunk of time in federal prison during Season 6, but he maintains his puppeteer status even behind bars. In the series finale, Red is kidnapped by a former Russian agent, Katarina Rostova, who also happens to be Liz Keen's mother.
Season 7: Meet Katarina Rostovo, Red's worst enemy
Red finds himself in Katarina's clutches at the start of The Blacklist Season 10. Katarina was being hunted down by Neville Townsend and needed information about the people that framed her, leading the two to brush shoulders. Meanwhile, Red's health began to take a turn for the worse, leading him to think about his future plans. Katarina introduced herself to Liz and created distance between her and Red, which forced Liz to choose who she trusts more. With so much damage done to their relationship, Liz chose Katarina, and by the season finale, Red's life was in danger. 
Season 8: Red attempts to hand off an empire
Reddington is fully on the run from Liz and Katarina at the beginning of The Blacklist Season 8, leading him to eventually kill Liz's mother. Destroyed by the development, Liz goes on a revenge tour against Red, abandoning her post at the FBI and the task force to use her own methods against him. Liz chose to work with Townsend, but the alliance proved to be her ultimate downfall. After Red attempted to hand off his criminal empire and the responsibility of the blacklist to Liz, she was tragically shot and killed before she could assassinate Red and take over. Season 8 ends with Red traumatized by the murder, laying her head on his fedora as he fled the scene.
Season 9: Red gets revenge for Liz
Red and revenge are a natural pairing throughout every season of The Blacklist, but it was taken to new heights in Season 9. Two years after Liz's death, Red decided to investigate the people responsible for Liz's assassination, which led him to discover that his lawyer and longtime confidante Marvin Gerard was responsible. After Marvin learned that Liz would become the next head of the Red's vast criminal enterprise, he retaliated. 
But after Red discovered Marvin's role in Liz's murder, Marvin was haunted by Red's eventual revenge, which drove him to die by suicide. But before this, Marvin paid Season 1 blacklister Wujing a visit in prison to disclose Red's role as an FBI informant. The season ends with Wujing escaping custody and making a few calls, which spells trouble for Red. With Red's most dangerous secret now in the hands of his worst enemies, all eyes are on the concierge of crime to see how he'll handle the blacklister's revenge.
Watch The Blacklist's final season premiere on February 26th at 10/9c on NBC. It will air Sundays at 10/9c on NBC and later stream on Peacock.