NBC Insider Exclusive
Create a free profile to get unlimited access to exclusive show news, updates, and more!
Sign Up For Free to View
How One of Red's Famous Monologues Foreshadowed His Death
During July 13's series finale, Reddington was killed in dramatic and surprising fashion. But a Season 10 easter egg may have hinted at his end.
After 10 seasons, The Blacklist has come to an end, and a shocking one at that. 
At the end of the final episode of the two-part series finale event, "Raymond Reddington: Good Night" (Season 10, Episode 22), Raymond "Red" Reddington (James Spader) was killed in a surprising accident. Following years of his shenanigans, speeches, and introduction of countless Blacklisters, fans had to bid farewell in heartbreaking fashion.
Below, NBC Insider breaks down the fateful moment, and why our favorite anti-hero met his end in such a specific way.
How did Red die on The Blacklist'?
While on a walk in the Spanish countryside, Reddington was trampled by a bull and killed. 
In the moments that led up to the fatal interaction, Red and the animal had a standoff, staring at one another before the bull began to charge at him. While fans didn't see the moment of impact, in the next scene Ressler (Diego Klattenhoff) — who tracked Red down and zeroed in on him in Spain – spots Red's body from a helicopter and finds him crumpled, bloodied, and unresponsive in a ditch with the bull just feet away.
Ressler calls the Task Force to report he's found his former colleague and places Red's signature hat (which fell off during the bull attack) on his body, serving as a sign of respect and an official goodbye.
"More than anyone I've ever known he's always been at peace with death," Dembe Zuma's (Hisham Tawfiq) said about Red in an emotional monologue. "He says, 'Death is inevitable. It will come for us all. And that inevitability robs death entirely of its significance. What matters are the things that are not inevitable. The things we create, the things we find, the left we take when everything in our life is leading us right. How we live.' I've always loved him for that. For his remarkable refusal to go quietly into that goodnight." 
RELATED: These Are Red's All-Time Greatest Lines and Monologues on The Blacklist
Recalling Dylan Thomas' poem Do not go gentle into the good night, Dembe continued: "Imagine Raymond, a man surrounded by death in so many ways, so passionately committed to embracing life. He could have surrendered a thousand times over...but instead chooses to rage. To rage against the dying of the light, to rage against he bad guys that would do us all harm, rage to protect those people he loves. To find moments of peace and joy and fun even though he knows the light is still dying. To live a most passionate life knowing it will still lead to the same inevitable end. It's perhaps the most deeply moving choice one can make. It is the lesson at the very core of my time with him. You never imagine this is how it would end, but our time with him, our time together was never about how it ended. It was about the adventure, about life, about Raymond constantly reminding us, showing us, imploring us to rage. To rage."
How Red foreshadowed his death early on in Season 10
The matter in which Red met his end may seem sudden. Especially considering the criminal mastermind has battled a mystery illness for a number of seasons — he even coughed up blood in the finale — which could have led to his natural end. Also, keeping in mind his high-stakes line of work, a violent death is to be expected. But dying at the hands of a bull...
As it turns out, Red's death is a fitting callback to one of his famous monologues from Season 10, Episode 5's "The Dockery Affair". While speaking to Siya (Anya Banerjee) during the episode he told her the story of a legendary Spanish bullfighter who he greatly admired, Manolete, who was actually a real person.
As Siya recalled in the series finale, Red looked up to the matador because he was "a man who found it easier to risk his life than live his life without risk." It turned out that Red ran off to Spain to return a bull head skull to its rightful country, inspired by Manolete's story. 
RELATED: A Ranking of Reddington's Best Aliases on The Blacklist
The iconic matador was killed by a bull, so it makes sense that Red had him in mind when he locked eyes with the animal in his his final moments — seemingly making the choice to risk his own life in that instance. Another fitting touch was a Spanish version of Frank Sinatra's "My Way" playing in the background, acting as a nod to Red's death being his own choice.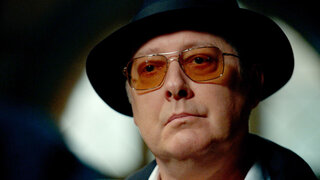 "I really felt like this was complete, and I loved how it really completed a circle, in a way," Spader told The Associated Press about The Blacklist's ending. "It wasn't just an unbroken line from point A to point Z, but it was a circle of sorts."
The actor continued, "I was very, very glad we were able to end it exactly the way we wanted to end it. It was deliberate and we weren't taken by surprise in terms of when the ending was going to come. You'll see that the ending has conviction and we commit to it."