NBC Insider Exclusive
Create a free profile to get unlimited access to exclusive show news, updates, and more!
Sign Up For Free to View
Every Infamous Blacklister Who Returns on The Blacklist Season 10
Fans saw a lot of familiar faces from Reddington's past in The Blacklist's final season.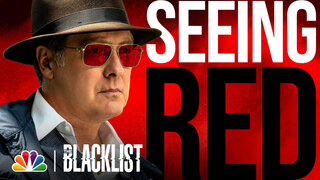 Raymond Reddington (James Spader) and his Task Force faced non-stop obstacles during The Blacklist's 10th and final season, many thanks to former Blacklisters that the Task Force arrested throughout the years. Season 10 was a guest star tour-de-force of former foes, and fans were on the edge of their seats with deja vu.
"After 10 years, hundreds of Blacklist cases, and more than 200 episodes produced, we're honored to reach our conclusion," said showrunner and executive producer John Eisendrath in a February statement. "It's been incredibly fun to create the strange, devious, and delightful Blacklisters to challenge Raymond Reddington and our FBI Task Force each week. We would like to thank everyone at NBC and Sony, our extraordinary crew who make the impossible happen every day, our endlessly inventive writers and producers, and our remarkable cast who brought life to these characters. We appreciate our dedicated fanbase who came along for this wonderful ride and are excited to share this final season with them." 
As we saw in Season 9, thanks to Marvin Gerard (who was responsible for Liz's death), an unknown amount of infamous Blacklisters learned Red's secret: He's been working with the FBI for years to systematically take them all down in exchange for his freedom. Armed with this incendiary information, several Blacklisters went after Red to not only expose this truth but to see him dead. Various criminals from the past that we thought were long gone made an unlikely return in Season 10. 
Here's who we saw (again): 
Episode 1, "The Night Owl"
Wujing
The master hacker first appeared in Season 1, Episode 3's "Wujing" and appeared again at the end of Season 9. This is when Marvin told him everything about Red's list of Blacklisters and role on the FBI's special Task Force. In Season 10, Wujing was hellbent on exacting revenge on Red and recruited a team of wronged Blacklisters to do it. Hence, we saw quite a few former foes this season, but Red was one step ahead of them at every turn. 
The Freelancer
The first appearance of the Freelancer was in Season 1, Episode 2's "The Freelancer" when fans met the hired hand famous for killing bystanders to eliminate one target. The assassin reappeared in the Season 10 premiere when Wujing orchestrated his escape from custody to recruit him to help take down Red. In Episode 7, "The Freelancer Part 2" he worked with Wujing to prove Red's connection with the FBI Task Force. 
Episode 3, "The Four Guns"
Robert Vesco
Vesco is proof that not all of Red's blacklisters are all bad, most are simply problematic. Reddington's former mentor, Robert Vesco, made a return in "The Four Guns" after Red decided to break him out of prison (he was arrested in The Blacklist Season 9). He did this by poisoning Vesco with an arsenic-laced novel delivered to his cell, later grabbing him from the hospital after his health took a turn. It was a risky operation, but Vesco was ultimately happy to reunite with his protege. Vesco was killed (under the hands of another infamous Blacklister on this list) while acting as Red's double agent, but his gumption and wit will be sorely missed. 
Episode 6, "Dr. Laken Perillos, Pt. 2"
Dr. Laken Perillos
After becoming an instant fan favorite in Season 8 of The Blacklist, the infamous torture specialist returned for the final season. Perillos became one of Wujing's many recruits after he hired the ruthless interrogator to extract information from Dembe (Hisham Tawfiq) about Reddington's Task Force. Dembe nearly died from Perillos' torture methods but was thankfully saved by double-agent Vesco before his time ran out. The ordeal was a close call for Dembe and a fatal mission for Vesco. 
Episode 8, "The Troll Farmer, Pt. 2"
The Troll Farmer
The cyber-terrorist introduced in Season 3 of The Blacklist, known as the Troll Farmer, returned for what seemed like revenge against Red in Season 10, but it all turned out to be part of Red's master plan. Wujing hired the Troll Farmer to steal a high-risk cyber weapon from the government, but instead of helping Wujing with the stolen goods, the Troller Farmer flipped on him to help Red stop his ongoing Blacklister crusade and delete all records of his involvement with the Task Force. The Troll Farmer became an unlikely ally of Red's, even after all they'd been through.