NBC Insider Exclusive
Create a free profile to get unlimited access to exclusive show news, updates, and more!
Sign Up For Free to View
Who Is Wujing on The Blacklist? Everything to Know About the Season 1 Spy
The Blacklist's final season premieres on February 26th at 10/9c on NBC.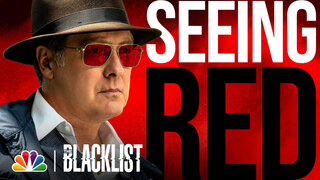 The Blacklist is an action-packed rollercoaster of emotions, but the infamous criminals who give the series its name are often what keeps fans coming back for more. 
With The Blacklist's final curtain on the horizon, many viewers are looking back at some of their all-time favorite Blacklisters. Season 10 promises a nail-biting season centered around revenge, but instead of vengeance coming from the infamous Raymond Reddington (James Spader), the tables have turned, with a lineup of horrific Blacklisters now aware of Red's role in their arrests. The final season will be honoring its beginnings, and fans got a solid dose of nostalgia after peeping Season 1 Blacklister Wujing (Chin Han) in the final season trailer. 
Wujing promised he would get revenge against Reddington, and fans are on the edge of their seat to see how it all goes down. That's why we're taking a look back at Wujing and how Red managed to put him away.
Who Is Wujing on The Blacklist?
Wujing (#84) is a Season 1 Blacklister, hired hacker, and Chinese spy who became known for assassinating foreign spies and targeting government agents. Wujing was formerly a member of the Chinese Ministry for State Security and was later hired by government officials of the People's Republic of China for various illegal dealings. Wujing was never afraid to take lethal action to complete his job, earning him a spot on Red's radar after he murdered three Chinese-based CIA agents.
Viewers first meet Wujing after Red informs the Task Force that Wujing hired him to decode a classified CIA transmission. Wujing killed a CIA agent for his computer to hopefully decode an intercepted transmission, but after that proved unsuccessful, he went to the expert: Raymond Reddington. After Red informed the Task Force of Wujing's infamous reputation for killing foreign agents, Liz Keen wasn't exactly on board for helping him, believing the transmission would include information about an American agent. Red, however, points out that Wujing will decode the message somehow, so he arranges for a cover ID to protect her from Wujing. 
Liz and Red agree to help Wujing, and the Task Force visits his U.S. base, a small radio station to "assist" in decoding the message. Liz and Red decide that they'll decode the transmission to discover its contents but will not reveal the actual message to Wujing or his associates. After Red distracts Wujing by pointing out the Task Force's vehicles as Liz slipped a USB into the computer, Liz decoded the transmission and discovers Wujing's target was Henry Cho, an architect who helped the CIA. But right as Red and Liz tried to leave, the jig was up, with Liz's USB signaling the alarms. 
Red managed to convince Wujing that the USB belonged to one of his associates and Wujing, Red, and Liz all left the radio station to avoid the authorities. But Wujing's assassins work double time, and they attack the Task Force. The group manages to escape, but it was a nail-biting close call. 
Meanwhile, in the getaway car, Red asked Wujing to let himself and Liz out of the car. Before Wujing could zoom away, Liz placed a tracking device on the vehicle, allowing the FBI to quickly trace his location. A few moments later, Wujing was arrested, without any hint that Red was involved in his demise. 
But Wujing's ignorance about Red being an FBI informant came crashing down at the end of The Blacklist Season 9. Marvin Gerard, Red's former lawyer, went on a revenge tour against Red and paid Wujing a visit in prison. Marvin told Wujing about Red's role in the FBI and his infamous Blacklist of criminals and explains that was how he landed in prison. While Marvin is gone by the end of the season, Wujing's wrath was here to stay. Marvin helps Wujing escape from prison, and he vows to topple Red's criminal empire. 
This brings us to Season 10, the final season of The Blacklist. Based on that nail-biting trailer, Wujing's haunting threats will come to fruition in the thrilling closing installment, and he won't be the only Blacklister out for blood. Now that Red's cover has been blown out of the water, will Wujing get the revenge he seeks?
Find out by watching The Blacklist's final season premiere on February 26th at 10/9c on NBC. It will air Sundays at 10/9c on NBC and later stream on Peacock.