NBC Insider Exclusive
Create a free profile to get unlimited access to exclusive show news, updates, and more!
Sign Up For Free to View
8 Celebrities You Forgot Appeared on The Blacklist
Whether they're playing a friend or one of Red's foes, you never know who you might see on the NBC nail-biter.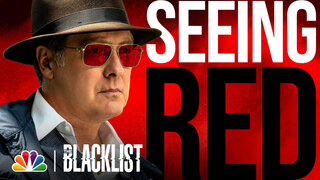 Reddington (James Spader) has a ton of jaw-dropping moments on The Blacklist—but many fans would agree that the villains, a.k.a the antagonists courageous enough to go against the criminal concierge, are the fascinating force behind making the series an addictive must-watch.
While the excitement of The Blacklist centers around Red's efforts to take down the world's most insidious criminals, the faces behind those Blacklisters are often just as exciting. The Blacklist has collected a robust lineup of guest stars, from established names to up-and-coming performers, who attempt to escape Red's radar. From jewel thieves to serial killers, you never know who is throwing wrenches on The Blacklist next, which makes the show's rotation of guest stars all the more thrilling. 
With nine seasons on the air and the final season on its way, there have been several memorable celebrities who appeared on The Blacklist. Read on to look back at eight of the most dynamic and captivating performances. 
Alan Alda as Alan Fitch (#12)
Season 1, Episode 10 ("Anslo Garrick: Conclusion")
Alda is one of the most impressionable Blacklist guest stars, appearing in early seasons as Alan Fitch, also known as The Decemberist. Fitch is one of Red's old friends from the army and a known manipulator, an espionage specialist during the Cold War. While Fitch ends up on Red's bad side, his life comes to an end via a mutual enemy, Berlin, who strapped a bomb to Fitch's neck. Fitch was a great villain because you never knew what his true intentions were. 
Dianne Wiest as Ruth Kipling (#57)
Season 1, Episode 15 ("The Judge")
Wiest left a lasting impression when she played blacklister Ruth Kipling, a.k.a. The Judge. Ruth was strongly against the death penalty, and after her father was wrongfully convicted, began to execute legal officials that wrongfully convicted suspects. Initially known by Red as a myth, Ruth created an entire criminal network inside prisons where she would arrange for imprisoned officials to face the same punishments they had wrongfully dealt. After getting tangled with Red, Ruth surrenders to the FBI, but not before giving us one of the best villains in Blacklist history.
Leslie Jones
Season 3, Episode 14 ("Lady Ambrosia")
You can spot Jones in "Lady Ambrosia," where she plays a highly talkative woman who hits on Red after confusing him for someone else. The scene is hilariously on-brand for Jones and makes for an exciting guest appearance.
Nathan Lane as Abraham Stern (#100)
Season 5, Episode 11 "Abraham Stern"
The Blacklist's 100th episode was a fun-filled event, with the larger-than-life Nathan Lane stepping in for an action-packed treasure hunt. Lane played Abraham Stern, #100 on the Blacklist, a known thief and loan officer that wasn't afraid to kill people to get what he wanted.
Marth Plimpton as Dr. Sharon Fulton
Season 5, Episode 14 ("Raleigh Sinclair III")
Martha Plimpton, the beloved '80s icon, is another powerhouse guest star on The Blacklist, playing Dr. Sharon Fulton. Sharon is a morally questionable psychiatrist for the FBI who tracked down serial killers that escaped justice by identifying clues through patient sessions. She'd then hire scorned agents to kill the wanted serial killers in the same manner they killed their victims. 
Joely Richardson as Cassandra Bianche
Season 7, Episode 12 ("Cornelius Ruck")
Niptuck's Joely Richardson made her way into The Blacklist universe in an incredibly fun way: as Cassandra Bianchi, Red's former lover, and a renowned thief. Who else could steal Reddington's heart? In their former lives, Cassandra and Red would raid and steal valuable treasures together, and Red was tempted to run away with her forever. Cassandra is the source of many happy memories for Red, and it's revealed that the pair was even together right before Red turned himself in to the FBI.
Al Roker 
Season 7, Episode 18 ("Roy Cain")
Roker is a known Blacklist superfan and even got a chance to appear in the NBC nail-biter for the 150th episode. "I am a huge fan of The Blacklist and of James Spader," Roker revealed ahead of the exciting episode. "When James would come on TODAY, he'd always say, 'Would you like to do a guest spot one day?' And I thought he was just being nice. Now here I am playing — wait for it — Al Roker! The mind boggles."
Laverne Cox as Dr. Laken Perillos (#70)
Season 8, Episode 10 ("Dr. Laken Perillos")
We meet one of The Blacklist's most exciting guest stars in Season 8 when Red brushes paths with Dr. Laken Perillos, played by the amazing Laverne Cox. Perillos is an interrogator and torture specialist with a tragic backstory; medical racism led to her mother being in pain for her entire life. Because of this, Perillos dedicated her life to understanding pain, causing her to become an extremist in the interrogation room. Perillos even managed to get Red on her operating chair, but he thankfully escaped before she was swiftly arrested by the FBI.
Stacy Keach as Robert Vesco (#9)
Season 6, Episode 13 ("Robert Vesco")
Keach stars as the infamous conman Robert Vesco, who is introduced in Season 6 of The Blacklist as Red's former mentor and criminal muse. While many Blacklisters are Task Force antagonists, Vesco is one of Red's friends, despite their tendency to backstab each other (you can take the man out of the con, but not the con out of the man). Vesco is arrested by the Task Force in Season 9 of The Blacklist but returns in Season 10 after Red breaks him out of prison to go on another whirlwind treasure hunt. 
Molly Bernard as the Bostwick triplets
Season 10, Episode 4 ("The Hyena")
Chicago Med alum Molly Bernard appears in the 200th episode of The Blacklist and she doesn't just appear as one character, she stars as the triplets Cordelia, Kendall, and Alex Bostwick. Bernard plays the daughters of a famous financier, who upon passing, left the triplets with a mind-boggling scavenger hunt of clues to find their inheritance. 
Watch The Blacklist on Sundays at 10/9c on NBC and later streams on Peacock.