NBC Insider Exclusive
Create a free profile to get unlimited access to exclusive show news, updates, and more!
Sign Up For Free to View
Relive Red's Most Glorious Takedowns From The Blacklist
"Hear that? That's the sound of your checks bouncing." Red never loses.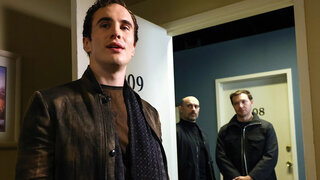 One of the best parts of The Blacklist is watching Raymond Reddington (James Spader) ensure justice is served.
As one of TV's bonafide badasses, we are in no shortage of impressive takedowns from Red throughout the nine nail-biting seasons of The Blacklist. Our guy is known for getting creative from time to time when dealing with his heinous list of blacklisters, too. When that fedora enters a room, criminals know to back down. 
In honor of Season 10 of The Blacklist premiering on February 26th, let's revisit five of Red's wildest takedowns on The Blacklist that prove you don't want to make him mad.
Season 2's Berlin (#8)
Milos Kirchoff, known as "Berlin," crosses paths with Red quite a few times before he is killed; at one point, he even attempted to kidnap Red's ex-wife. However, Red knew where hitting Berlin would hurt the most: his wallet...which he did by seizing his assets and transferring all his funds to an untraceable account. "Hear that?" Red asked. "That's the sound of your checks bouncing." The negotiation worked out in Red's favor, and Berlin quickly learned how far Red's control extends.
Season 3's Marcus Caligiuri (#95)
Sometimes Red takes down the bad guy with violence and guns, while other times, he relies on the age-old art of confusion. One of the most badass instances of Red taking down a blacklister was Season 3's Marcus Caligiuri, the head of a massive criminal syndicate. After a group of criminal organization heads meets, Red attends the meeting and stirs the pot by accusing one of the men of being FBI informant Raymond Reddington. Yup, Red gambled with his own reputation, and the elaborate game of Guess Who paid off. 
Season 3's The Director (#24)
One of the greatest villains in Blacklist history was blacklister Peter Kotsiopulos, #24, also known as The Director. Like The Riddler to Batman, Kotsiopulos is one of the few people who knows Red's true identity and connection to Liz. After Kotsiopulos creates a lengthy lineup of issues for Red and the task force, Red finally achieves justice when he traps The Director in his private plane.
Despite Kotsiopulos' threats, Red shrugs him away, letting him know that the plane was descending so he would be dropped off "in time for dinner." Needless to say, Kotsiopulos arrived at the table, but his time was up.
Season 6's Alfonse Baldomero (#146)
Red spent a significant chunk of time in federal prison in Season 6 of The Blacklist, leading him to brush shoulders with some heinous criminals. One of these prison-yard conflicts was with Alphonse Baldomero, one of Red's former rivals. Instead of getting physical and fighting Baldomero (which fans know Red could likely do with his eyes closed), Red chooses to orchestrate his release, and reveal to dozens of onlookers that he wasn't the criminal behind the heinous reputation-building acts that landed him there. Red may have been behind bars, but as a professional social puppeteer, he was still pulling strings in prison.
Season 6's Smokey Putnum (#30)
Some of Red's most intense takedowns are with criminals he formerly hung out with, such as Season 5 and 6's Smokey Putnam. Red learned Smokey was responsible for creating a methamphetamine shipping network during Red's prison sentence and even used Red's people to run the operation. But Smokey chose the wrong guy to double cross, which became crystal clear on an airplane when Red told Smokey about his knowledge of the betrayal. 
Watch The Blacklist when it premieres February 26th at 10/9c on NBC. It will air Sundays at 10/9c on NBC and later stream on Peacock.