NBC Insider Exclusive
Create a free profile to get unlimited access to exclusive show news, updates, and more!
Sign Up For Free to View
Who Is Dr. Laken Perillos on The Blacklist?
Dr. Laken Perillos seems to be out for blood in the trailer for The Blacklist Season 10.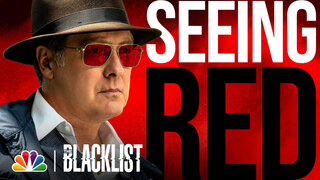 Raymond Reddington (James Spader) has brushed paths with some seriously chilling criminals on The Blacklist, but no one could forget when Laverne Cox guest-starred as the infamous Blacklister, Dr. Laken Perillos. 
Cox is easily one of The Blacklist's most iconic guest stars, and with the final season on the horizon, it seems like some familiar faces are making a return. Based on a small clip of the Season 10 trailer, it's plausible the horrendous doctor might be returning to the screen. (Who knows!) Now that Red's former foes have discovered his role as an FBI informant, many scorned Blacklisters are seeking revenge, and fans wonder what Dr. Perillos will do if she has Red on her radar.
Dr. Perillos always knows how to hit her enemies where it hurts, which is part of what makes her such a mesmerizing villainess on The Blacklist. Fans can't wait to see what she'll do next (if anything), which is why we're looking back at Red's first encounter with her. 
Who is Dr. Laken Perillos (Laverne Cox) on The Blacklist?
Dr. Laken Perillos (#70) is an infamous Blacklister, torture specialist, and interrogator for Neville Townsend in Season 8 of The Blacklist. She has a tragic backstory: when Perillos was 12, her mother went to the hospital for a neural infection, and the doctors misdiagnosed her with horrific consequences. Perillos' mother spent the rest of her life bedridden and in constant pain from her illness. Perillos believes her mother's pain was triggered by physicians believing those with darker skin are less prone to pain. Red reveals her namesake is inspired by "the brazen bull," an ancient Greek torture device invented by Perillos.
Dr. Perillos' exposure to pain led to a fixation and, eventually, her career. Fans met Dr. Perillos for the first time after she kidnapped a man secretly working for the cartel. Working for the Townsend Directive, she began to interrogate the man, and after he showed restraint, strapped a heretic fork to his throat. From the get-go, fans saw how much Dr. Perillos loves watching people in pain, but before she could get cranking, she got a call from Townsend telling her to head to the U.S. straight away.
Who was Dr. Perillos on her way to torture? Fan favorite Dembe Zuma, to the viewers' dismay. All hands were on deck to find Dr. Perillos and save Dembe after he was abducted by Townsend's men. After the Task Force realized the intended target was Red, things became personal for the concierge of crime. 
Dr. Perillos got quick to work on torturing Dembe, all while telling him about her horrific childhood and how medical racism led her to develop her unique set of skills. Dr. Perillos tried to tell Dembe that Red didn't care about him and didn't understand his pain, but Dembe ignored her chide. Despite her efforts to learn more about the Sikorsky Archive, Dembe kept a tight lip during Dr. Perillo's torture session. 
Meanwhile, Red tracked Dembe's location and managed to get in contact with Townsend. He agreed to a grim trade: himself for Dembe's safety. Just as Dr. Perillos went to sink a needle of jellyfish venom into Dembe's jugular, Townsend called the session off. But as Red went to surrender himself to Townsend, Dr. Perillos refused to release Dembe and kept torturing him. The woman has a brand!
But so does Dembe, and it's kicking ass, which he did by breaking out of his binds, escaping, and stabbing the unsuspecting doctor with one of her own torture devices. But as he escaped Dr. Perillos' clutches, the tables turned: Red was captured by Townsend's men. Dembe was now on the hunt for Red. 
Cut to Red, who ended up in Dr. Perillos' torture chamber with a needle of venom staring him in the face. Dr. Perillos injected Red with the venom and told him he would become paralyzed in an hour without an antidote. Refusing to speak about the Sikorsky Archive, Red explored the complex nature of pain and that he'd never want to live without it. The iconic monologue served as a welcomed delay for Dembe to find Red and force Dr. Perillos to hand over the antidote.
Dembe shot Dr. Perillos with the same venom and interrogated her about Townsend's actions. But instead of distributing a lethal dose the way she had for them, he allowed her to live, and the Task Force arrested her. The last fans heard, Dr. Perillos was hanging out behind bars, but now that Red's role as an informant is out, it will be interesting to see if Dr. Perillos reenters the fold. We can't wait to find out! 
Watch The Blacklist's final season premiere on February 26th at 10/9c on NBC. It will air Sundays at 10/9c on NBC and later stream on Peacock.