NBC Insider Exclusive
Create a free profile to get unlimited access to exclusive show news, updates, and more!
Sign Up For Free to View
Everything to Know About Siya Malik on The Blacklist
The new character, played by Anya Banerjee, is related to a character we haven't seen since Season 1.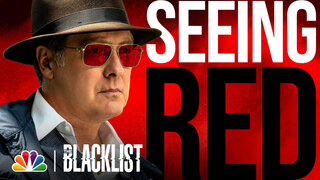 While it's been confirmed that the upcoming Season 10 of The Blacklist will be the long-running thriller's final season, that doesn't mean there isn't room for plenty of new twists, turns, and developments.
Despite its end, Season 10 is still making room for a brand new character named Siya Malik (Anya Banerjee) who actually has a surprising connection dating back to Season 1 of the show. To find out more, read everything we know so far, below.
Who is Siya Malik on The Blacklist?
In summer 2022, TV Line reported that a new character named Siya Malik would be joining the cast in Season 10. Fans may find her name familiar because she's actually the daughter of Meera Malik (Parminder Nagra), a CIA agent who appeared throughout Season 1 but was ultimately killed in the finale. We'll see Siya appear as an active agent in the U.K.'s M16 who somehow finds herself with Red and the rest of the team. Little else is known about her role or when exactly she'll first appear in Season 10.
Who is the actress that plays Siya Malik on The Blacklist?
Siya is played by up-and-comer Anya Banerjee. This is Banerjee's first major role as an actress. A couple fun facts about her? She's originally from New Zealand and graduated from Columbia University's MFA acting program in May 2022.
"Overwhelming gratitude at this announcement," she said in an Instagram caption when news of her casting broke. "Proud to be following in the footsteps of Parminder Nagra's incomparable legacy on @nbcblacklist ! 🤯... To my family, teachers and loved ones who I've turned to time and time again for courage and wisdom, especially over the past couple of years—You made this all possible!"
Her bio on NBC.com also gives a little more insight into the star: "Banerjee wrote and acted in the two-hander play Apologies to the Bengali Lady, which was performed at Georgetown's Lab for Global Performance and Politics in Washington, D.C., New York City, and at the Edinburgh Festival Fringe, where it received rave reviews. A bilingual singer, dancer and clown, Banerjee is passionate about art that fosters intercultural relations."
Meet Siya Malik, the dynamite M16 agent
Fans meet Siya Malik in the Season 10 premiere of The Blacklist after Red mysteriously pops up in NYC at the same time a former Blacklister is killed in an explosion. The Reddington Task Force believes Wujing hired the Blacklister to steal a $48 million Picasso sculpture called "The Night Owl," which Red may or may not have also been going after while in NYC. The Task Force finds out the sculpture is currently being held at a freeport called Lux, so they decide to visit the venue to let them know they are targeted. 
Enter Siya Malik, who is introduced to the Task Force by the Head of Security, Richard Deaver. When they started asking questions about the sculpture, Siya became defensive, as the details of the sculpture's delivery were highly classified. Ressler (Diego Klattenhoff) and Dembe (Hisham Tawfiq) tell her they are operating with the FBI under Harold Cooper's supervision, and her ears perk with interest. 
"You… you work for Harold Cooper?" Siya asks them.
"That's right," Ressler confirms.
"Harold Cooper runs a secret Task Force so secret most FBI agents don't know about it," Siya tells her colleague at the shock of the agents.
"And you do?" Dembe asks.
"Yes, because my mother used to work for Harold Cooper," Siya tells them. "Her name was Meera Malik."
"You're Meera's daughter?" Dembe realizes.
"You knew her?" she asks with shared astonishment.
"We not only knew her," Ressler says. "She was a friend and a very fine agent." 
Knowing these agents worked with her mother, she convinces Dembe and Ressler to contact Cooper to request he makes an inter-agency call to allow their investigation to move forward. And within a few moments of their boss' phone call, Siya escorts them to a highly-secure area of the building, where some secrets begin to come out.
Siya is revealed to be an MI6 agent, and Richard is a member of the CIA. The prized sculpture on everyone's mind is not an art piece at all, but a code name for a high-profile prisoner: The Freelancer, a.k.a #145 on the Blacklist. Malik and MI6 brought him in for interrogation after a pipeline explosion killed a member of Parliament along with numerous bystanders, aligning with the assassin's criminal record. Dembe and Ressler help Malik interrogate their former foe, but before any progress is made, fellow Blacklister Wujing and his associates attack the building. 
The agents realize someone on the inside must have revealed their location, and the rat turns out to be the so-called Head of Security, Richard. He attempts to flee with The Freelancer, but Siya stops them in his tracks. Despite demanding she lay down her weapon, Siya and Richard have a brief shoot out and she collapses. Through the crossfire, Richard escapes with The Freelancer.
Dembe and Ressler run from Wujing's attacks and find Siya on the ground, luckily wearing a bulletproof vest. Siya returns with the agents to D.C. and meets with Cooper, who remembers meeting her after her mother died but not being able to tell her anything about how she died. Siya tells Cooper that he left a lasting impression on her because she could tell there were many secrets surrounding her mother's death, and that she became a spy to "get in the room where the secrets are revealed." But her job isn't done yet; she wants to know more about her mother's work in the Task Force by joining it. 
"Maybe it's time for me to finally know more about the work my mother did if it was that important," Siya tells Cooper. "Maybe it's time for me to continue what she started."
"It's complicated," Cooper says, but Siya is having none of it. 
"Please, just hear me out. I'm involved now, yeah? I lost colleagues and friends in that attack," Siya insists. "And Deaver… I will find him." 
She suggests being transferred to the highly-confidential Task Force until they wrap up the Wujing case, but Cooper is nervous. Nonetheless, he promises Siya that he will consider it. 
"I'll be in touch," Cooper tells her. 
"I hope so. You need agents you can trust," Siya promises before adding: "I'm one."
Watch The Blacklist's final season Sundays at 10/9c on NBC and later stream on Peacock.