NBC Insider Exclusive
Create a free profile to get unlimited access to exclusive show news, updates, and more!
Sign Up For Free to View
What Happened to Meera Malik on The Blacklist?
Ahead of the nail-biting series finale, we're looking back at this Season 1 fan favorite.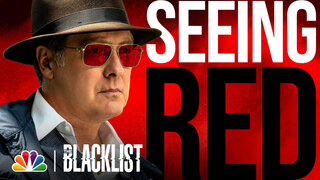 The Blacklist is widely beloved for its non-stop action and thrilling villains. That said, the Task Force — and the cast members who bring it to life — is what keep audiences coming back for more. 
Reddington (James Spader) has watched the Task Force evolve dramatically throughout the nine seasons of The Blacklist, with many characters coming and going. Meera Malik, a member of Reddington's Task Force in Season 1, is an example of this. Meera was dedicated, hard-hitting, and never afraid to stand up for herself. In short, she was the perfect person to help Reddington bring justice to his infamous rolodex of Blacklisters.
Alas, Meera's life was cut short on The Blacklist, but she was a fascinating character before her time ran out. Even still, Meera's legacy will live on in the final season of The Blacklist. Read on to look back at everything that happened on The Blacklist that led to Meera's untimely death.
What happened to Meera Malik on The Blacklist?
Red first brushes shoulders with Meera in Season 1 of The Blacklist after she is assigned to Harold Cooper's (Harry Lennix) Task Force by Diane Fowler. From just looking at her, Red clocks that she is CIA, but Meera isn't exactly an open book. Meera had previously resigned from the CIA to spend more time with her family, but her unique set of skills landed her back on assignment. 
Meera quickly became known for her strong belief in enhanced interrogation techniques (read: torture). Meera was exceptional at getting just about anyone to talk while she was trained to withstand any interrogation. Meera's interrogation tactics proved incredibly helpful for Red and the Task Force, and she became one of the driving forces behind the team's success in Season 1. 
But The Blacklist and betrayal are basically synonymous, and in "The Cyprus Agency" (Season 1, Episode 13), Meera reveals that she betrayed the Task Force by leaking the location of their HQ, known as the post office, to terrorists. After those terrorists attacked, it was clear a mole was in the midst, and Red was determined to sniff it out.
In an ironic twist, Red interrogated Meera about her actions. She revealed that the order was issued by someone higher up than Harold Cooper, who had Meera leak the blueprints under the cover of needing security upgrades. Meera wasn't sure who issued the order, but after her friends were killed in the attack, she became hellbent on finding out who did. Meera managed to sneak away with Cooper's classified file and provided Red with a copy of who authorized the order. In doing so, Meera helped Red discover the identity of the actual mole: Diane Fowler. 
Fast-forward to the nail-biting end of Season 1. Alan Fitch, #12 on the Blacklist and one of Red's former comrades, revealed to Red that members of the Task Force were being targeted by Blacklister Milos Kirchoff (also known as "Berlin"). After Red got this warning, he called Keen and discovered that Meera and Donald Ressler (Diego Klattenhoff) were already in the field investigating a dance club for Berlin's whereabouts.
As soon as Meera split up from Donald, her life came to a tragic end. In one of the saddest moments of The Blacklist Season 1, Meera is killed after one of Berlin's men slit her throat. Keen arrived on the scene to find Meera bleeding out, and later confirmed to Red that she passed away. 
Season 10 pulls back the curtain on Meera's mysterious past
Throughout The Blacklist's final season, we've learned a bit about Meera through a shocking Task Force newcomer, her daughter, Siya Malik (Anya Banerjee). Due to the confidential nature of Meera's death, Siya has an understandable hunger to understand her mother more, and she's come across a few shocking developments along the way. Siya learned that she's not biologically related to her mother, seeing in Meera's file that she was adopted from a fake clinic in Kolcutta. Befuddled by her findings, Siya has been getting closer to Reddington to better understand his former colleague and the woman she thought was her mother. 
Season 10, Episode 13 ("The Sicilian Error of Color") dives into Meera's backstory more than ever before. Through scattered flashbacks, we meet a young Meera (Nikita Tewani) working with her MI-6 partner, Nigel Sutton (Harry Hadden-Paton). Nigel has found himself in substantial debt to the Chechen mob, which has compromised his ability to act rationally or perform his job adequately. Nigel insists Meera help him return the funds by stealing money from MI-6's evidence locker, and when she refuses to help him, he threatens to come clean about her secrets. 
Cue a baby Siya crying in her crib, which seems to be the secret Nigel is referencing. Meera instantly goes on the defense, cradling Siya close. Nigel seems to insinuate that Siya only entered Meera's life through some shady or illegal dealing. Maybe... in Kolcutta? Meera steals the money for Nigel, and as she expected, it isn't enough for the Chechens' insatiable demands, and they ask for more. Meera begins to hear complaints about Nigel at work, so she asks Nigel to finally come clean. As expected, he refuses and only continues to blackmail Meera. 
Backed into a corner, it wasn't too shocking when Meera became opportunistic during a high-risk operation. While serving as a lookout, Meera notices the violent perps they're tracking entering the building Nigel is investigating. Instinctively, she starts to warn Nigel about the danger heading his way, but she stops herself. Tearfully, Meera listens to Nigel get intercepted and killed by the violent criminals. 
With Nigel's death, the secrets he threatens to bring to light effectively dissipate with him. No one knows this more than Siya, who has been attempting to piece together the puzzle of her mother's perturbing past with limited leads. Red knows more about Meera than anyone, having done his own background checks in Season 1, so he may be the only one alive that knows about Meera's circumstances. 
In his trademark roundabout way, Red connects Siya to her (maybe) adoptive mother through Nigel's widow. Red sells Nigel's surviving partner a priceless heirloom and gives the check to Siya. Red isn't privy to handholding, but if Siya wishes to learn more about her past, the check is the best place to start. Cryptic? Absolutely. Classic Reddington? Delightfully.