NBC Insider Exclusive
Create a free profile to get unlimited access to exclusive show news, updates, and more!
Sign Up For Free to View
Filming of The Blacklist Has Officially Come to an End: See Pics From the Wrap Party!
It's hard to believe that after 10 nail-biting seasons, The Blacklist is almost over.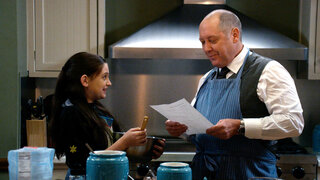 After over a decade of defeating hundreds of horrific criminals, The Blacklist is coming to an end. 
Season 10 is the final season of the NBC nail-biter, with many fans slated to miss Raymond Reddington (James Spader) and his dedicated Task Force once they bid their farewells. The stakes are higher than ever as fans wait to see if Red can untangle himself from the latest chaos. Filming for the final season has come to an end, and in honor of an explosive run, the Season 10 cast got together for a much-deserved wrap party. 
Newcomer Anya Banerjee, who plays the diligent Agent Siya Malek, was among the many smiley-faced attendees at the event. Based on Banerjee's heartwarming Instagram post from the night, it looks like it was a wonderful time made all the more special surrounded by such a long-running cast and crew. 
Banerjee had Blacklist fans geeking with her sweet slideshow of pictures from the night. In the first pic, Banerjee poses in a lovely pink silk dress complete with adorable pockets alongside Diany Rodriquez. Rodriquez plays Weecha, Red's Season 9 bodyguard. As the pics progress through the night, Banerjee delights in getting pics with many cast and crew members. In a relatable moments, the last pic in Banerjee's slideshow shows The Blacklist star enjoying a delicious ice cream cone while donning a silly face. 
What better way to end the night? Banerjee's co-star Rodriquez commented, "Ahaha. I love that the pics clearly descend into… 'later that night' vibes." Another Blacklist fan commented, "So cool🤩thx for sharing with us❤️."
Banerjee wasn't the only beloved Blacklist star to commemorate the end of an era. Fan favorite Hisham Tawfiq, who has played Red's closest companion Dembe Zuma since the series debut, was also celebrating alongside the cast and crew. Tawfiq snapped an adorable selfie with Banerjee and a friend, who also happened to be wearing an elegant pink dress for the occasion. 
Tawfiq appropriately captioned the IG post, "Pretty in Pink! BLACKLIST wrap party!! More pics to come." 
One fan posted the sweet comment, "Thank you for all these wonderful years! Can't believe in a short time everything is going to be over, this show has definitely changed my life and I can't imagine how the future is gonna be without it😢😢 Congratulations for making our lives better for 10 years🔥❤️."
While playing Weecha on The Blacklist, Rodriquez was one of Red's more tenacious bodyguards. Red could always rely on Weecha to have his back in a high-stakes situation, but Rodriquez was keen to admit she couldn't be trusted to take photos from The Blacklist wrap party. The actress made a humorous Instagram post reflecting on the fun-filled night. See the morning-after pic here!
"About last night," Rodriquez captioned the IG post. "The #TheBlacklist wrap party was last night, and in typical me fashion, I neglected to take adequate pics or videos… I'll share what I have… eventually, but rest assured, a ridiculously fun time was had by all. @nbcblacklist."
It's been a fun run, but the end of The Blacklist is upon us. What madness is on the horizon for Red and the Task Force?
Don't miss The Blacklist's final season on Sundays at 10/9c on NBC. Episodes will later stream on Peacock.