NBC Insider Exclusive
Create a free profile to get unlimited access to exclusive show news, updates, and more!
Sign Up For Free to View
A Look Back at Dembe Zuma's Action-Packed History on The Blacklist
As the closest confidante to the concierge of crime, Dembe Zuma has become a Blacklist fan favorite.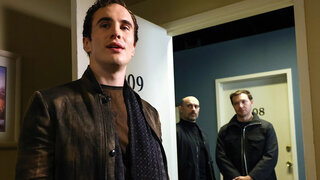 While The Blacklist's nail-biting criminal pursuits are endlessly entertaining, the bond between Raymond "Red" Reddington (James Spader) and Dembe Zuma (Hisham Tawfiq) is also a major draw on the show.
Red and Dembe are two sides of the same coin, and it makes for some awesome moments between the pair. Red has a silver tongue, while Dembe prefers to keep mum, but they are both fearless, tenacious, and always two steps ahead of their crime-fighting colleagues. Frankly, if anyone was eligible for a spin-off series, it'd be Dembe Zuma. 
As the Season 10 premiere of The Blacklist approaches on February 26th, we're looking back at Dembe's wild journey throughout the years. Because when you're the best bud to the "concierge of crime," you see some insane moments. Read on. 
Season 1
When fans first met Dembe, he was seen as Red's bodyguard—always close to the criminal concierge to anticipate any need or protection. Dembe is introduced to the gang as a former freedom fighter from South Sudan. Many characters began to assume he was Red's bodyguard and nothing more. Throughout much of Season 1, like Red, Dembe tended to keep his cards close to his chest, but it was no secret that the man was packing punches.
Season 2
In Season 2, Blacklist fans learned more about Dembe's tragic past and relationship with Red. Dembe was once the youngest son of a farmer from Sierra Leone. After Dembe's father reported the Mombasa Cartel to the authorities, the cartel responded by killing Dembe's entire family. As the sole survivor of the ordeal, Dembe was sold to human traffickers and eventually left for dead by those same traffickers. 
After being discarded by his traffickers at 14, Dembe was found by Red chained to a pipe in a basement in Nairobi, barely alive. Red rescued Dembe, took him under his wing, and helped him chart courses for a better life, even helping him pursue a degree later on. From the age of 14 onward, Red essentially became Dembe's foster father, which led them to become best friends over the years. 
Season 3
In Season 3, Dembe reveals that he has an adult daughter, Isabella, who has an infant daughter, Elle. At one point, Elle was kidnapped to blackmail Dembe, but thankfully, she was safely rescued.
Season 5
In a shocking twist, it was revealed that Red is not the real Raymond Reddington but actually an imposter who assumed the real Red's identity 30 years ago. The real Red has been dead for quite some time, and while fans were left reeling over that wild conclusion, Dembe was sitting back and relaxing. He was one of the few people in the world who knew about Red's secret. This just goes to show that while Red is one to keep his cards incredibly close to his chest, Dembe usually sees the hand. 
Season 6
In the last half of Season 6, Dembe and Red experience a bit of turbulence in their relationship. At one point, Dembe even packed up his bags and left Red, claiming he needed to travel a separate journey for a while. The reason? At the time, Red questioned Dembe's trust and believed he betrayed him, which understandably wounded Dembe. But have no fear: The bond between Dembe and Red is way too strong to crash at the first sign of inclement weather. After Red was held at gunpoint by blacklister Anna McMahon, Dembe swooped in to save the day and rescued Red. 
Season 8
Season 8 was intense—especially in the finale when Elizabeth Keen, one of the only people in the world Red cares about, was killed in front of him. The assassination places the task force at odds with one another and is one of the first times Red questions his ability to trust Dembe. But throughout the chaos of Season 8, there were clues as to where Dembe would end up: the FBI, which is a shocking gig for the former criminal accomplice.
In an interview with Entertainment Weekly, Tawfiq explained that in one episode, Harold Cooper (Harry Lennix) and Dembe chatted about Dembe joining the FBI. "There was an episode where Harold Cooper [Harry Lennix] and myself have a discussion about him thinking I would be a great fit if Dembe joined the [FBI]. There was a hint of it back then, but I didn't know if they would follow through with it," he said. "Then, when I found out at the beginning of the season, I was excited because it was a whole new dynamic, and it lived up to my excitement."
Season 9
Season 9 primarily deals with Red and the task force processing Keen's death. Red partially blamed Dembe (now in the FBI) for Keen's death, believing that Dembe must have left his typically steel-shut guard down. 
Red eventually returned, and Dembe was absolved of any involvement in the death, which led the pair to forgive each other. At the end of Season 9, Dembe visited Keen's grave alongside many other task force members and delivered a thoughtful eulogy. All fan eyes are now on Season 10. Will Dembe and Red's relationship withstand the test of time and continual tragedy?
Season 10 
Despite being one of the most cherished characters in the Task Force, many details of Dembe's past and initial connections to Red remain mysterious. But in Season 10, Episode 12 ("Dr. Michael Abani"), Blacklist fans finally got to learn more about Dembe's past, notably the swoon-worthy love story between him and his former girlfriend, Aïssa Joachim (Zainab Jah). When Dembe gets a call from Aïssa needing help, we get catapulted into their heartbreaking past.
Let's travel back to 1992 before everything turned upside down: 
Dembe and Aïssa met while Dembe was on assignment for Red at the bar Aïssa worked. They quickly fell in love.  But Aïssa eventually caught on to Dembe's involvement in Reddington's world, leading her to have some reservations about the relationship.
"You have to understand," Dembe insists. "He was the most important person to me. Until I met you."
Despite Dembe's heart-shattering plea, he and Aïssa part ways. Three years later, Dembe visits Aïssa and learns she's had a baby girl named Isabella. And he's the father. After 10 seasons of mystery, Blacklist fans learned Aïssa is the love of Dembe's life and the mother of his child.  
When Dembe meets up with Aïssa in Season 10, she's engaged to someone new (who isn't exactly checking all the boxes). Dembe helps save her fiancé from an accidental entanglement with terrorists. He gets help from Reddington, who's been ignoring the Task Force recently. That said, the fact Red so quickly comes out of the woodwork to help Dembe is a testament to their valiant loyalty to each other.