NBC Insider Exclusive
Create a free profile to get unlimited access to exclusive show news, updates, and more!
Sign Up For Free to View
The Most Nail-Biting Moments Ever from Law & Order: Criminal Intent
Criminal Intent stands the test of time and remains one of the most fascinating Law & Order spin-offs ever.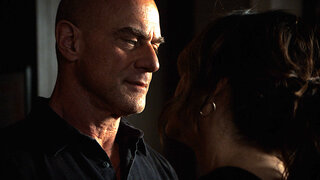 Law & Order has created many successful spin-offs, but one of the most beloved is Law & Order: Criminal Intent. 
Criminal Intent takes a deep look into the perps who enter the criminal justice system, specifically into their motives for committing crimes. Robert "Bobby" Goren (Vincent D'Onofrio) and Alexandra Eames (Kathryn Erbe) served as the primary investigators for many of Criminal Intent's seasons, but the series also featured Sex and the City star Chris Noth as Detective Michael "Mike" Logan and Detective Zack Nichols, played by the iconic Jeff Goldblum. 
Criminal Intent ran from 2001-2011, boasting 10 seasons and 195 goosebumps-inducing episodes. There are dozens of jaw-dropping moments from the series. Read, below, some of the most memorable ones. 
Season 4, Episode 17 ("Shibboleth")
Frank McNare was the villain of the week in "Shibboleth," and he sure did leave an impression on Criminal Intent fans. McNare assaulted and murdered women for decades and took photos to remember them — photos his son later finds. Frank's son is implicated in his father's murder spree and is falsely imprisoned. (Frank, meanwhile, does nothing to help .) Goren and Eames noticed the twisted family dynamic and proved Frank was the actual killer, but at no point does Frank ever seem sorry for what he's done.  
Season 2, Episode 3 ("Anti-Thesis")
One of the most memorable and iconic villains from Criminal Intent was Nicole Wallace (played by Olivia D'Abo). Nicole is a psychopathic murderer introduced in Season 2 who quickly becomes Goren's arch nemesis. Nicole was calculated, determined, and tenacious, making her a formidable foe for the detectives for many seasons.
Season 1, Episode 20 ("Badge")
We love a Law & Order guest star moment, and Criminal Intent got its fair share of fun visits. In "Badge," the talented Viola Davis guest stars, and it's a whirlwind watch. After the detectives deduce that a murder-suicide isn't what it seems, they follow a trail that leads them to a shocking discovery: a corrupt police network that needs to be upturned. 
Season 6, Episode 21 ("Endgame")
Goren has a traumatizing background of his own, which is perhaps why he's such a successful detective. But that all came to a head when he crossed paths with a death-row serial killer. After Goren was brought in to question the killer, who wishes to extend his sentence, he realizes the prisoner might have ties to his dying mother. Goren then goes on a wild hunt for the killer's hidden scrapbooks that detail his unsolved cases and victims.
Season 1, Episode 7 ("Poison")
This episode centers on a woman named Trudy Pomeranski (J. Smith-Cameron), who uses cyanide to murder her husband and receive a hefty payout. To divert authorities, she plants a series of faulty medications in local pharmacies. Her husband's death was initially believed to be caused by tampered prescriptions because Trudy kills six more innocent people to cover her tracks.
Season 4, Episode 3 ("Want")
Another fantastic Criminal Intent guest star is Neil Patrick Harris in "Want." Harris plays a self-isolated loner and murderer who initially seems unapologetic after being apprehended. But after spending some time in the interrogation room with Goren, the man finally starts to show remorse for his actions, allowing him to escape the death penalty. Harris plays a terrifying yet nuanced villain, making the episode a bonafide fan favorite. 
Season 2, Episode 4 ("Best Defense")
In "Best Defense," ADA Peter Bonham (David Marshall Grant) proves that those you work with can be total strangers while off the clock. After Bonham kills a man and claims it was out of self-defense, Goren and Eames realize the case isn't that simple. In a shocking scene, the detectives learn that Bonham was simply framing his wife for the attempted murder, orchestrating it to look like she hired someone to kill him. 
All Law & Order: Criminal Intent episodes are available to stream on Peacock.