NBC Insider Exclusive
Create a free profile to get unlimited access to exclusive show news, updates, and more!
Sign Up For Free to View
Ariana Grande Belting "The Wizard and I" from Wicked Will Give You Chills
Grande plays Glinda in the upcoming Wicked movie — but she's a fan of Elphaba's songs, too, as this performance proves.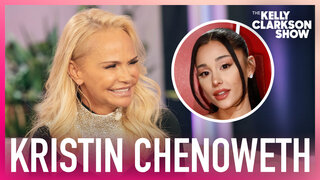 If you're as excited for the upcoming Wicked movie as us, check out this show-stopping rendition of "The Wizard and I" from former The Voice Coach Ariana Grande, who will be playing Glinda. 
During an amazing performance for NBC's Wicked 15th anniversary special in 2018, Grande blew everyone away with her musical theater prowess. For her take on "The Wizard and I," she wore an on-theme green silk dress and matching sparkly lipstick. But of course, her vocal belts and jaw-dropping high notes are what took center stage. 
Watch Ariana Grande's cover of "The Wizard and I" here. 
About "The Wizard and I" from Wicked
Wicked is a hit Broadway musical that tells the story of The Wizard and Oz from the witches' points of view. Grande will play Glinda, the Good Witch, in the much-anticipated 2024 film adaption of the musical (and part two of the adaptation, coming out in 2025). In the musical, "The Wizard and I" is performed  by the Wicked Witch Elphaba, played by Cynthia Erivo in the movies. In the song, Elphaba chronicles her eagerness of meeting the enigmatic Wizard of Oz for the first time. 
"The Wizard and I" from Wicked lyrics
When I meet the Wizard
Once I prove my worth
And then I meet the Wizard
What I've waited for since, since birth
And with all his Wizard wisdom
By my looks, he won't be blinded
Do you think the Wizard is dumb?
Or like Munchkins so small-minded?
No, he'll say to me I see who you truly are
A girl on whom I can rely
And that's how we'll begin
The Wizard and I
Once I'm with the Wizard
My whole life will change
'Cause once you're with the Wizard
No one thinks you're strange
No father is not proud of you
No sister acts ashamed
And all of Oz has to love you
When by the Wizard, you're acclaimed
And this gift or this curse
I have inside
Maybe at last, I'll know why
When we are hand in hand
The Wizard and I
And one day, he'll say to me "Elphaba
A girl who is so superior
Shouldn't a girl, who's so good inside
Have a matching exterior?
And since folks here to an absurd degree
Seem fixated on your verdigris
Would it be all right by you
If I de-greenify you?"
Of course that's not important to me
All right, why not", I'll reply
Oh, what a pair we'll be
The Wizard and I
Yes, what a pair we'll be
The Wizard and
Unlimited
My future is unlimited
And I've just had a vision almost like a prophecy
I know, it sounds truly crazy
And true, the vision's hazy
But I swear, someday there'll be
A celebration throughout OZ
That's all to do with me!
And I'll stand there with the Wizard
Feeling things I've never felt
And though I'd never show it
I'd be so happy, I could melt
And so it will be for the rest of my life
And I'll want nothing else 'til I die
Held in such high esteem
When people see me, they will scream
For half of Oz's favorite team
The Wizard and I