NBC Insider Exclusive
Create a free profile to get unlimited access to exclusive show news, updates, and more!
Sign Up For Free to View
Brian Geraghty Had a Totally Understandable Reason for Leaving Chicago P.D.
Geraghty played Sean Roman for Seasons 2 and 3 of Chicago P.D.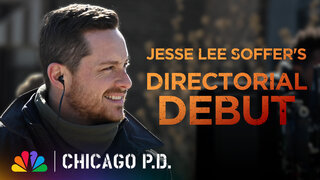 The earlier seasons of Chicago P.D. were brought to life with some very memorable characters — including Officer Sean Roman, played by Brian Geraghty. Viewers were introduced to Roman in Season 2, and toward the end of Season 3, he narrowly survived a gunshot wound in a super-intense episode. Roman sadly did not return to the show in Season 4, effectively ending his time as a main Chicago P.D. cast member. (That said, fans fondly remember his pop-up appearance in Season 7, Episode 15, titled "Burden of Truth.") 
So why, exactly, did Brian Geraghty leave Chicago P.D? Get the details, below: 
Why did Brian Geraghty leave Chicago P.D.?
In a 2016 interview with TV Line, former Chicago P.D executive producer Matt Olmstead explained the reasoning behind Geraghty's decision to leave the show. Ultimately, the actor had a busy schedule and was keen on a few other projects outside of P.D., including some he was producing. 
"When we wanted to do this Roman character, [executive producer] Dick [Wolf] in particular really wanted Brian Geraghty for the role," Olmstead told the outlet. "[Geraghty] had a lot of choices, and we courted him and pitched him what the show could be, and we were crossing our fingers that we'd get him. He is the most level-headed, decent human being you're going to encounter, and he's upfront. He was like, 'I don't know if I can commit to a seven-year contract. This sounds great, but I've got to take it year by year,' which Dick doesn't do very often. But the deal was made."
"He's also a producer and wants to get stuff off the ground that he's been working on and wanted to give us a heads-up and include us in the conversation," Olmstead added. "It was the most civil, level-headed, mutual fan-fest agreement and departure that I've ever been a part of, because he was just very decent about it."
He continued, "I hope that we honored his request. He gave us what we needed — two years of doing a really good job on a character that elevated the show. We shook hands at the beginning, we shook hands at the end, and he's off to do great things; I'm sure of it."