NBC Insider Exclusive
Create a free profile to get unlimited access to exclusive show news, updates, and more!
Sign Up For Free to View
Is Upton OK on Chicago P.D. After That Brutal Abduction Episode?
The detective was put through the wringer during the latest Chicago P.D. episode, "Fight".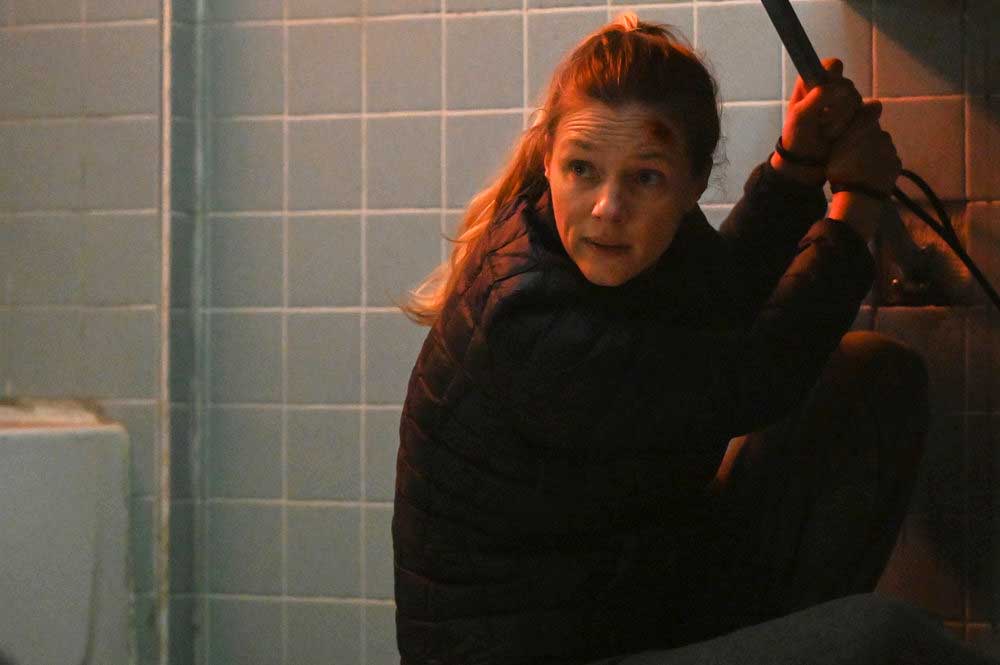 Though last week's Chicago P.D. episode focused on Kevin Atwater (LaRoyce Hawkins) and his complicated relationship with his dad, Lew, this week put the focus on another Intelligence Unit memeber.
In Season 10, Episode 20's "Fight", fans see Hailey Upton (Tracy Spiridakos) get kidnapped as she's struggling to adjust to Halstead's absence. It was a brutal and heart-pumping episode — but where did it leave Upton? Read on for a recap. 
What happened to Upton in Chicago P.D.'s "Fight"?
Upton was just going about her day when she got a call from a man named Lee, Halstead's former informant. She meets him in an alley, where he's hesitant to tell her what he needs. But before she can actually find out, they're attacked and tased by two men, with Upton being knocked unconscious.
When she wakes up, she and Lee are zip-tied and being held in a bathroom at an unknown location. They've been abducted. Upton tries to ambush their kidnappers and escape, but they overpower her and beat her. It soon comes out that Lee has stollen $50,000 from the head kidnapper and wants his money back. It's clear that the men are incredibly violent and angry and are willing to do anything to get information about their money. Meanwhile Torres (Benjamin Levy Aguilar) figures out something is wrong with Upton when she doesn't show up for their weekly sparring session, leading the Intelligence Unit to investigate her disappearance. They then confirm she's been taken after viewing security footage from a convenience store across the street from the abduction site.
Upton does her best to get Lee to tell her where the money is, but he refuses — until the kidnapper chops his hand off with an axe. (Yes, you read that right). Lee then reluctantly tells Upton that he stole the money for his ex-girlfriend so they could get back together. Lee doesn't want them to find her, so they come up with a plan that will hopefully appease the abductors. Instead, Lee ends up shot and killed, and with his dying breath, tells Upton that his girlfriend spent all of the money. 
In a bid to save her life, Upton tells the kidnappers that she knows where the money is and can lead them to it. She leaves behind a message written in blood ("HOME") for the Intelligence Unit to find her. Later, while bound in the trunk of a car, Upton escapes and breaks though the back seat to choke the kidnapper while he drives, causing him to crash the car. Thinking he's dead, she crawls from the car only for him to come-to and choke her. Thankfully, she manages to stab and kill him. It's only then that she's safe and the Intelligence Unit finally finds her as she passes out.
Is Upton OK, or is she leaving Chicago P.D.?
The detective is still very much apart of the Intelligence Unit despite her ordeal. However, it is clear that Halstead is most likely not returning to Chicago anytime soon. A heartbroken Upton took off her ring at the end of the episode following pointed words from Voight.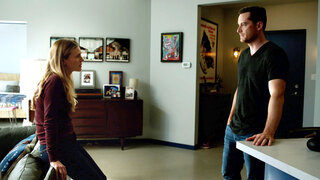 "You know it is OK to let go if you're the only one fighting," he said of Halstead's lack of communication. "Doesn't mean you don't love 'em, just means you love you, too."