NBC Insider Exclusive
Create a free profile to get unlimited access to exclusive show news, updates, and more!
Sign Up For Free to View
What That Ending Meant on the Latest Chicago P.D. Atwater Episode
LaRoyce Hawkins unpacks the strained relationship between Atwater and his dad on Season 10, Episode 19's "Bleed Valve."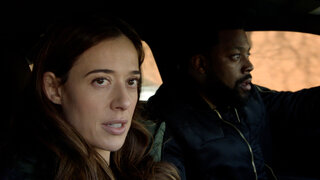 With Chicago P.D. Season 10 back on our screens after a brief hiatus, fans dove in to an emotional hour spent with Officer Kevin Atwater, who has been played by LaRoyce Hawkins since Season 1.
The episode, titled "The Bleed Valve" (Season 10, Episode 19) marked the return of Atwater's dad Lew (Erik LaRay Harvey) as the two worked towards repairing their relationship. Tensions remained between father and son as Atwater and the Intelligence Unit investigated the killing of a young boy in an apartment building owned by Atwater. It turned out that Lew acted as a mentor to the victim and his 11-year-old best friend who accidentally fired the fatal shot. Because of this, Lew is a key part of the investigation, no matter how distracting.
This dynamic echoes Lew's first appearance in Season 10, during Episode 11 ("Long Lost"), when he returned to Chicago after being released from prison, where he cut off communication with Atwater.
"It was an interesting ride, you know?" Hawkins says of his storyline with Harvey. "I wanted to show the frustration and the confusion. The passion and misunderstanding that we can have with our loved ones, while also being extremely passionate about what we love to do. In Atwater's case, he wants to save lives and solve crime and the unit and his dad don't make that easy, so he's, like, caught in the middle of a lot of things, and he's so spread thin... so as I approached this episode, I thought it would be most important to really embrace all the imperfections."
What did the ending of Chicago P.D. Season 10, Episode 19 mean?
By the end of "Bleed Valve," Atwater and his father seem to understand each other a bit more, with the cop extending an olive branch and letting Lew know the building he owns could use help with its plumbing because of a faulty bleed valve. The final lines of the episode are Lew explaining exactly what the bleed valve is.
"When air gets stuck up in there, it bumps up against the hot water," he says. "That's the knock. You gotta bleed it out, release that pressure. Then you can start it out new again."
Hawkins tells NBC Insider that Lew's words definitely had a double meaning. "I liked the title [of the episode] because it's poetic right?" he says. "We embrace the metaphor of pressure. And the disconnection; that pressure has to be relieved over time in a way that you can allow air to flow in and out effectively. That's essentially your metaphor for the relationship between Atwater and his dad. You know, there's a lot of pressure.  And there's knocking and there's noise, but as you relieve that pressure over time, you start to see how the communication can flow, and the patience [makes room] for understanding."
The Chicago P.D. star hopes viewers find inspiration in Lew and Atwater's story.
"I think Atwater and his dad become the heroes toward the end, but they start off as stray humans that are miscommunicating," he says. "I know a lot of father and son relationships are different, you know what I mean? They are different, but they are real to everybody individually. So I just wanted this to feel real to us, and to Atwater, and hopefully other families of fathers and sons can relate and learn from what we go through."
Watch Chicago P.D. on NBC Wednesdays at 10/9c and next day on Peacock