NBC Insider Exclusive
Create a free profile to get unlimited access to exclusive show news, updates, and more!
Sign Up For Free to View
Who Was in the Original Law & Order Cast in Season 1?
Long-time fans know the many of the actors most associated with the show weren't there from the beginning.
Law & Order wouldn't be the primetime zeitgeist it is today without the dedicated efforts of the original Law & Order cast. Dick Wolf's "ripped-from-the-headlines" formula may have gotten viewers hooked, but it's the compelling characters carefully woven into Law & Order's storylines that have led it to become a cultural sensation.
Law & Order is the flagship series of a now-sprawling franchise that includes several nail-biting Law & Order spin-offs, including the smashingly successful Law & Order: Special Victims Unit and the most recent installation Law & Order: Organized Crime. The original series followed the dedicated detectives and legal professionals of Manhattan's 27th Precinct, and the characters and the gripping cases that came across their radar each episode became an instant obsession. 
With decades of air time and more on the horizon with a revamped cast, Law & Order has cemented itself as a classic, in part thanks to Law & Order's original cast bewitching audiences during the series 1990 debut. Below, take a deep dive into the original cast of Law & Order. 
George Dzundza as Sergeant Max Greevey
Season 1
Kicking off Law & Order's debut season in the sergeant's seat was George Dzundza's Detective Max Greevey, a beloved if short-lived member of the Law & Order original cast. Greevey had been a detective for the NYPD's 27th Precinct for 23 years, viewed as a close friend to many of his Law & Order colleagues — and the best friend of Captain Donald Cragen (Dann Florek).
Greevey was tragically killed in Season 2, Episode 1 ("Confession"), prompting the introduction of Sergeant Phil Cerreta (Paul Sorvino).
Dzundza appeared in a total of 22 episodes and came to Law & Order with an impressive roster of television and film credits. Some of Dzundza's notable projects include films like The Deer Hunter (1978), Best Defense (1984), and Basic Instinct (1992), and television credits such as a 1986 episode of The Twilight Zone and the role of Harold O'Malley in Grey's Anatomy.
Dann Florek as Captain Donald Cragen
Seasons 1–3
No one can deny that Dann Florek is a Law & Order legend. Florek was not only a member of Law & Order's original cast, he was also a cast member on Law & Order: Special Victims Unit from Seasons 1-15, appeared in Exiled: A Law & Order Movie, and has even provided coveted advice to Detective Elliot Stabler (Chris Meloni) on Law & Order: Organized Crime year (following the character's retirement in Season 15 of SVU).
Florek was a member of the Law & Order original cast from Seasons 1-3, playing the endlessly entertaining Cragen who helped in several high-stakes criminal cases until his transfer to the Manhattan Special Victims Unit. His final episode as a member of the main flagship cast was Season 3, Episode 22 ("Benevolence). But he returned as a guest for Season 5, Episode 20 ("Bad Faith"), Season 10, Episode 14 ("Entitled"), and Season 15, Episode 11 ("Fixed"). 
Florek came to Law & Order after having played Dave Meyer from 1988–1993 in L.A. Law and Jim Crawford in a 1988 episode of 21 Jump Street, among many other exciting guest roles.
Dann Florek's Further Guest Appearances on SVU and Law & Order: OC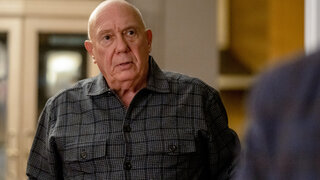 Florek has also guest-starred in SVU several times following his character's official departure in Season 15, Episode 11 ("Amaro's One-Eighty").
RELATED: The Emotional Evolution of Detective Elliot Stabler Through the Years
He appeared in SVU Season 16, Episode 21 ("Perverted Justice") and Season 23, Episode 6 ("The Five Hundredth Episode"). Florek also guest starred in Law & Order: OC Season 2, Episode 17 ("Can't Knock The Hustle") and Episode 22 ("Friend Or Foe"). Simply put, Law & Order fans love Florek and can't get enough of the endlessly quipping Cragen. 
Chris Noth as Junior Detective Mike Logan
Seasons 1-5
Chris Noth was a member of Law & Order's main cast from Season 1-5 as the tenacious 27th Precinct Junior Detective, Mike Logan. Throughout Noth's Law & Order tenure, Noth was a fan favorite — leading him to become the star of Exiled: A Law & Order Movie, a two-hour television special that tied up all the loose ends of Logan's departure from the force in Law & Order Season 5, Episode 23 ("Pride").
Noth reprised his role as Logan in the third Law & Order spin-off, Law & Order: Criminal Intent, appearing in 36 episodes from Seasons 4-7, formally retiring from the force in Criminal Intent Season 7, Episode 21 ("Last Rites").
Since his Law & Order days, Noth appeared as Peter Florrick, the husband of the main character in The Good Wife from 2009–2016 and as Carrie Bradshaw's on-and-off love interest Mr. Big on Sex and the City from 1998-2004. Noth earned Golden Globe nominations for his roles in Sex and the City (2000) and The Good Wife (2011), and has since been featured in several Sex and the City-related projects including the 2021 reboot, And Just Like That... Noth has also starred in several films, such as Lovelace (2013), Elsa & Fred (2014), and White Girl (2016).
Michael Moriarty as Executive Assistant District Attorney Ben Stone
Seasons 1–4
Another member of the original Law & Order cast was Michael Moriarty, introduced as EADA Ben Stone in the pilot episode ("Prescription for Death").
Moriarty's final appearance as Ben Stone was in Season 4, Episode 22 ("Old Friends"), having entertained Law & Order fans for 88 episodes. Stone resigned from his position after one of his witnesses was murdered in the middle of a trial, prompting his exit due to the guilt.
He earned four Emmy nominations for his role as Ben Stone.
Moriarty came to Law & Order as a three-time Emmy winner with an impressive resume of stage, television, and film roles. Not only had Moriarty won two Emmys for his supporting role in The Glass Menagerie (1974) and his work on the 1978 miniseries Holocaust, he'd also won a Tony Award in 1974 for his role in the play Find Your Way Home.
Moriarty won his fourth Emmy in 2002 for his role as Winton Dean in the 2001 television film James Dean.
Moriarty also has an established music career outside of his acting pursuits as an accomplished jazz pianist and singer, and has recorded two jazz albums, Sweet 'n Gritty (1990) and Live at Fat Tuesday's (1992).
Richard Brooks as Assistant District Attorney Paul Robinette
Seasons 1–3
Richard Brooks was another member of the original Law & Order cast, introduced as the driven ADA Paul Robinette in Season 1, Episode 1 ("Prescription for Death"). After appearing in 66 episodes, Brooks left Law & Order when his character decided to leave the DA's office in Season 3, Episode 22 ("Benevolence).
Brooks reprised his role as ADA Paul Robinette for appearances in Season 6, Episode 14 ("Custody"), Season 16, Episode 6 ("Birthright"), and Season 17, Episode 4 ("Fear America").
In 2017, Brooks was featured in an episode of Wolf's single-season series Chicago Justice, appearing as Robinette in Season 1, Episode 2 ("Uncertainty Principle"). In it, he was asked by Chicago P.D.'s Sergeant Hank Voight (Jason Beghe) to defend Officer Kevin Atwater (played by LaRoyce Hawkins).
Following his Law & Order departure, Brooks appeared in series like G vs E (1999-2000), Drive (2007), and The Flash (2017-2018). He made a separate appearance on Chicago P.D. in Season 8, Episode 3 ("Tender Age") as a character named Lieutenant Mike Carey, and shone on The Blacklist Season 6, Episode 15 ("Olivia Olson (No. 115)").
Outside of his acting career, Brooks also has an R&B album, titled Smooth Love (2009), featuring his single "Baby Don't Cry."
Steven Hill as District Attorney Adam Schiff
Seasons 1–10
The late Steven Hill was a bona fide Law & Order O.G., introduced as the 27th Precinct's top dog District Attorney Adam Schiff in the pilot episode. Hill made appearances in 228 action-packed episodes, plus one guest appearance in Law & Order: SVU in Season 1, Episode 15 ("Entitled"). 
Hill's final appearance on Law & Order was in Season 10, Episode 24 ("Vaya Con Dios"); Schiff left the DA's office to work on commemorations for The Holocaust Project in Vienna.
Hill got his start in the entertainment industry on Broadway alongside a young Marlon Brando in Ben Hecht's 1946 play A Flag Is Born. He later starred as Dan Briggs in the 1966 series Mission: Impossible.  After decades of delivering compelling performances, Hill passed away at the age of 94 on August 23, 2016.