NBC Insider Exclusive
Create a free profile to get unlimited access to exclusive show news, updates, and more!
Sign Up For Free to View
This Is Why Howie Mandel Was Missing During Some AGT 2022 Auditions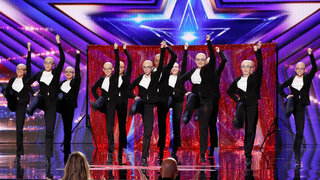 While watching America's Got Talent this season, eagle-eyed viewers may have spotted a small switch-up during the Auditions.
During some episodes of AGT, Howie Mandel has been missing from his spot at the judging panel next to Heidi Klum. But before fans get too worried, there is a simple explanation.
Right before Urbancrew took the stage during Week 3 with their gravity-defying routine, Host Terry Crews told the audience why we wouldn't see Mandel. It turns out the comedian was sick for a period of time during filming, with Crews explaining a slight change in the show's rules.
"Howie Mandel is not feeling well today, so he will not be joining us," Crews said. "Since Howie is not here, two 'yeses' will let the Act advance, and three Red Buzzers mean that your Act is over."
So, we can breathe a sigh of relief that Mandel's absence is temporary. Now, if you were to ask Simon Cowell about what happened to his fellow Judge, he may place the blame on Sofia Vergara. During a May interview on The Kelly Clarkson Show, the AGT executive producer jokingly said his broken arm was the fault of the Modern Family star. 
"One by one we've all had accidents ever since Sofia joined the show," Cowell said, cheekily dubbing her an "assassin."
Klum added, "When Sofia came the first year we met, the next day I was sick."
Vergara got in on the fun, denying any bad intentions. "I don't believe it because nothing has happened to me," she laughed. "I haven't even in two years gotten COVID. Not even once."