NBC Insider Exclusive
Create a free profile to get unlimited access to exclusive show news, updates, and more!
Sign Up For Free to View
See Weezer and Detroit Youth Choir's 'Magic' Collab on the All-Stars Finale
"That was magic," Simon Cowell said. Watch America's Got Talent: All-Stars on NBC.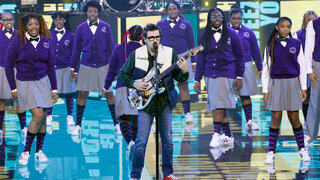 The Detroit Youth Choir proved they can make any genre their own when they performed with rock band Weezer for AGT: All-Stars' finale on February 27. While the pairing may seem unconventional, the Detroit Youth Choir added a fun and unique flair to one of Weezer's biggest hits.
The performance first started out with Weezer doing a rendition of their song "What Happens After You." The beat to "Beverly Hills" then started playing while the Detroit Youth Choir emerged from the audience, causing the crowd to go wild. They boldly trotted onstage while citing an empowering chant in unison. "Gimmie gimmie, cause we're the next big thing! Can you feel me? I know you hear me, Weezer, go ahead and do your thing!" they said, prompting the band to start their next song.
"Look at all those movie stars; they're all so beautiful and clean. When the house maids scrub the floors; they get the spaces in between," lead singer Rivers Cuomo sang while the Detroit Youth Choir provided some fantastic background vocals, swaying to the rhythm.  
"I wanna live a life like that; I wanna be just like a king," Cuomo sang. "Yeah!" the choir chimed in, pumping their fists in the air.
"Cause I'm the next big thing!" they all sang in unison.
When the chorus hit, the Detroit Youth Choir gave the tune a new spin by harmonizing with some grand vocals. "Beverly Hills, that's where I want to be," they sang while performing some energetic dance moves.
"Beverly Hills, rolling like a celebrity," they continued while adding some "hey-heys" with some serious pizzazz.
For the funky guitar solo, the Detroit Youth Choir rocked out to the music, bobbing their heads with enthusiasm.
When it was time for the bridge, the choir sang some passionate "ahhhs" while Cuomo sang, "Truth is, I don't stand a chance; it's something that you're born into, and I just don't belong."
Then, the drums kicked back in as the choir strutted onstage. "Beverly Hills, that's where I want to be," they sang while clapping their hands.
"Beverly Hills, Beverly Hills," they crooned, concluded the song on a confident note.
Everyone was clearly having a blast, as many in the audience stood up and danced.
"Simon, what do you think about this?" Host Terry Crews asked.
"It was absolutely brilliant; thank you so much for doing this," Judge Simon Cowell gushed. "That was magic."