NBC Insider Exclusive
Create a free profile to get unlimited access to exclusive show news, updates, and more!
Sign Up For Free to View
Taylor Swift and Travis Kelce Made Cameos on Last Night's SNL Premiere
The pop star and the Season 48 SNL Host continued to stoke rumors with their surprise appearance, as Swift introduced musical guest Ice Spice and Kelce popped up in a Fox NFL Sunday parody.
Are Taylor Swift and Travis Kelce are actually dating, or does the pop star simply enjoy watching Kansas City Chiefs games alongside Kelce's mom? We don't know whether the two are more than friends for sure—but we do know that they're enjoying giving fans something to talk about. Both Kelce and Swift made cameos on the season premiere of Saturday Night Live Season 49 on October 14.
Chiefs tight end and Season 49 SNL Host Kelce was first to pop up during one of the first sketches of the evening, a parody of Fox NFL Sunday. In the sketch, football pundits Curt Menefee (Kenan Thompson), Terry Bradshaw (Molly Kearney), Howie Long (Mikey Day), Jimmy Johnson (James Austin Johnson), and Michael Strahan (Devon Walker), initially seem annoyed by how Swift's game apperances have whipped fans of music and football into a frenzy. 
RELATED: Watch All of Pete Davidson's Sketches from the SNL Premiere
"Listen, sorry Swifties, this is a show about football," Day's Howie Long said. "It's a sport! Ask your dad." But even before they cut to a football analyst (October 14 Host Pete Davidson) who's gotten too swept up in the excitement, the other talking heads quickly betrayed their deep investment in Kelce and Swift's situation. 
"I want to say to Travis Kelce, from one Super Bowl champion to another, this is a way bigger deal than the Super Bowl," Walker's Strahan said into the camera. Wearing a pink cowboy hat and Eras Tour sweatshirt, Davidson's sports anchor shared his hope that Swift would appear at a Jets/Eagles game to see Kelce's brother Jason play, while Day's Howie Long flashed his wrist full of friendship bracelets.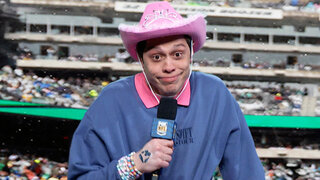 Then, introduced as someone who "actually wants to talk football," Kelce himself made a surprise appearance, saying "Yes, please!" amid screams from the audience.
Taylor Swift popped up to introduce Ice Spice on SNL
SNL viewers didn't have too long to wait to find out if Kelce was rolling with Swift at the premiere. Swift, who tapped musical guest Ice Spice for her "Karma" remix earlier this year, introduced Ice Spice ahead of her "Pretty Girl" performance. 
Watch the performance above, and watch Saturday Night Live on NBC and next day on Peacock.