NBC Insider Exclusive
Create a free profile to get unlimited access to exclusive show news, updates, and more!
Sign Up For Free to View
Travis Kelce's SNL Bloopers Will Make You Need to Watch His Sketches Again
The Kansas City Chiefs tight end's sense of humor is on display in this blooper reel from Please Don't Destroy's "Self Defense" digital short—which reminds us of his standout Season 48 episode.
Travis Kelce is a multitalented man. As the tight tend for the Kansas City Chiefs, he helped his team defeat the Philadelphia Eagles in the 2023 Super Bowl LVII (facing off against his older brother, Eagles center Jason Kelce). Kelce also happens to be a natural performer off the field, and he showcased his talent for comedy as March 4 Host of Saturday Night Live's Emmy-nominated Season 48. 
Being a part of any live SNL episode is hard work, but it's clear from watching Kelce in this blooper reel that he had an amazing time on the show. The digital short that he starred in with comedy trio Please Don't Destroy, "Self Defense," required some demanding stunts from both Kelce and Please Don't Destroy's Ben Marshall, John Higgins, and Martin Herlihy. 
RELATED: The funniest Please Don't Destroy shorts on SNL
For Kelce, it also posed the formidable challenge of keeping a straight face as he commanded Herlihy to punch an older white-haired woman in the face (they both dissolved into giggles instead).
Hosting SNL was a longtime dream for the football star: His manager, Aaron Eanes, told Vanity Fair it "was the only thing he ever said he wanted to do"—aside from winning two Super Bowls, presumably. Watch the "Self Defense" bloopers, and check out more sketches from Travis Kelce's Saturday Night Live episode, below.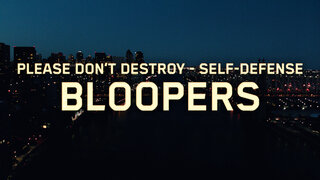 Travis Kelce's hilarious "Self Defense" short 
"Abby the Ex-Girlfriend"
MPX Video: [P | Expires: 3/4/2043] Abby the Ex-Girlfriend (15440)
Heidi Gardner played the definitely-not-over-it ex-girlfriend to Travis Kelce's character, who introduces her new man (played by Jason Kelce).
RELATED: Pete Davidson and John Mulaney Just Announced New Tour Dates
"American Girl Café"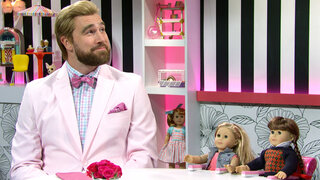 Kelce seemed to be having the time of his life playing the weirdo you never expected to meet at the American Girl Cafe.
"Straight Male Friend"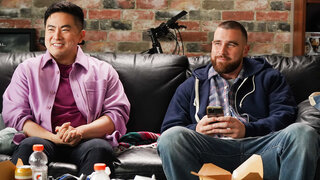 Bowen Yang and Travis Kelce's fake ad touts the rewards of a "low effort, low stakes relationship" with a straight male friend (wing nights! video game sessions!), where the only drama comes from when you tell them, "I bet I'm faster than you."