NBC Insider Exclusive
Create a free profile to get unlimited access to exclusive show news, updates, and more!
Sign Up For Free to View
Kelly Clarkson Sang Along to Adele & Ed Sheeran with Garth Brooks — and It's Amazing
The Voice Coach sounded perfect with the country star.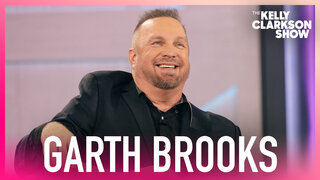 Dozens of fascinating anecdotes, stories, and performances have been shared on The Kelly Clarkson Show, but legendary country star Garth Brooks had the audience downright mesmerized during his exciting Garth Brooks Songs & Stories appearance. 
Brooks paid host Kelly Clarkson a visit for the fun-filled May 18 episode of The Kelly Clarkson Show, where he participated in a rousing game of Rockstar Roulette. Brooks was tasked with spinning a wheel of various acclaimed musicians to share stories about whichever the wheel landed on. Brooks has been making smash hits since 1986, so you can bet he has some fascinating interactions in the backlog. 
The first artist that Brooks landed on was Ed Sheeran, who he was keen to sing his high praise. Brooks chatted about Sheeran's fearless ability to perform solo to massive arenas of people, commending the "Shape of You" singer for his exceptional songwriting skills and passion in his performances.
"It's just him and a guitar," Brooks explained. "What I love with him, what I love, is it has a, you don't have to reinvent music, OK? It's in the soul, and it just keeps getting recycled. Simple, right? All the way back from... what was it?"
Brooks contemplated for a moment before flawlessly demonstrating the timelessness of classic melodies throughout the years, seamlessly sliding from "Unchained Melody" by The Righteous Brothers to Leonard Cohen's "Hallelujah" and concluding with Sheeran's "Perfect." Brook's impromptu medley was truly impressive and had Clarkson angelically harmonizing along to the iconic tracks. 
"That's what I love about music," Brooks elaborated. "It's timeless and it's timely at the same time. It just depends whose hands it's in."
The next talented musician Brooks landed on in was Adele, a.k.a. the beloved vocal powerhouse and renowned celebrity to all celebrities. But Brooks has a slight beef with Adele that he couldn't help but comment on, much to the Clarkson Show crowd's surprise. 
"This is tough because the story that comes to mind...is not a good one," Brooks joked. 
The drama in question spanned from an argument Brooks got into with his daughter after she came home one day gushing over Adele's cover of Bob Dylan's "Make You Feel My Love." Brooks' daughter told her singer-songwriter father that she had "never heard anything like it."
For context: Brooks also covered the Dylan classic in 1998 and it's become one of his biggest hits. His cover even introduced some fans to the emotional ballad. That is except for Brooks' daughter, who couldn't stop hailing Adele's 2008 version. At that point, Brooks couldn't help but take the familial slight a tad personally, but he still raises Adele on a pedestal the same way we all do. 
"And I gotta tell you, it's like anything that you cover, right?" Brooks elaborated. "So it's you, you're walking around like, 'Make You Feel My Love,' I feel pretty good about my version. And then you hear Adele sing it? All of a sudden, you're like, 'Oh okay, I get it.' Everything that she touches just sings."
The next story he shared with the audience was Aerosmith, which as a lifelong Steven Tyler fan, got Clarkson mighty excited. Clarkson's ears perked up when Brooks revealed that the story of when he realized he was showering with Tyler on tour. The two musicians simply waved and went about their business, a detail that had Clarkson cackling.
The final artist on Brook's lineup of Rockstar Roullete? KISS, whom he has performed with various times by collaborating on their 1994 tribute album. As a known KISS fan and even more well-known country singer, Brooks was delightfully shocked to be included in the project, and sang with them for "Hard Luck Woman" in select shows and for the album recording. (You can watch the throwback performance, here.)
"I tell you, anything they ever want to do, count me in," Brooks shared. "Because I love those guys."
Brooks' experience in the industry is unrivaled, with even more stories likely under his cowboy belt. Now he can add an entertaining day with the iconic Kelly Clarkson to his already impressive roster of unforgettable moments!