NBC Insider Exclusive
Create a free profile to get unlimited access to exclusive show news, updates, and more!
Sign Up For Free to View
Watch Kelly Clarkson's October 13, 2023 Appearance on The Tonight Show
The singer and Voice Coach visited Studio 6B ahead of The Kelly Clarkson Show's Season 5 premiere. 
She's back! Singer, The Voice alum, and talk show Host Kelly Clarkson was the October 13th guest on The Tonight Show Starring Jimmy Fallon.
Clarkson's Tonight Show visit came just ahead of The Kelly Clarkson Show Season 5 premiere on Monday, October 16. Clarkson and Jimmy Fallon are now neighbors, as Clarkson's moved her talk show from the West Coast to New York City's 30 Rockefeller Plaza. 
Fallon and Clarkson have created some supremely memorable music moments on TV in the past, from their Sonny and Cher cover to Clarkson and Ariana Grande's jaw-dropping "Mixtape Medley" showdown on Fallon's That's My Jam game show. Here's what happened during the October 13th appearance. 
RELATED: Kelly Clarkson's Fierce Cover of "Heartbreak Hotel" Does Elvis Justice
Kelly Clarkson appears on The Tonight Show Starring Jimmy Fallon on October 13 
Watch Kelly Clarkson perform "lighthouse," a song from her album, Chemistry, during her Tonight Show appearance on October 13th.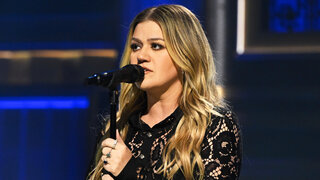 "[The album is] called Chemistry because I was trying to find a word—also, [it's] one of the songs on the album—but I was trying to find a word that really described the whole thing," Clarkson said about the record. "Because I didn't want everyone to think I was just coming out with some, 'I'm angry, I'm sad' [album], just one or two emotions. This album is definitely the arc of an entire relationship. A whole relationship shouldn't be just brought down to one thing. So there's the good, the bad, and the ugly kinda thing going on. Chemistry can be a really amazing sexy, cool, fun thing, but it can also be very bad for you. So that's why I named it Chemistry. I thought it was the perfect title to describe the entire album." 
And watch Clarkson play a round of "Back That Track Up," below.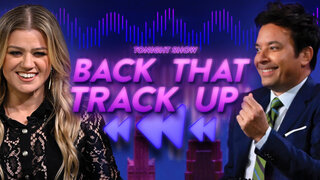 Originally published Oct 12, 2023.