NBC Insider Exclusive
Create a free profile to get unlimited access to exclusive show news, updates, and more!
Sign Up For Free to View
Ariana Grande and Kelly Clarkson Attempted to Out-Sing Each Other and It Was Epic
The Voice Coaches belted out some epic notes — but who came out on top?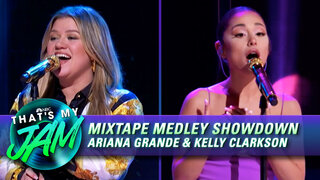 While we've seen The Voice Coaches Kelly Clarkson and Ariana Grande do some incredible duets together, the two went head to head during their 2022 appearance on That's My Jam for a game of "Mixtape Medley." 
How it works? The two sensational singers would have to compete against each other as Host Jimmy Fallon spun the wheel. The women then got a title of a mixtape, and they went back and forth, singing a medley of those songs. Doesn't sound easy, does it? 
"I'm done for," Grande remarked while shaking Clarkson's hand, in awe of her talent. "Definitely not," Clarkson responded, knowing the vocals prowess of who she was up against. 
Fallon then spun the wheel, giving the two the category "Pop Divas". The first song was "Oops!…I Did It Again" by Britney Spears, to which Grande performed a sassy rendition inspired by Spears' voice while still making it her own. 
When it was Clarkson's turn, she jumped in with "Any Man of Mine" by Shania Twain. During her rendition, she used an ultra accurate country twang while she sang. (Clarkson is a Texas native, after all!)
Then, Grande sang her heart out with Cher's "Believe", doing a highly accurate impersonation of Cher's bold tone that would make her proud. 
It was then time for an edgy 90s alt-rock tune, "You Oughta Know" by Alanis Morissette. Clarkson sang the gritty tune with a bite in her voice that proved she's a musical badass. 
Clarkson continued with the heart-wrenching "Un-Break My Heart" by Toni Braxton. "Un-break my heart, say you'll love me again, undo this hurt you caused, when you walked out the door, and walked out of my life," her voice soared with passion.
When it was time for more Grande, she jumped back into the mix by belting "Its All Coming Back to Me Now" by Celine Dion. As always, she took the house down with her powerful sustained notes and riffs, even giving a clever nod to Fallon. 
For the final tune, Clarkson sang Whitney Houston's version of "I Will Always Love You." While she was belting, Grande paced around the stage in amazement, offered her a congratulatory bow, and even joined her on the last high note in a gorgeous harmony. 
The game was so impressive that Clarkson and Grande got a standing ovation from the crowd. With an incredibly close call, Clarkson ended up winning the round. (We can't imagine how hard of a choice that must have been to make!)