NBC Insider Exclusive
Create a free profile to get unlimited access to exclusive show news, updates, and more!
Sign Up For Free to View
Heidi Klum Wore the Sparkliest Cutout Mini-Dress to the Golden Globes
Shine bright like a diamond!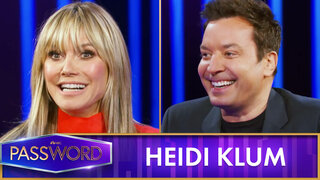 Heidi Klum absolutely killed the style game at the 2023 Golden Globes. 
On January 10, 2023, the supermodel and America's Got Talent Judge attended the event rocking a short, silver sparkly mini-dress with turtleneck detailing. She complemented the look with a silver patterned clutch and matching thin, strappy heels. Her signature honey blonde locks were slicked back and cascaded down her shoulders, while she sported dark smokey eye makeup and dangly earrings. However, what truly tied things together was the bold and elegant lavender boa wrapped around her neck!
The last time Klum stunned the world with her look was on Halloween, and it was less glamorous and more humorous. For the holiday—one of her favorites—she dressed up in an intricately-designed costume transforming her into a hyper-realistic worm.
On her Instagram account, she gave us a sneak peek into the costume prep. "This is going to be the craziest one yet. I mean, this makes me so happy, you don't even know! Look at this thing! Oh my God, yes!" she exclaimed. "I love it! I might shed a little tear now! That is amazing!"
When it was time for her transformation to become complete, she posted a snippet of the reveal several hours later on her Instagram. "Trick-or-treat, now see who I will be," she lip-synced. 
In other news, Klum is currently a Judge on America's Got Talent: All-Stars. The show features a whopping 60 Acts from the Got Talent universe returning to the stage and competing. Fan-favorites coming back include Kodi Lee and Sara James. The latter performed during the January 9 show. 
And she nailed it, obviously. Klum praised James' All-Stars Audition, telling the young singer, "You are a star in the making, and I have so much respect for you for coming back. I love your style. My daughter—who just turned 13—is a huge fans of yours. I'm almost 50 and a huge fan of yours. I think you're fantastic." 
America's Got Talent: All-Stars premiered on Monday, January 2. Watch the show Mondays at 8/7c on NBC and next day on Peacock.