NBC Insider Exclusive
Create a free profile to get unlimited access to exclusive show news, updates, and more!
Sign Up For Free to View
Chris Meloni Has the Sweetest Word to Describe Working With Mariska Hargitay
And he's got us all agreeing with his answer!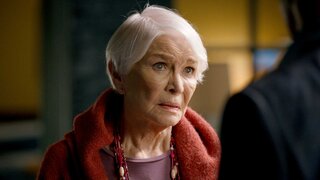 Actors in the Law & Order universe are known for being adorably close with each other. And in a new Twitter chat with EW, we're getting some details on the dynamic between two fan favorites: Benson and Stabler.
During the chat, actor Chris Meloni (who plays Detective Elliot Stabler on Law & Order: Organized Crime) was asked about his working relationship with longtime co-star Mariska Hargitay, a.k.a Captain Benson on Law & Order: SVU. (The two played partners on SVU for years.) And the word he used to describe their bond will make you swoon. Read on. 
Twitter/EW: What was your first reaction to reading the crossover script [for September 22nd's Law & Order Premiere Event]?
Christopher Meloni: How are they going to schedule it? 
In one word, how would you describe the energy when working with Mariska?
Comforting. 
I'm obsessed with your friendship with Ainsley [Seiger, a.k.a Jet Slootmaekers on OC]! What is the best part about working with her?
*I'm* obsessed with my relationship with Ainsley. But the best part is her originality, who she is, how she wears it, how she carries herself. How professional she is, how good she is.
Who breaks character the most on set?
Probably Bell [Danielle Moné Truitt]. 
Do you miss working with Dylan McDermott?
Like the flowers miss the rain. (Do you know if there are any posters of him out there for sale? Maybe I'll put one on my wall or something.)
How do you think Stabler has grown throughout the last two seasons, and what can we expect from him this season?
Well, I still consider him a work in progress. But I think he is less angry about things he can't control…I don't know, 'cause we're still just developing the whole story, so I can't really divulge or give an intelligent answer.
Consider this my petition for a L&O x Wet Hot American Summer crossover. Do you think Gene and Stabler would vibe?
I thank you for your petition. Absolutely, I think they're cut from the same cloth…It's just that Gene's side of the cloth got a little moldy and is a little crinkled.

Can you tell us about the moment when you first learned that the internet deemed you a "Zaddy?"
There were "Zaddy" murmurings, and I think it's really kind of coalesced around my 60th birthday. That's when I knew that I think I'd been given the moniker or been bequeathed. The crown has been passed… there's a new Zaddy in town, something like that.
Watch Law & Order: Organized Crime on NBC Thursdays at 10/9c and next day on Peacock.