NBC Insider Exclusive
Create a free profile to get unlimited access to exclusive show news, updates, and more!
Sign Up For Free to View
This Sweet, Retro Pic of Blake Shelton and Reba McEntire Shows How Far Back They Go
The time sure flies when you're having fun in The Voice's red chair.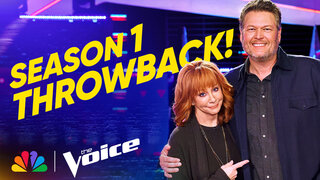 To many fans' dismay, Season 23 of The Voice is Coach Blake Shelton's final in a red chair. But the last-ever Team Blake is shaping up to be a competitive crew, with the help of country icon and entertainment powerhouse Reba McEntire, who was this season's Mega Mentor during the Knockouts. 
Real fans know that McEntire and Shelton go way back, all the way to Season 1 of The Voice when McEntire served as a Battle Advisor for Team Blake. As if fans weren't already emotional about Shelton's departure from The Voice, the "God's Country" singer made a heartwarming throwback post on Instagram that shows his history with McEntire in pictures. He posted a lovely slideshow of photos from Season 1 and Season 23 of the show with McEntire, and boy how the time has flown. 
Shelton captioned the sweet IG post, "Last season ➡️ First season with @reba #TeamBlake #TheVoice." See the Season 1 photo he posted, below. 
Interestingly enough, it was McEntire who was first offered the Voice Coach position in 2011. Shelton landed the gig after McEntire turned it down. 
"I got [a look at] the Holland version of The Voice," McEntire told ET. "They sent it to me and I said, 'I can't see me doing that.' Because, you know, I'm a gypsy at heart."
While McEntire has been rocking it as a Season 23 Mega Mentor, she has no intention of stealing Shelton's chair once it becomes vacant. "Who could fill Blake's shoes?" McEntire teased. "To fill Blake's chair? Wow. That's gonna' be tough. He did a great job, and kudos to him."
Season 23 newbie Coach Niall Horan has enjoyed working with McEntire this season, as well. 
"It was an honor to work with Reba McEntire. Just to even be in the same room as her. She's a legend. She transcends country music. She's just an icon," Horan tells NBC Insider. "So when I found out that I was going to meet her, I was blown away, and the Contestants' faces [were] just insane."
"When they walked in, they didn't have a clue. And they were just blown away by the whole thing," Horan continued. "And she was amazing. She's got wisdom that only a few people have. And she's willing to give some of it away. You know, for my Artists it was pretty sweet."
Watch The Voice on NBC Mondays at 8/7c and next day on Peacock.