NBC Insider Exclusive
Create a free profile to get unlimited access to exclusive show news, updates, and more!
Sign Up For Free to View
Wait, What Happened in Based on a True Story?! The Ending, Explained
Nathan and Ava Bartlett align themselves with a killer on Based on a True Story, and not surprisingly, things unravel from there.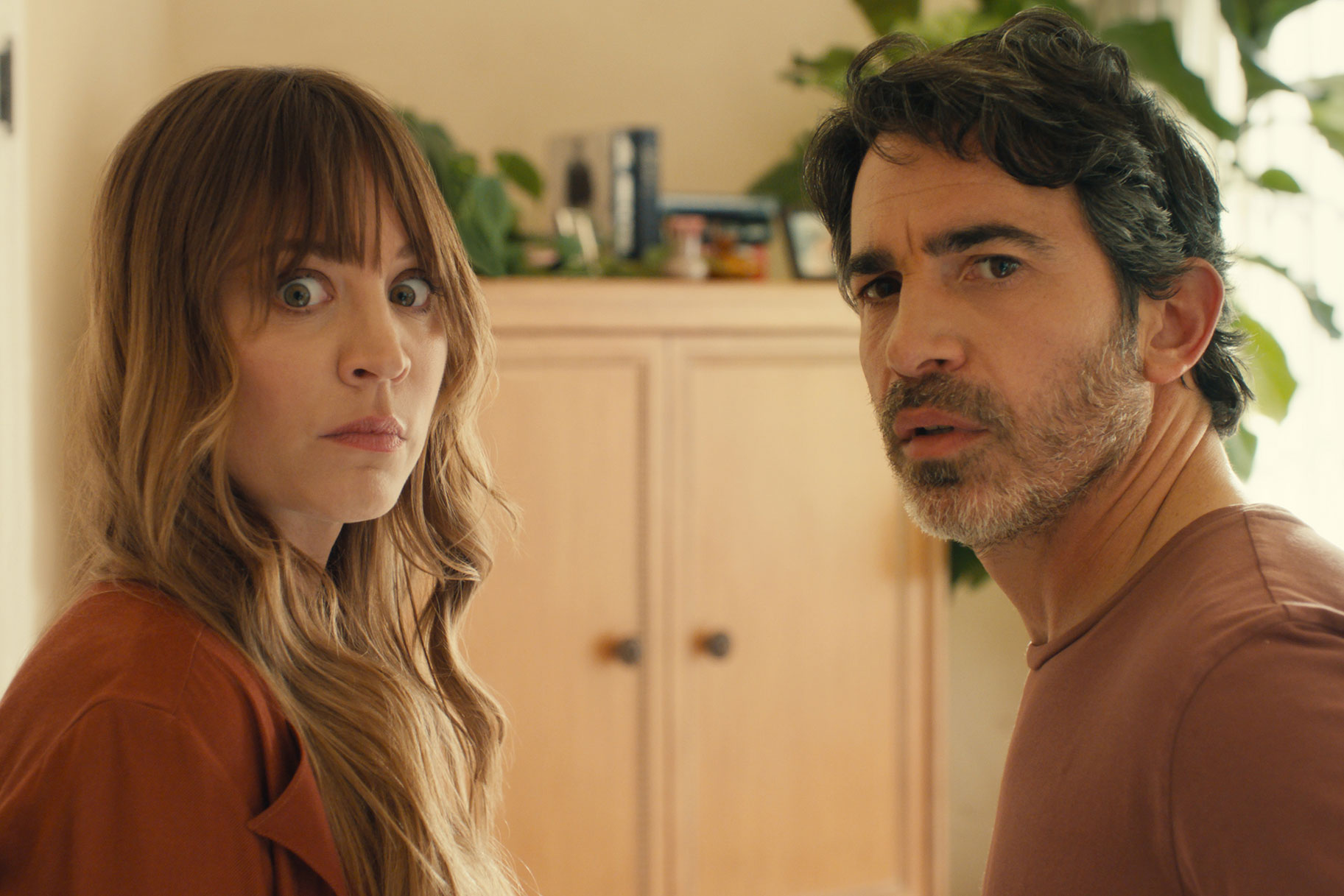 There was a lot to unpack in the Season 1 finale of Based on a True Story — and it left viewers with even more unanswered questions.
While a second season of the comedy thriller has yet to be confirmed, we're certainly hoping we haven't seen the last of Ava and Nathan Bartlett, played by Kaley Cuoco and Chris Messina, especially as the final moments of the finale left them in a rather precarious spot. 
What Happens in Based on a True Story?
The former tennis star and struggling real estate agent believed they had finally found an answer to their financial struggles after a chance encounter with handsome plumber Matt Pierce, portrayed in the Peacock limited series by Tom Bateman.
RELATED: Is the "Bundy Club" Real? Serial Killer Motivations Discussed in Based on a True Story
Matt was a fan of Nathan's during his days on the tennis circuit and agreed to fix the couple's bathroom in exchange for free tennis lessons at the country club where Nathan now works as a pro. The two men quickly hit it off and start spending more time together playing darts at a local bar. 
But when the bartender Chloe Lake, played by Stranger Things' Natalia Dyer, becomes the next victim of the West Side Ripper, a serial killer wreaking havoc in Los Angeles, shortly after Matt is seen leaving the bar, Ava — a true crime junkie herself — begins to suspect there may be a more sinister side to their plumber. 
Ava's suspicions are aroused after Matt shows up the next morning with scratches all over his arms, which he tries to dismiss as being from a cat he doesn't own. Then, Nathan lets it slip that Matt moved from his last apartment after a woman died in his building.
Armed with the information, Ava takes to the internet and finds an unsolved murder that seems to match the details Matt has revealed about his former home. 
When a news report announces that a blue plastic boot cover, just like the ones Matt uses on the job, was left behind at Chloe's murder scene, Ava becomes convinced that Matt is the West Side Ripper. 
But here's where the couple makes an unconventional choice. Rather than turn Matt into the police, Ava decides they should enlist him to help them create a one-of-a-kind true crime podcast that will give an inside look into the killer's mind.
"She knows how hot they are, how much money they make, and she got so excited about this, to do this together," Cuoco explained to NBC Insider. 
Matt grudgingly agrees to the deal, and Ava and Nathan think they finally have their ticket to a better life, but it's clear from the start that Matt doesn't plan to just sit on the sidelines. He takes over creative control of the podcast, broadcasts live from CrimeCon without the couple's consent, and begins to insist that listeners want "fresh" content — despite his promise to Ava and Nathan to stop killing. 
Their lives spiral even further out of control when Ava's close friend Ruby Gale, played by Priscilla Quintana, figures out that Matt is the killer and demands to be brought into the podcast in exchange for her silence.
RELATED: Kaley Cuoco and the Based on a True Story Cast Share Their Favorite True Crime Shows
Ava reaches an agreement with her friend, but before they can get back to the podcast, Matt kills Ruby and delivers her to the doorstep of the couple's new beachfront home. 
What Happens at the End of Based on a True Story?
As the finale begins, Ava and Nathan call Matt and demand he help them with the body. He maintains that he was the "hero" by killing her because she planned to turn them in.
"If I wanted to frame you, I would have dumped her body on Sunset Boulevard, all right? I just wanted you to know I could frame you if I ever wanted," Matt tells them over the phone, while interviewing killers over Zoom for a potential second season of the podcast. 
Matt eventually agrees to meet them at their main residence, but when they rush inside the darkened house they are surprised to find a room full of their closest friends as part of a surprise anniversary party arranged by Ava's younger sister Tory, played by Liana Liberato. 
A smiling Matt is among the crowd, as a distracted Ava and Nathan try to entertain their guests while Ruby's body remains locked in the trunk of their car. The body is almost discovered by Ruby's husband, Simon, played by Aaron Staton, after Ruby's cell phone begins ringing from the trunk of the car while Simon and Nathan are talking outside, but Nathan distracts Simon enough to move him away from the car.
Ava and Nathan sneak out of the party together to turn off the phone and discover that Matt was right: It appears that Ruby had been attempting to turn them in after finding a voicemail on her phone from a detective with the Los Angeles Police Department. 
Once the party ends, Matt chillingly tells them he got them an "anniversary present" and then leads them outside, where he hands them a pair of blue booties. 
"Have fun," he tells them, making it clear he plans to have no part in the crime scene cleanup. 
RELATED: Is Based on a True Story Actually Inspired by Real-Life Events? What to Know About West Side Ripper
The couple is forced to figure out what to do with the body on their own and decide to take it to Nathan's country club, as the club is in the midst of fixing a hole in the tennis court. They bury the body deep into the dirt before the concrete is expected to be poured the next day. 
As Nathan is digging the hole, for the first time, they talk about their impending baby and their hopes for the future. 
"I just want to be a good dad. I don't want to let you down," Nathan tells her. 
"You could never let me down," she responds, telling him that connecting with each other again was literally all she ever wanted. 
While they are busy burying the body, Tory is cleaning up after the party when Matt comes up on her from behind and begins to kiss her. It's clear they've been hooking up for awhile now.
He leads her back into a bedroom, eerily labeled "Baby's Room," and they close the door, leaving Tory's fate hanging in the balance.
With Ruby buried, Nathan and Ava head to the property to clean up Ruby's blood from the floor. As they talk about possible names for their child, they're surprised by Simon whipping open the front door and asking, "Who's blood is that?" in the final moments before the screen fades to black. 
It remains to be seen whether Ava and Nathan will find a way to talk themselves out of this one or if Matt's devious plans to continue the podcast will ever come to fruition. 
Here's hoping these questions and more are answered in a second season of the dark comedy.