NBC Insider Exclusive
Create a free profile to get unlimited access to exclusive show news, updates, and more!
Sign Up For Free to View
Kaley Cuoco and Chris Messina Talk Based on a True Story's "Crazy Tone," Their Chemistry, and More
Kaley Cuoco says her character in Based on a True Story is "so desperate" she gets caught up in a "very bad decision."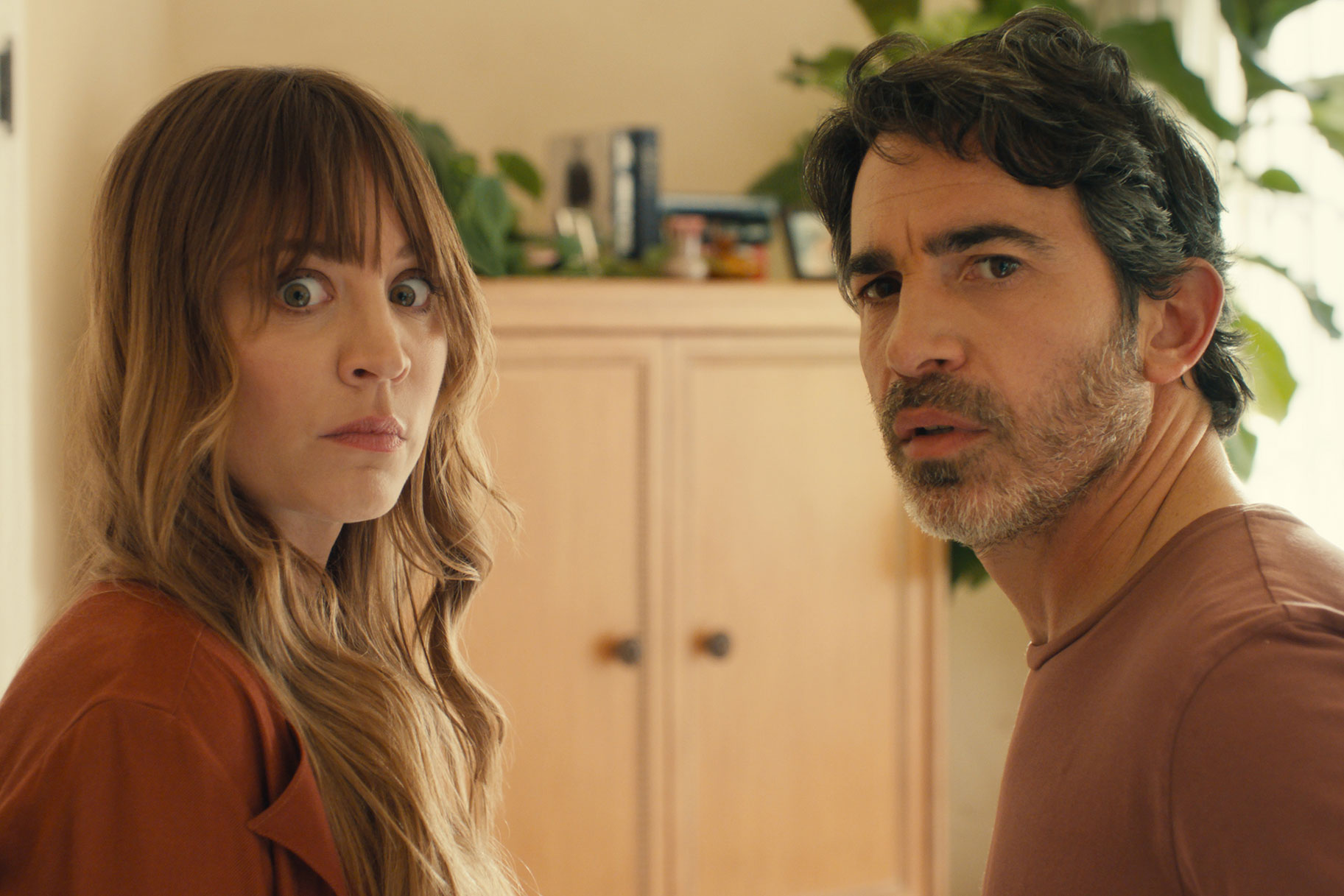 Nathan and Ava Bartlett are "kind of falling apart" when they make the brash decision to start their own true crime podcast in Based on a True Story, only adding more complications to their lives, according to the actors who embody the characters.
Chris Messina and Kaley Cuoco, who take on the roles in the new Peacock comedic thriller, sat down with NBC Insider to discuss their characters' unorthodox motivations as they team up with a serial killer to bring true crime podcast listeners a side of true crime they've never heard before. 
Chris Messina and Kaley Cuoco Talk Based on a True Story
"They're out of sorts," Messina said. "They're having a tough time financially, a tough time in their careers. They're kind of falling apart." 
When they cross paths with a killer, Ava, a self-described true crime fanatic, believes they may have the answer to their financial woes and comes up with the unconventional idea to cash in by creating a podcast with the killer. 
"She knows how hot they are, how much money they make and she got so excited about this, to do this together," Cuoco said. "I think the idea is so crazy, but she's out of her mind excited about it … and so desperate that they kind of make this crazy decision and they get so caught up in a very bad decision." 
Not surprisingly, the bumbling couple's lives quickly spiral out of control. 
RELATED: Kaley Cuoco and the Based on a True Story Cast Share Their Favorite True Crime Shows
"I mean at the end of this, they're just as bad, I feel like, as the killer at this point," Cuoco added of the show's "crazy tone." "So it's a lot of emotions in this show."
Striking a balance between the series' more playful comedic moments and the dark drama was difficult to master but enjoyable for Messina and Cuoco.
"It's fun," Messina said. "It's hard to do." 
He admittedly often turned to his co-star for help balancing the tone of the show, which vacillated between "hysterical" and "super dark." 
"She's so good at it," he said. "I just follow in her lead. We all did." 
According to Cuoco, Messina even called her some nights before a shoot to determine the tone for the next day's scenes.
"What is the scene? Are we laughing or are we crying?" Cuoco said. "Are we scared? I'm like, 'We're just gonna have to wait and see. Let's go see what happens.'"
RELATED: Liana Liberato and Priscilla Quintana Say Based on a True Story is "Very Aware of Itself"
The pair typically aired on the side of comedy — although that wasn't always what the director was looking for. 
"It was hard not to be super funny the entire time, actually," Cuoco said. "We were constantly being told like, 'This is more of a serious scene.' And I was like, 'Huh?'"
"It was very hard not to just be hysterical with this guy," she continued. "So, it was a tone we had to find." 
Messina and Cuoco quickly settled into an easy chemistry with one another, ad-libbing lines together throughout the filming.
"We heard a lot of, 'moving on,'" Cuoco joked. "A lot of, 'the sun is going down.'" 
Along with the unscripted detours, Cuoco and Messina tried to keep it light on the set as they waded through the dark subject matter. 
"We would laugh so much … my face hurt for six months," Cuoco joked. 
The original series Based on a True Story, created by Craig Rosenberg, begins streaming on Peacock June 8.