NBC Insider Exclusive
Create a free profile to get unlimited access to exclusive show news, updates, and more!
Sign Up For Free to View
See Why Heidi Klum Called Sara James One of AGT's 'Greatest Discoveries'
Season 17 of America's Got Talent may be over, but Sara James is just getting started.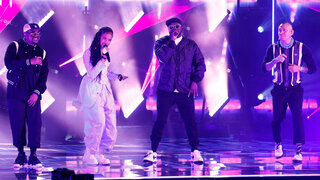 Fourteen-year-old singer and America's Got Talent Contestant Sara James kicked off the AGT Final on September 14th with an epic performance alongside the Black Eyed Peas. 
They joined forces to sing the Peas classic "Let's Get It Started." Of course, James nailed the signature intro riff, sporting a sparkly, futuristic jumpsuit. As the beat kicked in, the audience was greeted to the delight of the actual Black Eyed Peas joining her on stage. 
The crowd erupted in cheers as the group grooved to the iconic 2000s hit, with James's voice flowing harmoniously with the epic rap vocals. "The feelin's irresistible, that's how we movin'," she sang during her solo bit, stealing the show amidst a ray of flashing lights. Everyone in attendance couldn't help but dance along. 
James was voted into the Top 11 on AGT. Although the singer ultimately didn't end up receiving the grand prize (the Season 17 winner was dance group The Mayyas), James still holds a special place in both the hearts of viewers and the Judges. She moved Simon Cowell emotionally with her story of visiting America for the first time as a Polish citizen, and then earned a Golden Buzzer with her chilling rendition of "Lovely" by Billie Eillish during her Audition. She then impressed Cowell even more with her cover of Elton John's "Rocket Man," which the Judge described as "absolutely genius." And after performing "Running Up That Hill (A Deal With God)" on the Final, Heidi Klum said James was one of AGT's "greatest discoveries." Each of these performances shows exactly why.