NBC Insider Exclusive
Create a free profile to get unlimited access to exclusive show news, updates, and more!
Sign Up For Free to View
A History of Chicago Fire's Favorite Crossover Character, Trudy Platt
The Windy City is a better place with Trudy Platt in it.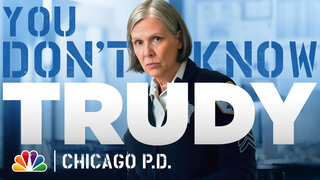 One Chicago would be nothing without Trudy Platt: Chicago Fire and Chicago P.D. legend. As the desk sergeant of CPD's 21st District (played by Amy Morton), Trudy is simply a force to be reckoned with. Chronically sarcastic, fearlessly blunt, and endlessly talented at nickname-penning, she's become a fan favorite for those that tune in to Chicago P.D. and Chicago Fire. Trudy Platt is featured within all the One Chicago series, appearing in every season of Chicago P.D., 30 episodes of Chicago Fire (so far), and even three episodes of Chicago Med. Trudy is also half of the only crossover marriage within the series. Her marriage to Mouch (Christian Stolte) is one of the longest-running relationships in One Chicago history. 
As one of the most familiar faces for Chi-Hards, it's hard not to marvel at Trudy Platt's time on Chicago Fire and Chicago P.D. Let's look back at Trudy's long-running place in One Chicago history. 
Before Chicago Fire: Trudy Platt, the hard-nosed desk sergeant of District 21
Trudy is a tough-as-nails desk sergeant for the CPD's 21st District, and while she may not be close to the high-level action, she's still a commander. She passed the detectives' exam twice, but after getting shot in her back on the job, she was forced to take a less physically demanding role within the CPD. That isn't to say Trudy is in any way weak. She's willing to do anything to see justice served and understands that sometimes you have to take matters into your own hands. You don't want to get on Trudy's bad side, as she's never afraid to back down for those she loves, even if she has that infallible tough exterior. 
Trudy Platt enters Chicago Fire as Mouch's love interest
Trudy met Chicago Fire's Randall "Mouch" McHolland at Chief Boden's (Eamonn Walker) wedding. During an iconic meet-cute at the wedding cake table, there was an instant connection between the two. While Trudy is consistently hard-headed and no-nonsense, Mouch is always the messy jokester. Their relationship is the perfect example of how opposites attract. 
In Season 4 of Chicago Fire, Mouch decides to propose to Trudy by showing up to the CPD, much to Trudy's dismay. While she criticizes Mouch for the mucky workplace proposal, she later apologizes and proposes to Mouch herself. The tender moment demonstrates how perfect Trudy and Mouch are for one another. They get married at Chicago Fire mainstay bar Molly's and become One Chicago's only crossover marriage. Plouch forever!
Trudy Platt becomes co-owner of Chicago Fire hot spot Molly's
In Season 8 of Chicago Fire, Molly's is put at risk after the tragic loss of its co-owner and fellow firefighter of Firehouse 51, Otis. As the only remaining owner, Herrmann (David Eigenberg) struggles to keep the bar afloat and asks Mouch if he can invest in the venture. Unfortunately, Mouch doesn't have the money to help him. Have no fear, though: Trudy Platt is here to save the day. After Mouch discusses the opportunity, she agrees to kick in some cash with to ensure the bar doesn't close. Trudy, Mouch, and Herrmann become co-owners of Molly's. While the bar is a relaxed spot for the Chicago Fire characters, Trudy has big ideas for "how to take Molly's to the next level," as Mouch reveals.
One Chicago Wednesdays return January 4, 2023.